Do a Private Tour in Massachusetts for a Mass of Fun Filled Experiences
When on a private tour in Massachusetts you are in for a mass of fun filled experiences with the many diverse places found in this State.
Located in New England the northeastern region of the United States, Massachusetts is made for history and culture lovers, nature lovers as well as sun worshippers and night owls.
Some of the best-known cities for one reason or another are to see on guided tours or sightseeing tours are;
Let the activities begin!
Top 10 Things to Do in Massachusetts
1
Take a walking tour and experience the Freedom Trail in Boston. It is a 2.5-mile route that leads to sixteen historically significant sites to the history of the United States pertaining to the Revolutionary War. The tours feature tales of mob riots, high treason, partisan fights and revolutionary actions. There are specialised costume tours and a costume pub crawls relating the Freedom Trail which are great fun and different.
2
When in Massachusetts it is worth taking a sightseeing tour to Cape Cod, not just because it is where President John F. Kennedy and his family had a summer house but because it has a long shoreline of white sandy beaches with waving sea grass covered dunes. It is under the protection the Cape Cod National Seashore keeping thing unchanged since the 1800's. There are hiking trails through the white cedar woodlands.
Minute Man National Historical Park and Lexington Green
3
A guided tour of the Minute Man National Park and Lexington Green is a must, especially if you love history. Start in the Minute Man Visitor center and learn all about the battles and Paul Revere's 'Ride' before taking the route the British regulars took as they marched from Boston which was to begin the American Revolution. Battle Road is part of Minute Man Park and Battle Green where the first shots were fired is in Lexington Green.
4
Take a guided tour of Faneuil Hall, built in 1740-1742. It was given to the city as a market hall by a merchant Peter Faneuil. It also became a public meetings venue which was well used by colonists protesting. In the mid 19th century it was where anti-slavery meetings, rallies and speeches were held. The upper floor is The Ancient and Honourable Artillery Museum preserves paintings of battles, arms and uniforms. Still a Market today.
Plymouth Plantation and Mayflower II
5
In 1620 Pilgrims, landed in Plymouth accidentally and made it the first permanent European settlement in New England. Take a guided tour to Plymouth Plantation where you enter a living history museum. There are costumed staff recreating the experience of Pilgrims living in 17th century. Also, the lives and culture of Native Americans is recreated in Hobbamock's Homesite. Visit the full-scale reproduction of the Mayflower II in the Pier.
6
Take a guided tour of Salem and its many historical houses. Salem, a former China Trade port has a broad range of history and culture, starting with the Witch House which was the home of Jude Jonathon Corwin who presided over the witchcraft trials. The House of Seven Gables was immortalised by Nathaniel Hawthorne in his book. Two homes of Merchants, Hawkes and Derby, are now part of the Salem Maritime National Historic Site.
Stellwagan Bank National Sanctuary
7
Take a private cruise and go on a unique ocean safari to see some of the largest animals in the world. Whale watch in Stellwagen Bank National Marine Sanctuary which is in the world's top ten whale-watching sites. It is also possible for divers to explore the sanctuary or to go fishing. Due to the mix of plankton and small fish provided by the rich waters, there are great locations for bird watching too.
8
A very popular place to take a guided tour in Massachusetts is Old Sturbridge Village in Sturbridge. It is a living museum where it recreates life as it was in the 1800's. There are over 40 historic homes, stores, farm buildings, shops and mills on this 200-acre site. In traditional dress, demonstrators do daily tasks of farmers, housewives, blacksmiths and craftspeople. Children are offered the opportunity to do hands-on activities.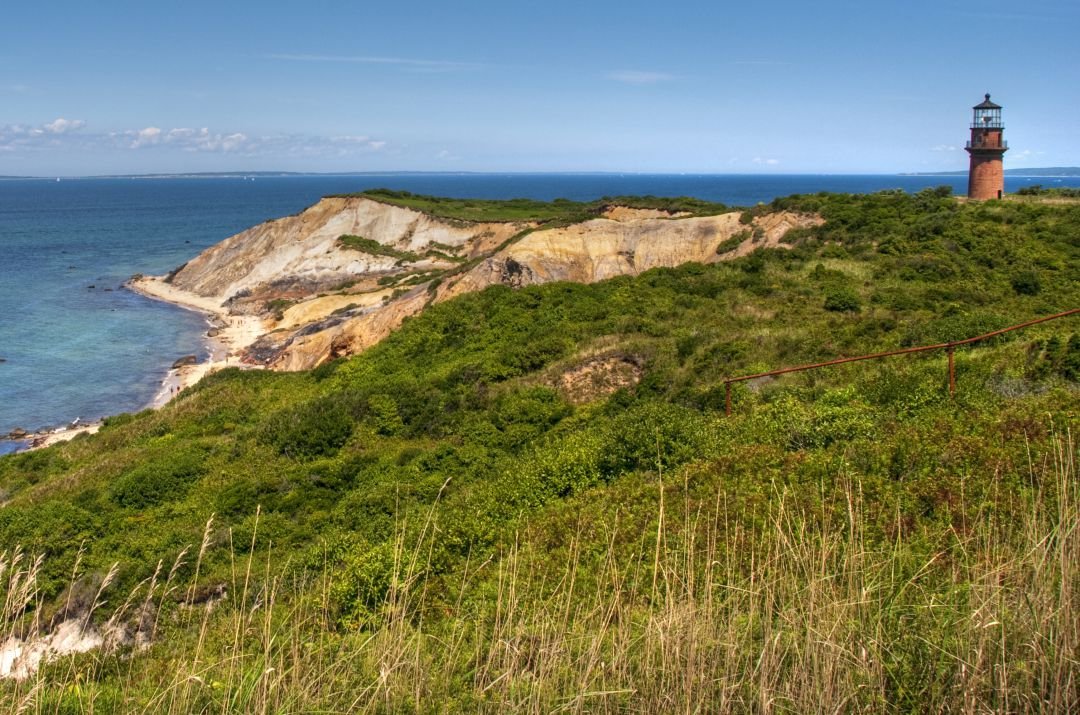 9
Five miles off the the coast of Cape Cod, take a sightseeing tour of Martha's Vineyard. This very laid back idyllic island is a great place to visit. There are six small towns here with miles of beaches, lighthouses, sand bluffs and weather shingle houses. There are protected waters where you can go kayaking or sailing. The local farmers readily sell their fresh produce such as eggs and strawberries from farm stands.
10
At the far western end of Massachusetts you will find the Berkshires. This storybook picture of rural life is a great place to take a sightseeing tour. The wooded hills, winding narrow roads and quaint historic villages are a charm. There is skiing in the winter and sugar-maple sap runs in the spring. Great trails to follow especially in the fall when the leaves are golden. There is the Tanglewood classical music festival in the summer.
On sightseeing tours visit Martha's Vineyard or Cape Code. Do the Freedom trail on a walking tour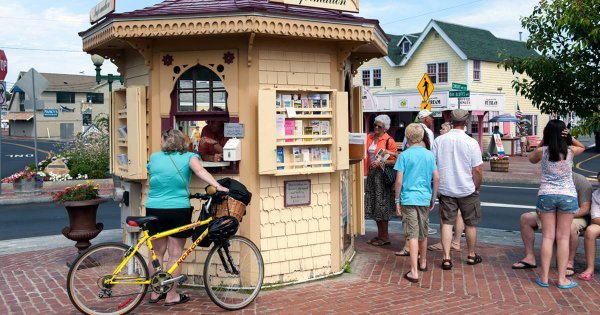 Boston: founded in 1630 it is one of the oldest cities in the United States and largest one in Massachusetts and New England. In 1773, the infamous 'Boston Tea Party' happened during the American Revolution. Full of museums, galleries, great sports venues and excellent restaurants and bars there is a lot to enjoy!
Cape Cod: the site of the first landing of the Pilgrims, Cape Cod is known for its artist colonies and quaint villages. It was made more famous as the summer home for President John F. Kennedy and all the Kennedy family. It is a place full of lighthouses, cranberry bogs, walking or hiking trails and beautiful beaches.
Salem: Everyone seems to relate witches with Salem and this is because it was here that famous witchcraft trials took place when Puritans ruled the city. A great time visit is around Halloween when haunted happenings happen. There is also home to The House of the Seven Gables Historic house made famous by Nathaniel Hawthorne's writing. So from museums on witches and other histories to Oysterfest and great theatres, it's a great place to visit on a city tour.
Martha's Vineyards: are New England's largest island and a popular place for the wealthy in the summer. It was the setting for the Jaws movies and has great beaches for surfing and panoramic views from the cliffs.
Nantucket: Once a place of refuge for the Native Americans fleeing the European settlements, it is a popular place for artists and writers with its harbour, sandy beaches lighthouses, cliffs and old mansions.
Travel Tips for Massachusetts
Best Time To Visit Massachusetts
Massachusetts is an all year round place to visit because even if the weather is brutal during the months of winter, there are plenty of great indoor attractions to visit and be entertained. Weather wise it is recommended to go April to June and September to October as it is not as hot and humid as July and August. These months are ideal for sightseeing tours and going to the beach without the crowds.
Typical Costs in Massachusetts
Massachusetts, in general, is on par with the majority of states in the U.S for prices. There are some areas like Martha's Vineyard and possibly Nantucket that are slightly more expensive. On average a nights, B&B cost from $80 to $150 depending on rating. A meal in a fine restaurant is $20-$30 but for fast food and pizza $5-$8. Take the subway where possible as it is $2.25 a trip or day pass $12 and you can go on as many round trips as you want.
Know Before Visiting Massachusetts
Do as much research on the area you are travelling to and pre-book any private tours you want to take. Be aware of the weather for the time you are travelling and pack appropriately. Keep all personal documents somewhere safe like the hotel safe and never carry around a lot of cash at the one time. Be careful when out at night and never walk alone in dark streets.
Weather in Massachusetts
During the summer you can expect it to be very hot and humid, with July tending to be the hottest month of the year. It snows during the months of December to March and sometimes to extremes. Rain is not just in the winter or mid seasons, it can happen any day but not torrential rain. Spring and Fall are the best months with weather good enough to still go to beaches and have lots of fun do activities outdoors.