You Will Get Lost in Awe and Wonderment on a Private Tour of Los Angeles
The possibilities that you will get lost in awe and wonderment, are very high, after a private tour of Los Angeles with all the fabulous places to see and things to do.
Los Angeles is where many of the rich and famous have made their home and this is very apparent when you go on city tours as part of that tour is pointing out the luxury estates of celebrities. Read More...
On Sightseeing Tours Visit Hollywood Boulevard, Rodeo Drive or Venice Beach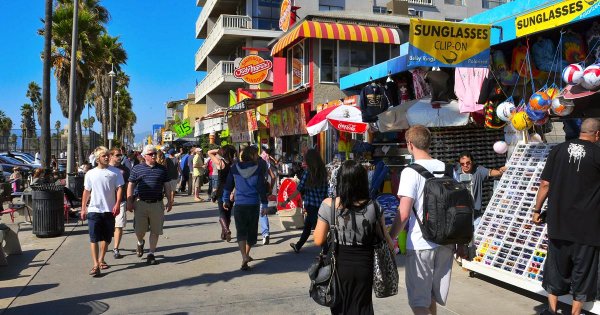 So what's in Los Angeles, well, there is;
Classic L.A. with Hollywood where you find universal studios and Hollywood Boulevard.
Pasadena is a neighbourhood that takes great pride in its past.
Valley and Foothills, are places you come to get away from beaches and relax in the Botanic gardens and valleys of Claremont, Valencia or Sherman Oaks
Westside is where you will find the A-listers in Bel Air, Santa Monica,
Malibu, Rodeo Drive, Venice Beach or cutting edge media and hi-tech Culver City and surfers paradise Pacific Palisades.
South Bay has Manhattan Beach which still retains the charm of a beach town.
Southeast along Long Beach has Cerritos and Whittier whose claim to fame is that Richard Nixon was the town's most famous resident.
For entertainment at night, there is no shortage in Los Angeles. After a day of sightseeing, you have the world's entertainment capital at your feet, restaurants owned by renowned chefs from all over the world with every variation of mouthwatering cuisine. Comedy clubs that guarantee a night of laughter, bars range from quiet one bars to lively cocktail bars. Clubs with top DJ's and live performances you will dance till you drop.
It is well worth taking guided tours to some of Los Angeles great sporting stadiums such as;
Basketballs L.A. Lakers, Staple Center, Dodger Stadium which is the home of L.A. Dodgers baseball team, for soccer, there is L.A. Galaxy's StubHub Center and American football's L.A. Rams, Memorial Coliseum.
Top 10 Things to Do in Los Angeles
1
Take a guided tour of The Getty Center and you will see Art from Europe and America dating back to medical times to present-day. In the Architectural section, you will get to see modern designs, open spaces and breathtaking views from where it is situated on a hilltop in the Santa Monica Mountains and then the Central garden is stunning landscape that changes every season with features such as fountains and ponds in museum courtyard.
Rodeo Drive Beverly Hills
2
For the best window shopping in the world while on a city tour of Beverly Hills, walk along the three blocks that are Rodeo Drive. This is where the luxury, fashion and lifestyle is its epicenter. The 'Drive's' are kept in pristine condition and you feel you are on a film set rather than real life. It is hard not to think of Vivienne from Pretty Woman when walking down the drive especially when you stop off at The Beverly Wilshire!
3
On sightseeing tours, stop off at Venice Beach and you will be in the centre of what some people say is 'the strange and eccentric' part of California. A great place for people watching from the many local cafes. You will see skateboarders, roller skaters, radical pamphleteers, body builders, joggers, dog walkers, tourists and more on the Boardwalk. Abbot Kinney end of Venice Beach is the posh, high-end part.
4
A fascinating and enjoyable city tour to take is the one to Little Tokyo in Downtown Los Angeles. This 132-year-old community has become one of the coolest places in L.A. to eat, shop and be entertained. This district is home to the target Japanese American population in North America and there are many hidden gems to be found here. The people are so friendly, charming and welcoming; you will come back again and again.
5
Take a guided tour of Dodger Stadium in Los Angeles. Opened in 1962 it is the third oldest stadium to still be in use. The design of this stadium has made it the 2nd most instragrammed location in the world. The stadium is built into the ground rather than on it which gives a very enclosed feeling. See the fantastic memorabilia in the museum or on the walls or walk onto the field. If not already a fan you will become one.
6
Take a sightseeing tour to Runyon Canyon which is a 160-acre park at the eastern end of Los Angeles's Santa Monica Mountains. It is here where you can avail of free Yoga, see the fantastic views of Los Angeles, take great hiking trails or just sit somewhere to watch celebrities bringing their dogs to the off leash areas of the Canyon. Any children with you will be well entertained in the great play area.
Grammy Museum at L.A. Live
7
The Grammy Museum is a fantastic guided tour to take when in Los Angeles. It is an interactive museum that celebrates the power of music. The museum's ambition is to explore and celebrate the legacies of all forms of music. On your tour, you will get to see exhibits on great Grammy performances, the history of the Grammy's, Songwriters Hall of Fame Gallery or revolutions of recorded sound to name just a few.
8
On a walking tour or city tour of Hollywood, you will definitely get to see the Hollywood Walk of Fame. These are stars embedded into the sidewalks of Hollywood Boulevard with the names of the celebrity that star is dedicated to. It began in March 1960 with Stanley Kramer having the honour of the first star. So far there are over 2,600 stars dedicated to celebrities and people from all different genres
9
When in Hollywood, you will, one way or another, find your way to Universal CityWalk which is a Three Block Entertainment, Dining and Shopping Promenade in Hollywood. There are more than 30 places to eat, three fantastic nightclubs, a 19 screen theatre and over 30 unique shops. Also, take a look at the 5 Towers state of the art concert venue and if you have a chance to see any performance here, take it!
10
No sightseeing tour of California would be complete without visiting the original Disneyland, now called Disneyland Park in Anaheim, Los Angeles. Opened for more than 50 years, it was the first place where you, whether a child or an adult, could be transported into a world of wonder and fantasy. It is the only theme park designed and built under the direct supervision of Walt Disney himself as this was very important to him.
Travel Tips for Los Angeles
Best Time To Visit Los Angeles
It is recommended that the best time to visit the State of California is anytime during the months of September to November. The Autumn still has warm temperatures and there are fewer crowds than the summer months. It is a better time to go on sightseeing tours. Check out when there are events or celebrations on during the year as they are always a good time to go no matter what the weather is like.
Typical Costs in Los Angeles
There are cheap, mid-range and expensive hotels, guesthouses and restaurants all over the United States; how much you spend will depend on how much you have or want to spend. It is possible to eat lunches for as little as $5 if you are not fussy with location. A boutique hotel for one night B&B ranges from $180 to $380. The variation is due to the time of the year and peak or off seasons. The price of private tours will also vary with the seasons.
Know Before Visiting Los Angeles
Research on the area you are travelling to is advisable and book all private tours or sightseeing tours in advance of travelling to ensure no disappointment when you arrive. Make restaurant reservations as early as possible when in California. Never walk alone at night and avoid dark streets. Be aware of pickpockets as they are everywhere in the world, always only carry enough money for the duration you are out and have it securely on your person.
Weather in Los Angeles
The majority of California has a Mediterranean-like climate which are warm, dry summer and mild, wet winters. January-March are the winter months and vary from cool temperature in San Francisco to sunny days in Los Angeles and San Diego. Summer June-August can get very hot no matter what city you are in. Spring and Autumn are a combination of mixed, very bearable temperatures, rain and sun.
Let the activities begin!