Experience the 'Untouchable' Windy City on a Private Tour of Chicago
Experience the 'Untouchable' Windy City on an exciting Private Tour of Chicago, known for its bold architecture and skyline of skyscrapers. Such famous skyscrapers as John Hancock Center, Willis Tower and Trump Tower.
Chicago is home to an estimated 2.7 million residents making it the most populous city in the state of Illinois.
In addition to its pulsating population and energetic scenes, Chicago is a remarkably exceptional tourist attraction with an incontestable reputation and unparalleled achievements in the areas of art, museum, culture, and architecture.
Chicago's museums are so diverse that anyone, regardless of his age, profession, or background, will greatly enjoy the exhibitions.
The city of Chicago is so developed that you can experience the beautiful sights and landmarks many ways; on foot, by bicycle, on a tour bus, by boat, in a kayak and even by Segway, the two-wheeled electric vehicles.
Get ready to be amazed and have a fun filled exciting time when taking tours in Chicago.
Let the activities begin!
Top 10 Things to Do in Chicago
Museum of Science and Industry
1
Take a guided tour in the Museum of Science and Industry which is close to being the largest science museum in the world. The exhibits are designed to spark your curiosity in science and history. See such exhibits as a World War II submarine, descend into a mine shaft, enter a mirror maze of nature, learn the science behind tornados and avalanches or why not enter a fairytale castle. There is something for everyone here.
2
On a guided tour, see one of the most spectacular theatres in the world, the Shakespeare Theatre. The superior design and architecture found in this complex are magnificent. There are three theatres and 'The Yard' an interactive, adaptable platform that can change to a variety of sizes and shapes. This theatre is well known for its belief that Shakespeare speaks to everyone and for its very vibrant and professional productions.
3
Millennium Park is a marvel with some of the most imposing architectural display, the towering skyscrapers and the artistic typified by the famous "bean" actually called Cloud Gate is a must see. A private tour in Chicago would not be complete without a visit to the Millennium Park. During the summer be entertained with concerts or laze around having picnics. In the winter enjoy the fun at the ice rink under the twinkling lights.
Magnificent Mile / Michigan Avenue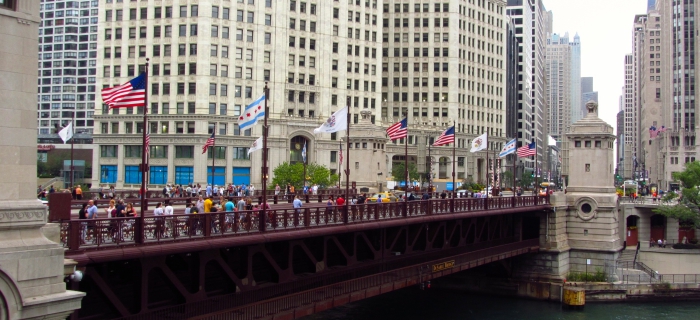 4
When on a sightseeing tour of Chicago, a walk down Magnificent Mile is a must do. There are museums, restaurants, hotels, lots of entertainment hangouts and of course 'the Shopping'. There are everyday stores and then high-end boutiques for you to linger through. Other well-known buildings, you may recognise the names, on the mile, are the John Hancock Building, Tribune Tower, Trump Tower and The Wrigley Building.
5
Take a guided tour of what could be the oldest and largest art museum in the United States, The Art Institute of Chicago. There are pieces of art and collections from everywhere in the world. An example of collections are; Ancient and Byzantine, Architecture and Design, Contemporary, Photography, Books, European Arts, Painting and Sculpture, Textiles and the list goes on and on. Prepare to be overwhelmed.
6
On a guided tour of Willis Tower, you are touring an 110 story and 1,450-foot skyscraper located in Chicago, the tallest building in America. In 2009 the Skydeck debuted a new exhibit experience whereby visitors can step outside into the ledges glass boxes that extend out 4 feet. From here you can see four states; Illinois, Indiana, Wisconsin and Michigan. It is a breathtaking and spectacular experience and one every person should do.
7
There is nothing more idyllic in all of Chicago than the Lincoln Park. The Lincoln Park is lusciously complimented by the Lake Michigan and the stretches over 1208 acres. A private tour in Chicago would not be memorable without visiting the sights in Lincoln Park such as the Famous statue of Abraham Lincoln, the theatre on a Lake, North Pond Nature Sanctuary and the Lincoln Park Zoo and that is only a few!
8
Take a sightseeing tour of this Chicago landmark, the Navy Pier which is the People's Pier and Chicago's lakefront treasure. It is an architecturally stunning are that offers extraordinary views of the lake, land and skyline. Its motto is to offer dynamic and varied experiences through programs that inspire wonder and discovery and to celebrate the deep-rooted history. It is the authentic Chicago experience you want when visiting here.
Field Museum of Natural History
9
The Field Museum of Natural History is among the biggest museums in the United States with a staggering collection of fossils and scientific specimen. There are adventurous experiences for visitors and tourists as there is a vast array of collections from the earliest history of humanity such as Sue the T.Rex, Inside Ancient Egypt, The Evolving Planet, Mysteries of China, Ancient Americas, Hall of Jades and Meteorites.
Oriental Institute Museum of Chicago
10
Exhibitions of the Oriental Institute Museum Chicago would leave visitors fascinated, creating a memorable experience of some of the world's finest archaeological specimens. The Oriental Institute Museum of Chicago, by guided tour, is a remarkable way to enjoy the city of Chicago. There are permanent galleries showcasing artefacts excavated by the Institute. Some of the displays are devoted to Ancient Egypt, Persia, Anatolia and Nubia.
Walk on air on a guided tour of Willis Tower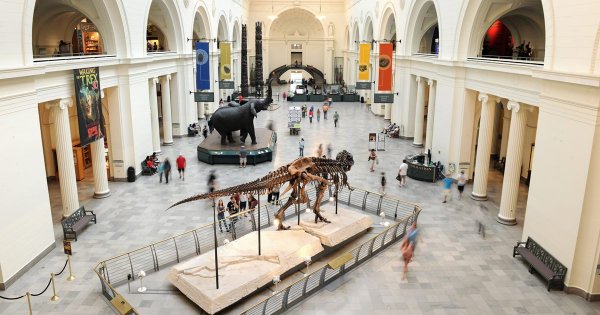 There is so much to do and see in Chicago; you really are spoilt for choice. When you are not on sightseeing tours, there is always shopping in many great shopping outlets, none better of course than at 'Magnificent Mile'
For those who are not into shopping but maybe enjoy sport, everyone should experience a baseball game at Wrigley Field.
Nighttime entertainment is as plentiful as everything else in Chicago with hundreds of mouthwatering restaurants in fabulous locations looking over the city.
Try and see one of the world's best Symphony Orchestra that is from Chicago or just dance till your feet are sore in the best nightclubs a city can offer.
Travel Tips for Chicago
Best Time To Visit Chicago
As the weather in Illinois is extreme with hot summers and harsh winters, the best time to go will depend on where and what you want from your trip. If you are interested in winters sports and don't mind the cold them the winter months are for you but if you want warmth and sunshine then early summer months are ideal especially for private tours. Middle of summer is very hot however everywhere has the best air conditioning.
Typical Costs in Chicago
Illinois is about average compared with other states in America. For pub grub, you are looking at it costing $44 for two people however in an Italian restaurant a three-course meal with wine will cost around $75 for 2. Taxis can cost $20 for a 5-mile trip, but the subway is very reasonable and easy to get around. Accommodation will vary on the standard, if you are not fussy, a basic 3 star B&B will cost $50, but it can go up to $300 the more stars you want
Know Before Visiting Chicago
Always do research on the city you are travelling to in Illinois especially on what the weather will be like and pack appropriately. Book any private tour you wish to do before travelling to ensure you are not disappointed when you get there. Never carry more cash than needed when out shopping or sightseeing as there are pickpockets everywhere in the world. Be careful when walking at night and never walk alone, take a cab to be on the safe side.
Weather in Chicago
The weather in Illinois is erratic because of its location to Lake Michigan. Winters can be brutal with up to 40 inches of snow on average in Chicago and northern Illinois and very windy at times. Spring and Fall weather can change within hours from warm to cool or vice versa so be prepared but a great time for sightseeing tours. Summer can get very hot and humid. Thunderstorms are common from June to September and in April and May there may be tornadoes.