Explore the Magnificient Magic That Is Miami on Private Tour
Explore the magnificent magic that is Miami on Private Tour. Lets be honest we have all heard of it and we all want to go there. With so much to see don't panic it is practically impossible on your first visit to see everything.
Whatever your holiday needs take a sightseeing tour and you will see Miami offers something for everyone from its fascinatingly unique Art Deco District to the crazy nightlife of South Beach. The exhilarating energy of Little Havana to the secret hideaways of Coral Gables.
The endless shopping malls to the family owned boutiques of Coconut Grove you will never tire of this city and its endless zest for life. Read More...
Take Sightseeing Tours in Miami Explore the Magic City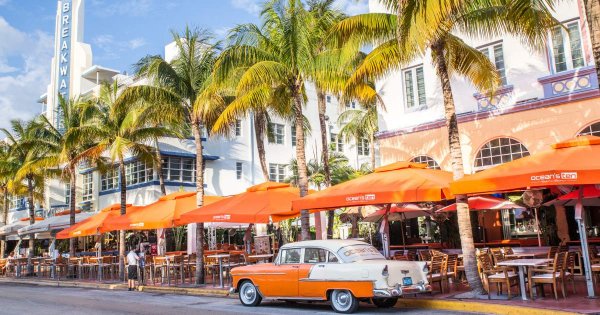 Take Sightseeing Tours in Miami Explore this Magic City where the sun shines 24/7. The cruise capital of the world, it is known for its vibrant nightlife, stunning beaches and its many tours.
The Seaquarium has lots of interactive shows for the family and is a must see. There are many museums in Miami, but the Gold Coast Railroad Museum is unique.
Head to little Havana and have some Cuban cuisine while traders roll some famous Cuban cigars.
Top 10 Things to Do in Miami
1
Soft, lilting sounds of Latin music and the aroma of fabulous Cuban cuisine, this is Little Havana. The heady smell of famous hand rolled cigars ensures this vibrant neighbourhood delivers a lively dose of local life. Jam packed with culture and history this busy district is a must on your private tour. Sitting with the locals playing dominoes or watching them hand roll cigars still traditionally made today you won't want to leave.
2
Probably the most exciting private guided tour you will ever take through the mangrove swamps of the Everglades National Park. Home to crocodiles, snakes and of course alligators there sure is a lot of fun packed into this sightseeing tour. Travelling at high speed by airboat taking you out into the streams and marshes of the Everglades where you learn about its unique ecosystem and its natural wildlife.
3
Key West Island is part of the Florida Keys and is probably best known for its more famous residents two of whom were Ernest Hemingway and Harry S Truman. A popular destination for snorkelers and divers it is also famous for the most spectacular coral reefs. Soak in the peaceful atmosphere and wander the streets lined with its pastel coloured houses or take on some retail therapy on our most relaxing private tour.
4
Taking you back in time to the stunning Art Deco era this private tour takes you to this renowned district. These pastel coloured buildings lovingly restored take their look from the great ocean liners that docked here in the 1930s. Hotels and private residences vie for attention, and you could almost believe you had travelled back to those heady days. Wander and when you are done wander some more.
5
Does swimming with dolphins appeal to you? This unique experience not only gives you the opportunity to touch and interact with them but also learn about their behaviour patterns so similar to humans. If not your thing then maybe the killer whale and seal, daily show or the giant manatee now on an endangered species programme here. Observation tanks offer a close-up and personal view of tropical fish sharks and even some alligators.
Gold Coast Railroad Museum
6
Whether you are into train's or not this is a splendid way of wiling away a few hours. Taking you back to a bygone age when trains were the only form of long distance travel for the majority of the population. Head back in time to the 1950s and wander through the different waggons and carriages. Optionally you can take a private tour in the heavily armoured carriage used by the Presidents and other such dignitaries.
7
Truly breathtaking estate built and owned by the conservationist James Deering located in the brilliantly named Coconut Grove. Originally only used as his winter home it has now been converted into a museum housing furniture and art from around the world giving you just a glimpse into the lifestyle of the rich and famous. A perfect private tour to spend a few hours soaking in the old world charm and the manicured gardens.
Ancient Spanish Monastery
8
Probably not what you would expect to find in the middle of modern Miami but the Spanish Monastery is not only architecturally breathtaking but has a chequered past too. Truly astounding grounds are hauntingly tranquil as only found in a sacred place as this. Said to be the setting of many Spanish soaps you never know if you may have the chance of coming across a filming day there or maybe one of the many wedding ceremonies.
9
Take a perfect private tour on one of Miamis rare dull days and see what the Miami Zoo has to offer. A varied selection of animals from Africa and Asia, it is loads of fun for all the family, not just kids and whatever your expectations were you are in for an awesome time. Grab a camera and head out with your comfy shoes or rent a bike, what could be more exciting for the kids young and old.
10
Not for the claustrophobic and if you don't mind heights you can climb the 80 or so steps to the top of the lighthouse for the most spectacular panoramic views of beautiful Key West. Look around the keepers quarters and see how they lived for days on end since 1887. Since de-commission, the cosy rooms have become a museum displaying the history of the Florida Keys lighthouses.
Travel Tips for Miami
Best Time To Visit Miami
The perfect time to visit Miami and Florida is probably not when you expect it to be. With its subtropical climate, the best time is between March and May when temperatures are in the low 80s during the day and the season is not yet in full swing. This helps avoid too many crowds, and you can normally get more reasonable prices and deals. Winter months can still reach a cool 65º, but the Atlantic sea breeze can cut the temperature dramatically.
Typical Costs in Miami
Miami can be expensive and Florida with kids can be scarily expensive. But you can make it fit your budget by following some of these helpful hints. Posh restaurants can be great for a special occasion, but for everyday eating, look for places where the locals hang out. Move away from the seafront area and ask the staff at your hotel for their recommendations. Also look for free voucher booklets in your hotel lobby.
Know Before Visiting Miami
Always make your reservations for accommodation well in advance for Miami, do not turn up and think you will find something. On average Florida has an average yearly turnaround of 100 million tourists so there may be no room at the Inn. Also, prepare yourself for the traffic people can drive like maniacs and not many obey the traffic signs. Lastly, make sure before heading out you have insect repellent don't be an unsuspecting meal for the mosquitoes.
Weather in Miami
Visit when the temperature is comfortable for your own needs. By that we mean if you are planning to go on sightseeing tours, you do not want it to be so hot you cannot walk around and see all there is to see. Humidity can be as high as 80% some months which would be uncomfortable for most Europeans. Hurricane season can be pretty scary and although most storms are short-lived and can be hard for most tourists unused to this climate.
Let the activities begin!