A Private tour Of The Majestic Splendour ,The Ruins of Angkor Wat
Breathe in on a private tour Majestic splendour, the ruins of Angkor Wat and its ancient carvings….take a private tour of Angkor Wat the jewel in the Khmer Crown and the home of the largest religious monument in the world…
A genuinely spiritual place that fills you with excitement and anticipation as soon as you arrive on your Angkor Wat guided tours…So iconic is this area and its magnificent Temple that it graces the National Flag of Cambodia and is a great source of pride to its people… Read More...
Private Guided Tour of Angkor Wat the Mesmerising Ruins!!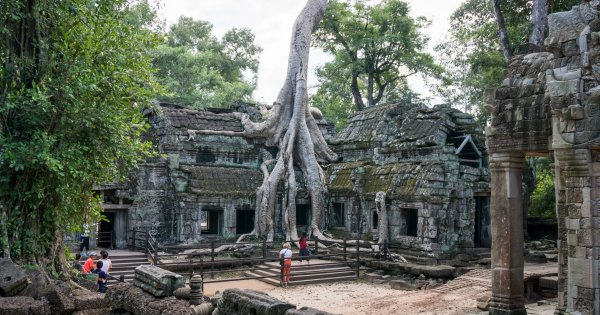 The majesty of this great country is hard to ignore, and it 's hard not to feel its incredible aura both spiritual and religious...take a private guided tour of Angkor Wat and see the country as it once was...
Terrace of Elephants looking down as the King listens to his subjects
Have adventures at Banteay Kdei the Citadel of Monks inhabited for many years by their sacred order but now a ruin
Visit Baphouin with its giant reclining Buddha and huge rock jigsaw puzzle
Explore Bakong and its unusual step period
Marvel at Preah Khan in the Archeological Park and its huge moat and walls
guided tours of Angkor Wat are available and are an excellent way to see the whole area.
Top 10 Things to See and Do in Angkor Wat
1
Considered by Khmers to be the exact position between heaven and earth the Bayon Temple is the true highlight of Angkor Thom. Though lost in the jungle for many years it has emerged into the world again, and its spectacular carved stone faces said to depict the King himself smile down on the traveller. Private tour to Angkor Wat will show many temple carvings depicting everything from village life to mighty battles and are well preserved.
2
The magnificent Temple of Angkor Wat is quite simply the jewel in the Khmer crown and a truly wondrous archaeological feat. This is is one of the most well-preserved Temples of the region and is so iconic that the temple outline appears on the national flag of Cambodia. Neglected for many years although never completely abandoned it has been relatively saved from the invading jungle by its large moat still in use.
3
Although relatively small compared to other Temples of the area Neak Pean has some unique features and is still worth a visit. A total of 5 pools make up the complex with the Buddhist Temple built on an artificial island at the centre. The surrounding lake was constructed as a replica of the lake on the top of the Himalayas where in ancient times it was thought to be the top of the universe. Take a custom tour and explore for yourself.
4
In a poor state after being left neglected for years, this Temple eventually collapsed into the surrounding forest and disappeared into the undergrowth. In the 1970s archaeologists began the enormous headache of putting back together this huge rock jigsaw. After a brief hiccup during the war, renovation sped ahead and finally was completed in 2011. Guided tours of Angkor Wat will take you to the unmissable giant reclining Buddha.
5
Set over 10m2 and surrounded by a moat the last great capital of the Khmer Empire Angkor Whom or Great City could not be more aptly named. Built on the West Bank of the river and surrounded by high walls it is hard to imagine any potential invaders contemplating invasion. A sightseeing tour has so much to see here including the Terrace of the Elephants and Terrace Leper King as well as five colossal gates each with a causeway over the moat.
6
Ancient gateway to the Temples of Angkor visitors flock to this region for its culture and varied cuisine. A tour of this now hip metropolis Siem Reap has emerged from its past and reinvented itself to be a hip and trendy place to stay. With its many chic hotels and world-renowned dining experiences, it has something for everyone from backpackers to honeymooners. A place to be enjoyed at leisure and not to be rushed.
7
Sitting in the centre of the first Angkorian capital Bakong this Temple is an early example of the use of stone instead of brick. Surrounded by an attractive moat, it still has some well-preserved carvings, and its design set the stage for construction for the next 400 years. Take a private tour of Angkor Wat and see the step pyramid in the inner enclosure and is said to be modelled on the sacred mountain of Meru in Hindu mythology.
8
Banteay Kdei or Citadel Of Monks is a ramshackle Buddhist Monastic Complex fallen into disrepair due to its poor construction of sandstone. This once impressive sprawling complex was occupied at different periods by various Monk Orders until late 1960 and is perfect for getting off the beaten track and exploring for yourself. Not much is left of its former glory, but there is still an abundance of rock to be climbed.
9
At the far northern edge of the Archaeological Park is one of the most significant Temples built by the Khmer empire. The Preah Khan or Sacred Sword compound is defined by its impenetrable walls and huge moat and is still protected by the dense jungle. While the wooden huts and the hospital for the commoners have long ago been destroyed its many well-preserved shrines, towers and a Hall of Dancers remain intact.
10
Facing the parade and procession grounds the Terrace of Elephants is part of the Royal Terraces and was built in the 12th century. The King was said to stand on this terrace to address the citizens of Angkor and listen to their complaints. Take an Angkor Wat guided tours and look up high on this terrace. Here you can see the elephant heads that give it its name with some of their long trunks forming the original pillars of the walkway.
Travel Tips for Angkor Wat
Best Time To Visit Angkor Wat
Over eager agents may well tell you that there is never a wrong time to visit the area and although this is probably true you may well find that you are not able to visit or do the things you have planned. Dry months are from November to February when it is not overly hot but also can become crowded. June to October is monsoon season but showers are normally brief and so can also be a welcome break if you don't mind mud and lots of it.
Typical Costs in Angkor Wat
Hostels are very popular and cheap and ideal for backpackers about 5,000-40,000 KHR per night, but there are also many hotels ranging from 50,000-60,000 KHR per night and maybe more if you want a pool. Food is cheap and there are loads of choices from street stalls at 8,000-12,000 to restaurants for 20,000-29,000 KHR. Hire cars are cheap and readily available with a driver as a tour guide about 100,000 KHR
Know Before Visiting Angkor Wat
Remember to dress appropriately especially in temples where your attire or lack of could offend. Take comfortable shoes preferably waterproof if travelling during monsoon season. Traffic rules exist but are rarely adhered to so be extra careful especially when crossing roads. Mosquito repellant is a must and try to cover up as much as possible. Use tuk tuk or other transportation recommended by your hotel and bring US$ currency
Weather in Angkor Wat
Between January and March, it is the rainy season and is the best time to visit for discounts in accommodation and as the weather is more suitable for sightseeing. Between April and October, the temperature rises to 40 degrees and the rain has begun to taper off. High season is classed as November to February with cooler windy weather and average temps in the 30s
Let the activities begin!