Discover Cosmopolitan Çesme on a Custom Private Tour
Discover cosmopolitan Çesme on a custom private tour, unlike many other resort towns in this region, Çeşme has retained a local charm, population and culture. It's long stunning seafront promenade, and glistening white sandy beaches are perfect for a relaxing day in the sun.
Many locals from Izmir look at Çesme like their second home and perfect top holiday destination. Known primarily for its 18-mile long gorgeous coastline with beaches and hot springs, many Çeşme private tours are available and have always been popular with locals and tourists alike.
Despite rapid and often large unsightly development, the town retains its unique rural elegance and loveable charm. There are a lot of great shopping, watersports, boating and sightseeing tours from Çesme to the Izmir, Ozdere and Alacati. Read More...
Çeşme Custom Tours to the Gorgeous Coastline and Hot Springs
Take a private tour of Ilica and visit Cesme's most valuable natural resources, the geothermal hot springs. This is an entirely natural resource, and its health benefits are very unique.
Locals have been making the most of the spring for many years and swear by their ability to easy specific ailments. Çesme is now becoming known as a year-round destination for health tourism due to the popularity of the hot springs as well as the relaxed atmosphere and overall beauty of the area.
Top Attractions in Çesme
1
Visit Cesme's most valuable natural resources on a private tour, the geothermal hot springs. This is an entirely natural resource, and its health benefits are said to be very beneficial and unique. Locals have been utilising the springs for many years and swear by their ability to easy specific ailments and increase your well-being. Çesme is now becoming known as a year-round destination for health tourism due to the popularity of these amazing hot springs. The relaxed atmosphere stun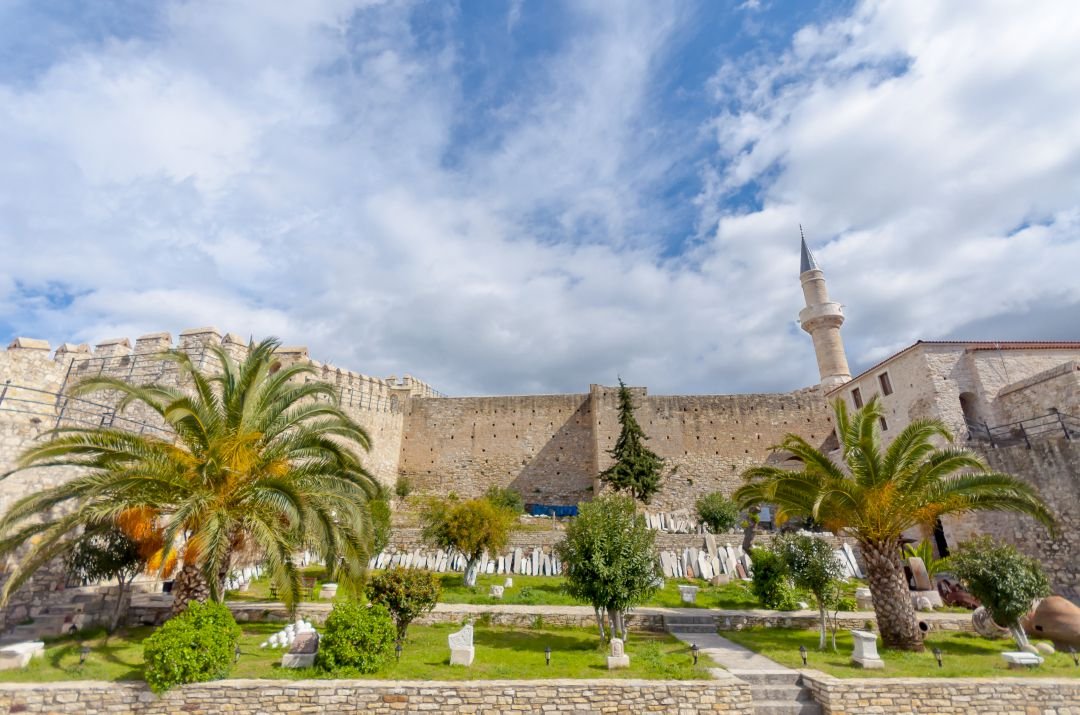 2
The Çesme Castle private tour will take you on a journey to the most beautifully majestic cultural structures in the region. The Castle and Museum are pieces of history that are on all guided tours of Çesme. You will be greeted at the entrance by two huge courtyards where some historical artefacts and tombstones on exhibition. Once inside you will see the sheer vastness of the Castel and its grounds.
3
It is fun, sun and adventure all the way on a private tour of Izmir, the city with its incredible history is ready to greet tourists anytime. From the blue waters, sunny skies and super shopping malls you will have a fun filled day in Izmir. Historical private tours of Kadifekale Castle and The Roman Agora of Smyrna are a must do on your day trip.
4
For a little relaxation, go on a Şifne private tour and travel five kilometres outside of Çeşme to the mud baths. Just off the beach, the mud baths and springs are naturally heated by the earth and great for your wellbeing and health. The pools are said to have healing qualities due to their minerals and are useful for easing issues to do with a poor metabolism and skin conditions.
5
Aqua Toy City waterpark offers a broad range of attractions to guests of all ages from Waterslides, swimming pools, lazy river, leisure pool and children's water playground. There are also super food and refreshment services available. The waterpark is very popular on private tours and is fun for all the family with a day or weekly pass ticket's.
Church of Agios Haralambos
6
Private guided tours of the old 19th-century Greek Church of Agios Haralambos will bring you to the recently converted Church. Now mainly used as a gallery and hall for cultural events and shows this is a beautiful tourist site to visit. Some of the icon work has been lovingly restored and looks amazing bursting with colour and life, a photographers dream.
7
Çeşme is famous for its beautiful clear blue waters, soft sandy beaches, water sports and guided private tours. The sand washes out into the warm Aegean Sea, leaving many visitors describing the resort as heavenly and divine. Choose from many watersport activities like paddle boarding windsurfing, paragliding, jet skiing, banana boat rides, boat trips and much more.
Travel Tips for Cesme
Best Time To Visit Cesme
If you are interested in archaeological sightseeing tours, then travel from Mid March to October, and early November is the best times. The intense sun is not beating down on your head as much, and this can be dangerous to some causing dehydration and sun stroke. It is also cheaper these months and the winter months. Flights and accommodation prices increase during June to August.
Typical Costs in Cesme
During peak season, the average amount of money needed per day for 3-star food, accommodation and excursions would be about $225.00 per person. It is a lot less during the off season. These are guideline rates, there are cheaper or more expensive hotels and restaurants, so how much you want to spend will all depend on your budget. The public transport in the area is very cheap.
Know Before Visiting Cesme
Research your destination thoroughly, before entering Turkey, check if you will need a visa, if you do, these are easily attained online. Turkey has two major religious holidays during the year, and many places are closed. However as tourism is crucial here, most tourist attractions including Ephesus remain open, they are just extra busy. Weather in July and August are the hottest so be protected.
Weather in Cesme
The weeks of July and August are the hottest in Turkey with temperatures rising above 33 degrees Celsius and virtually no rain. June and September have temperatures around 30 degrees Celsius, April, May and October's temperatures from 22-27 degrees Celsius. January, February, December are the coldest months with temperatures around 14 degrees Celsius and a good bit of rain.
Let the activities begin!