Private Cosmopolitan Custom Tours to the Heavenly City of Harbin
Take a private tour to the curious cosmopolitan city of Harbin while it doesn't have a very long history as a city, unlike a lot of other ancient Chinese cities it has flare and class. For a city of its size, Harbin is pretty easygoing. Cars and believe it or not bicycles are banned from Zhongyang Dajie city. The historic district where the majority of Harbin's historical buildings can be found is perfect for a sightseeing tour.
If you like take a city walking tour along the riverfront and beautiful Sun Island with views that are second to none. The city's many sights and custom tours are as varied as the architectural styles on the old streets. Temples, old churches, and synagogues coexist, while far in the southern suburbs a former Japanese germ-warfare base is a reminder of less happy times.
Harbin's rich Russian and Jewish heritage makes it well worth a visit at any time of year, but winter is special with the world-class ice-sculpture festival turning the frosty riverfront, and other venues, into a multicolored wonderland. Read More...
See The Magical Fantastical Harbin Ice City With A Escorted Private Tours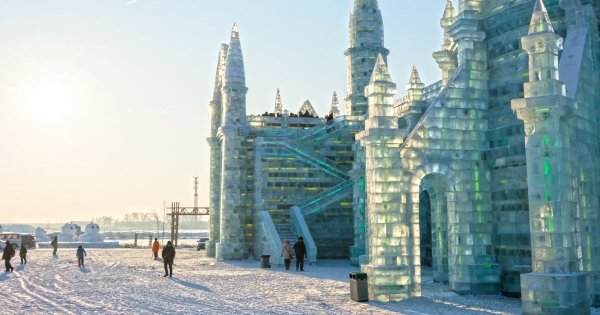 Harbin turns into a magical ice city in the winter with an abundance of visitors on tours embarking on the city for the annual Ice & Snow Festival. And it is worth braving the cold: a lot of the sculptures are often record-breaking in size and nighttime illuminations of the ice add a brilliant kaleidoscope of color to northeastern China's freezing winters.
From January right through to mid-March, Harbin puts on the International Ice and Snow Festival. Exhibitions of ice and snow sculptures kept perfect by subzero temperatures are dotted across different locations. The biggest and priciest to attend is the Harbin Ice and Snow World, which shows the flashiest sculptures. For a quieter experience, there are some exhibitions at Sun Island just a short taxi ride across the Songhua River and Zhaolin Park.
Thick jackets, gloves, and even balaclavas are a must if you plan on seeing the ice art. The mercury can drop to -35°C, so take regular breaks in the coffee huts to thaw your nose.
Top 10 Things to Do in Harbin
International Ice & Snow Festival
1
Harbin Ice and Snow Festival provides visitors each year with a whole new world of ice and snow including venues like Sun Island and Ice and Snow World. The Festival was established in 1985, and is held every year on January 5th and lasts for one month. Harbin and also the capital city of Heilongjiang Province, and is China's first and greatest ice festival and attracts locals and visitors on custom tours.
2
With a sightseeing tour to St. Sophia Cathedral in Harbin, you will see the largest Eastern Orthodox Church in the Far East. It is an incredible 53.3 meters (175 feet) high and covers an area of 721 square meters (0.18 acres). In November 1996, it was put on the list as one of the main Cultural Relics under State Protection, then half a year later, the government repaired it and then renamed it as the Harbin Art Gallery.
3
Found on the bank of Songhua River, Zhaolin Park was the first park in the city in memory of the General Li Zhaolin. Opened in 1900, it was first known as "Daoli Park" before it changed to "Zhaolin Park" in 1946. Since its renovation in 1985, the park has become a beautiful place with the enchanting scenery. A man-made lake flows around the center with five small bridges cleverly linking the water area.
Helongjiang Science and technology Museum
4
Situated in Sun Island Science and Technology Park and shaped like a sailing boat is the largest modern multi-functional science museum in Heilongjiang Province. It has a total area of 50,000 square meters with permanent and temporary exhibition halls. There are more than 200 exhibits that combine science, knowledge, artistry, which makes it a multi-functional science museum for visitors to enjoy.
5
With an area of around 16,000 square meters, Harbin's Polarland is the first polar land themed park with animal shows and an interactive experience for everyone to enjoy on guided tours. Based on the intriguing polar region the park is ready to offer every visitor and holiday maker a fascinating, dreamy and happy round-the-world adventure.
6
Also, known as the 'Eastern Moscow,' Harbin has always been highly regarded as a truly unique and exotic city, and the most exotic place in Harbin is Central Street. As a first timer to this city and without any idea of where to go, be sure to start your journey at 'Central Street.' It provides an enthralling place for private tours with so much history and culture.
7
Siberian Tiger Park is situated on the north bank of the Songhua River to the northwest of Harbin and occupies an area of 1,440,000 square meters. It is the largest natural park for wild Siberian tigers in the world and enjoys a foundation for ecotourism, and it is a perfect place for private holiday tours and leisure. There are more than 500 purebred Siberian tigers here, white tigers, lions, lynx, leopards, and black pumas as well as Bengali tigers.
8
The great Ice Harbin Lantern Garden Party tours take you to the first and biggest photographic exhibition of the ice lantern in the world covering an area of 6.5 hectares, and about 71000 cubic feet of ice. It is on the list as one of the 35 national 'absolutely rare and wonderfully beautiful' scenic spots by National Tourist Office. The Party began in 1963 and from then on it has been held every winter in Zhaolin Park.
9
The Jile Temple is situated at the end of Dongdazhi Street in the Nangang District of Harbin. It is one of the four Buddhist temples in the three provinces in northeastern China and an excellent sightseeing tour. The Jile Temple was constructed in 1923, and it includes the Mountain Gate, the Hall of Mahavira, the Heavenly King Hall, the Hall of Three Saints, Scriptures-storing Tower and much more.
Yabuli International Ski Resort
10
The fabulous Harbin Yabuli International Ski Resort is the biggest and best ski resort in China and hosts the coolest private skiing tours. The resort has great skiing with high mountains and good snow; local skiers enjoy the high elevation. The temperature can reach as low as -47.2F snow falls for an extended period of around 170 days, from early November to about the end of March.
Travel Tips for Harbin
Best Time To Visit Harbin
Harbin has a monsoon-affected humid continental climate. The weather is mainly influenced by the Siberian High. The best time to visit Harbin is definitely during winter. The temperatures can drop below freezing between December and February, so the tourists can get involved in ice sports and a lot of other things to do. However, the city also gets some visitors in the months of April-May as it is also an excellent summer resort.
Typical Costs in Harbin
How much money do you think you will need in Harbin? ¥315 is the average daily price for traveling in Harbin. The average price of food for one day is ¥80. The average price of a hotel for a couple is ¥239. This all depends on your budget and itinerary, and what escorted tours you may want to do. You can eat and drink quite cheap here but if you fancy something a bit more classy there are plenty of excellent restaurants and bars.
Know Before Visiting Harbin
Carry all types of winter clothing like socks, stockings, padded gloves, jackets, mufflers, and scarves if you're planning your trip in winter. Be sure you dress smart rather than dressing thick. Choose your layers carefully. While it is unlikely that you will be a victim of a crime, as in any large city be vigilant about your personal property, exercise care if you find yourself on a lightly traveled street, and always be aware of your surroundings.
Weather in Harbin
Famously known as the 'Ice City,' Harbin is known for its long cold winters and short cool summers. The snow season can last for half a year. The weather in January is the coldest with the lowest temperature dropping as low as -38C, while it is just 20C on average in the summer. The unique climate makes Harbin an excellent destination that can be visited at any time of the year, but from July to September and also from December to January is recommended.
Let the activities begin!