Take A Private Tour To The Most Photogenic City Of China Hangzhou
One of China's most scenic favorite holiday spots is Hangzhou so take a private tour of the most photogenic cities in the world. If you take a Hángzhōu's private escorted tour to the West Lake panoramas, and fabulous green hills it can very easily tempt to stay. Many famous poets have written about the area and its intoxicating effect on the Chinese imagination. Kept spotlessly clean by the many by the local council, its scenic vistas draw you into a traditional Chinese watercolor of willow-lined banks, misty hills and the odd shíkùmén (stone gate house).
As wonderful as it is, Hángzhōu's charms are by no means only limited to the West Lake scenery. If you look further into the city on a sightseeing tour, you can climb ancient pagodas and discover blissful quiet temples. Away from the tourist attractions, there is a charismatic city. There is an exciting food scene, upbeat nightlife and increasingly international population. Read More...
Take A Private Tour To The Dreamy And Mesmerising West Lakes Of Hangzhou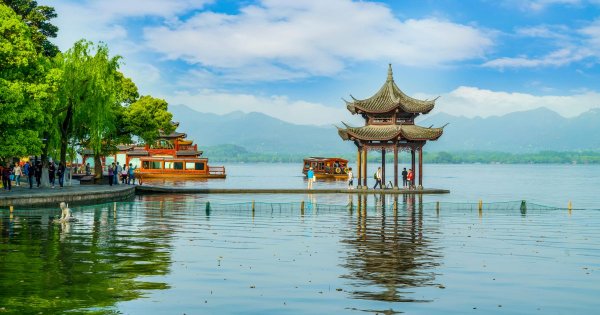 China is the definition of classical beauty, and the West Lake is utterly mesmerizing: pagoda-topped hills above willow-lined waters as boats slowly drift through a vignette of charm. With walkways, perfectly positioned benches, gardens, and parks around the banks of the lake that offer many vantage points for visitors to admire the perfect scenery.
Initially, a lagoon joining the Qiántáng River, this lake didn't exist until the 8th century, when the governor of Hángzhōu had the marshy expanse dredged. As time passed, the lake was gradually cultivated: gardens were planted, pagodas built, and causeways and islands were constructed from dredged silt.
Opera singing, ballroom dancing, and other activities take place around the lake which your Hangzhou escorted tour guide will show you. This beautiful setting with musical dancing fountains set into action throughout the night and day is fabulous.
Top 10 Things to Do in Hangzhou
1
Found in the southwest region of Hangzhou in the Zhejiang Province the beautiful west lake, and mountains have become a world-famous tourist spot and is known as "paradise on earth," and is now one of China's top 10 attractions. The beautiful West Lake is a like a shining pearl for its beautiful scenery, many historical sites, cultural relics, and a profusion of native products.
2
With your tour guide, you will be taken to the Temple of Soul's Retreat the Lingyin Temple in a long and narrow valley between Peak Flown and northwest of West Lake at Hangzhou. It is, without a doubt, a fantastic showpiece in the West Lake and is one of the most famous Buddhist temples of China. It was listed for protection in 1961 as a key provincial historical and cultural site.
3
The Leifeng Pagoda found on Leifeng Peak at Sunset Hill south of West Lake; it is also the oldest most colorful bronze pagodas in China. On your escorted tour you can see the pagoda, and appreciate the Jingci Temple nearby, enjoy the natural beauty of West Lake, and even see the city of Hangzhou from a distance. At dusk, the bright nighttime glow and lush green mountains are reflected in the beautiful lake.
Xixi National Wetland Park
4
Found in the west of Hangzhou, and less than 5km from West Lake, Xixi National Wetland Park is a rare urban wetland. With its many precious ecological resources, pure natural landscape, and fantastic culture, it is known as one of the Three "Xi's." The Park is not only the first, but it is the only wetland park in China mixing urban life, farming, and culture. See some fantastic water views; it is definetly a must private escorted tour.
China National tea Museum
5
China is known as the birthplace of tea with a long history of tea in its culture. The National Tea Museum in Hangzhou in was opened in 1991 has very informative private guided tours. The museum which is the only one in the country with the tea theme has no external walls but is surrounded by vegetation giving the feeling that the halls and the tea plants inside rely upon each other.
Hangzhou Botanical Garden
6
The Hangzhou Botanical Gardens are located at the bottom of Jade Spring Hill to the northwest of The West Lake. It was built in 1965 and is not just a park to feast your eyes on with beautiful plants but is also a research center for the cultivation of plants and protection of the environment. With a sightseeing tour of the garden see the incredible scenery and an excellent environment with decorative architecture including pavilions and kiosks.
7
Take a private sightseeing tour to Qiantang River the biggest river in Zhejiang Province. It is surrounded by some economically booming cities including Shanghai, the leading commercial hub of the country, and Ningbo, one of China's main port cities. The great surging tide of the River is a world-famous natural wonder caused by the gravitational pull of the planets and stars it is a fascinating tour.
Thousand Islets Lake (Qiandao Lake)
8
If you ever need to escape from the hustle and bustle of the metropolis then take a sightseeing tour to the Thousand Islets Lake and experience something special. With 81% of the area covered in forests, this lake is clear with clean, fresh air. It is a stunning lake with 1078 islets showing different views in different seasons. It is a productive lake with many fish and encircled by trees, tea, mulberry and lots of other fruit trees.
Daguan & Grand View Parks
9
Daguan, which translates into 'the grand view,' is the perfect name for this park and pavilion situated on the Daguan Road southwest of Kunming City. Escorted city tours stop at the Daguan and Grand View Park located nearby on the shore of Dianchi Lake. You will be mesmerized like many tourists by the beautiful scenic views, pavilions, bonsais, trees, and beautiful porches.
10
Tours to Hangzhou Zoo a forest-style animal kingdom which is located to the south of the West Lake are unreal. Covering an area of around 50 acres with over 2,000 rare animals and 200 different species, which include giant pandas, gibbons, golden monkeys, South China tigers, chimpanzees, red-crowned cranes, and Asian elephants. The zoo was constructed like traditional Chinese courtyards with distinctive rockeries, exquisite pavilions, and clear ponds.
Travel Tips for Hangzhou
Best Time To Visit Hangzhou
The best time to visit Hangzhou is definitely from April to October when the flowers and trees of this garden city are bright green and in full bloom. If you are not taking the weather into consideration, then there is no right or wrong time to plan your Hangzhou holiday and tours. So when to visit Hangzhou all depends on your budget, tolerance for large crowds, and your personal taste.
Typical Costs in Hangzhou
The cost of staying in Hangzhou is pretty reasonable although can be a little more than some other cities in China. On average you will need about 175 Yen, but extra for any private sightseeing tours, you may want to do. Also if you want to go to higher class restaurants and bars, you may need a little more, for example, a meal at a cheap restaurant will cost around 20 Yen, but at a mid-range restaurant will more likely be around 60 Yen.
Know Before Visiting Hangzhou
Visitors who need a visa must obtain it before arriving into Hangzhou. You can apply for the visa at the Chinese Consulate in your own country. Alternatively, you can secure the visa through a travel agency. Special fast applications can be completed within 24 hours. Hangzhou is a great and safe city just keep an eye on your valuable belongs in the city center since pickpocketing is a common occurrence in tourist locations.
Weather in Hangzhou
Hangzhou weather is generally warm and mild all year round, with abundant sunshine and rainfall. There are four clear-cut seasons – a short and rainy spring, a hot and humid summer, a crisp and bright autumn, and a dry and cold winter. The two rainy seasons here are starting in late June through to early July; with torrential rains and possible typhoons in August and September.
Let the activities begin!