Famous for Fashion and Football See the Real Madrid on Private Tours
Famous for Balenciaga Fashion and The Real Madrid Football Team, see the real Madrid on guided private tours. While skiing on snow-capped slopes in Madrid is not what you think of when you plan a holiday to Madrid it is possible to Ski all year round as the city has facilities readily available. The winter sports here are fabulous and very popular with locals and tourists; they especially like the apres ski facilities.
Madrid possesses a very sophisticated infrastructure; it has also lovingly preserved the design and feel of several of its most historic and iconic buildings, neighborhoods, and streets. Magnificient Madrid city tours will take you through the lovely districts with beautiful ancient architecture, cultural hotspots, museums, heritage centers and fabulous fashion houses.
Madrid is full of history, culture, fashion and shopping opportunities with great clubs and nightlife. The fantastic street food like the famous Churros can be found in the main square they are little bites of heaven. It is the ideal location to relax, eat tapas, drink sangria and do some great sightseeing. Read More...
Had Enough of the Sun! Try a Ski Holiday in Madrid on Custom Private Tours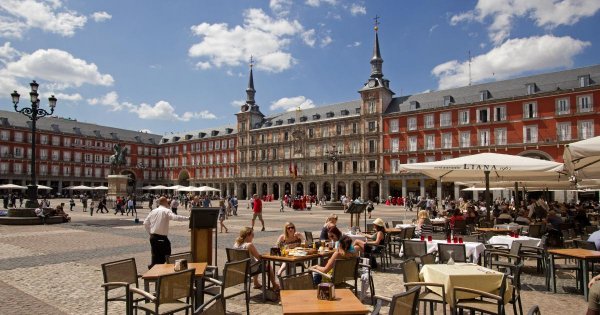 The city of Madrid has mountain ranges that are ideal for skiing and snowboarding in the winter season. Valdesquí is the most popular ski resort, with 27 tracks, 15 ski lifts and lots of cafés and rest areas to enjoy some well deserved apres ski. Guides are readily available to assist everyone from advanced to first-time skiers.

Puerto de Navacerrada private tours are perfect for a day of skiing with your family and friends. You can rent sleds so that children and amateurs can ride the more gentle slopes and have fun with the instructors. Equipment is available for hire for all the family but book your tours well in advance as Puerto de Navacerrada is very attractive to holidaymakers and space can be limited.
Top 10 Things to Do in Madrid
1
The Royal Palace Madrid guided private tours, visit Spain's version of the Palace of Versailles with an amazing and impressive royal court. The white columnar stone palace is breathtaking with grounds and magnificent gardens to match and an interior that is second to none. The columns, pilasters, and sculptors were intended for the Louvre but luckily stayed in Spain at this spectacular palace.
2
Take a Madrid private guided tours to Puerta del Sol; this large town square aligns with the rising sun which makes the site spectacular at sunset and ideal for sightseeing. It is a perfect place to take a seat, relax and do some people watching while having some coffee or a glass of sangria. Puerta del Sol town was named after the sun emblem on Madrid's old city gate which stood a symbol in the square.
Archaeological Museum Madrid
3
The National Archeological Museum is Madrid city tours most famous museum. The museum was founded by Queen Isabella II in the mid-1800's and has a rich collection of exhibits and artifacts from prehistoric times to the 19th century. The collection includes Egyptian mummies, ceramics, Roman artifacts, and sculptures; this is a must see private tour.
4
The Parque del Retiro (Buen Retiro Park) is a real oasis of peace and relaxation in the heart of Madrid. Pass the busy city streets and head to this lush 120-hectare park which is a great escape from the hustle and bustle of the city. From the main entrance at the Plaza de Independencia, see the stunning pool in the center of the park or take any of the paths for a stroll around and stop for a coffee.
5
This world-class museum has a collection of paintings that can rival any in the Louvre in Paris. Guided tours of the Prado Museum are on most city tours where they proudly engage with tourists about the Goya collection of painting and Italian neoclassical sculptures. With ten exhibition halls, you could spend a full day walking around and admiring these great works of art.
6
The Thyssen-Bornemisza Museum private tours present tourists an overview of European art from the 13th to the late 20th centuries. With up to 1,000 pieces of art on display, the collection covers the Baroque, Renaissance, Romanticism, Rocco, pop art to name but a few. From Monet to Van Gogh this collection is wonderful, and a must see sightseeing tour.
7
The famous Church of San Francisco el Grande built in 1761 for a Franciscan friary is a great Madrid private city tour. The church designed by Fray Francisco Cabezas has a Neoclassical facade and a dome that was added in 1770. The interior design features a circular plan with six chapels displaying paintings from Goya and Maella. The church's museum has exhibitions of unique religious artifacts and art.
Ermita de San Antonio dela Florida
8
The great Ermita de San Antonio de la Florida is a historic pilgrimage site and popular Madrid guided tour. This church hosts a busy annual festival in honor of Saint Anthony which is usually packed full of worshipers. The interior decoration has frescoes by Goya, which are said to be among his finest works.
9
The beautiful 17th-century plaza was built during the reign of Philip III and is a top tourist attraction on any Madrid private tour. The Plaza Mayor was a center for formal events like the canonization of saints or proclamation of a new King. The square also served as a top venue for theater performances, knightly tournaments, and bullfights.
10
The wonderful Cybele's Fountain (Fuente de Cibeles) stands as one of the most stunning monuments on Madrid sightseeing tours. Situated in the center of the busiest shopping district in Madrid it towers over the area with regal charm and beauty. You can admire the fountain from one of the quaint coffee houses and listen to the melodic sounds of the Spanish guitar.
Travel Tips for Madrid
Best Time To Visit
Private tours to Madrid are perfect at any time of the year due to the facilities and activities available from sun and ski holidays. March/ April/ May/ June/ September/October and November are great times to travel as it is not peak season and can be slightly cheaper. The weather is still warm off peak and there are fewer tourists on Madrid private tours so booking tours is a lot easier and the heat is more tolerable.
Typical Costs
Spain, in general, is cheaper than many other European major cities and easily comparable as they all use Euro. There are of course many different ranges in price and standards for eateries and hotels in Madrid you certainly get what you pay for here. Madrid custom private tours will vary in price depending on your tour operator and the time of the year. Traveling around the city is easy and cheap when you use public transport.
Know Before Visiting
When traveling to Spain a good thing to know is that they have specific dining times, lunch is at 2.30pm and dinner is no earlier than 9 pm. Spain is no different from any other country, it has professional pickpockets and scammers so always be careful when carrying money and have it somewhere safe on your person. Keep all personal documents and extra money in the hotel safe if possible.
Weather
There are three different climates in Spain because of its size, but tourists can expect the Mediterranean climate of hot, dry summers that will have temperatures reaching 30 degrees Celsius and mild, rainy winters that will have temperatures only going as low as 12 degrees Celsius. There is a mixture of both seasons for Spring and Autumn in the central plateau areas; it is more continental with hot, dry summers and cold winters with snow.
Let the activities begin!
Sat
Sun
Mon