Visit Historical Sights in Alcudia With A Private Guided Tour
The medieval town of Alcudia is Mallorca's most significant tourist centre in the north of the island, famous for its superb beaches and crystal clear waters. Take a trip back in time as you walk through the old town and admire the traces of distant civilizations and witness for yourself, historic Alcudia on a private guided tour.
The exciting northern town of Alcudia is a year-round location, offering history and culture no matter what season you choose to visit. Located just one kilometre inland from the famous holiday resort of Port d'Alcudia, it's the ideal place to experience rich Mallorcan heritage, without having to stray too far off the beaten path.
Historical events have left their mark everywhere in Alcudia. First occupied by the Phoenicians and Greeks, then recognized in 123 B.C. as the Roman settlement Pollentia, it was subsequently attacked by Vandals, Byzantines and Arabs, before finally being conquered by Catalan Christians. All of these conquerors left their cultural heritage behind, waiting for you to discover on an Alcudia cultural tour.
On a walking tour Alcudia, you will visit Mallorca's only entirely preserved town wall with its amazing views overlooking the old town and the Bay of Pollensa. The pedestrian area offers tempting restaurants, cafes with beautiful terraces along with, handicraft shops, stylish boutiques and Mallorcan specialities. You will be pleased to know that the town walls are great for watching open-air concerts during the summer months.
Let the activities begin!
Top 10 Things to Do in Alcudia
1
The church of Saint Jaume is located in the centre of the old town. This neo-gothic church was originally built in the 13th century and rebuilt in 1870 after being destroyed by heavy rains. Its bell-tower is the oldest on the island and dates back to 1309. Stroll around and admire the stained glass windows, vaulted ceilings and the gothic altar. Afterwards, visit the parish museum which consists of two rooms displaying many artefacts.
Mercado de Alcudia (Alcudia Market)
2
A fun way to learn about local life and culture is to visit the market. Before shopping, sit down for some refreshments and enjoy the hustle from a bystanders point of view and see how battering is really done. Here you will find locally produced fruit and vegetables along with shoes, handbags, jewellery, clothing and souvenirs. Every night in Port Alcudia, there is an evening market selling souvenirs and local crafts.
3
Located not far from the medieval walls of the historic centre of Alcudia is the Roman city of Pollentia. With walking tours Alcudia, learn about this archaeological site of great historical value. There are three areas which are open to the public which includes the theatre, the residential area and the forum. In the museum of Saing Jaume's, you will find many artefacts from this time, including, household pottery, glass, surgical instruments and farming tools.
4
Formerly a fishing harbour, this area has now been transformed into an up-market marina where you will find luxury yachts among the fishing boats. There is an excellent selection of bars and restaurants, and many of the local attractions are within walking distance. From here you can enjoy a ferry ride to Menorca, and as the port is relatively large, you will see the bigger ferries which go to Barcelona.
5
Enjoy family fun at Alcudia Hidropark. It is packed with attractions, from white-knuckle rides and a special area catering just for the children. Race the family on the Multipista, or for the brave take a trip on the Kamikaze. There is entertainment everywhere you turn, including mini-golf, and giant floating balls. As this is the largest water park in northern Mallorca, you will have no trouble spending a full day here.
Scuba Diving & Snorkeling
6
There is no better way to investigate life below the sea than with a certified instructor where you will learn the basics and the art of underwater signalling before you explore. Just below the water's surface, you will enter a completely different world as you swim among many different fish species in crystal-clear waters. It does not matter if you are a pro or a beginner; you will never forget this enjoyable experience.
7
Designed by Hassan Fahty and based on Moroccan architecture, your attention will be first drawn to the amazing 15th-century wooden panelled ceiling. You will discover an underground museum and one of the largest collections of paintings of children in the world from the 16th through to the 19th century. Stroll among the beautiful gardens with their splendid sculptures and visit an old restored military outpost.
8
This blue-flag beach stretches nearly 14 kilometres and has something for everyone. Not only is the beach perfect for sunbathing, but you can also explore the many coves making the beach a snorkelers paradise. Playa d'Alcudia is very family-friendly with changing rooms, play areas and of course, many water sports for your entertainment. At the beach, you will find many cafes, restaurants, bars and shops along the beaches trendy promenade.
9
On an Alcudia boat tour, you will discover the true beauty of the island from a different viewpoint. There are many to choose from, including group tours and private tours. Spend your day visiting immaculate beaches along with discovering beautiful natural coves and local fauna and wildlife. The crystal clear waters make it fantastic for snorkelling and swimming. There are also romantic evening cruises where you will enjoy the sunset.
10
Located in Alcudia's famous bull ring, you will enjoy the spectacle where various artists will impress you with their different skills. Enjoy the drummers as they take to the stage before being joined by the "Cantaores" who sing their famous songs known as "bulerias". You will be dazzled by both the clothing and the performances.
Family fun and sea sports in Port d' Alcudia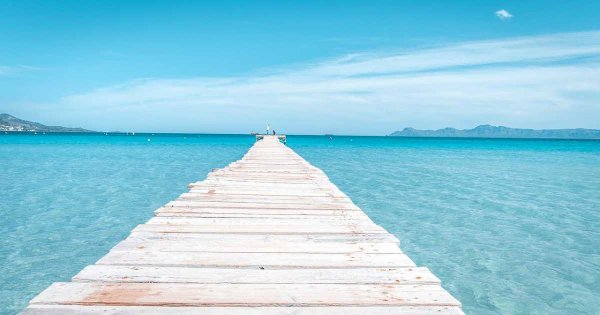 The beach is the main attraction here at nearly 3 kilometres long. It is filled with all types of water sports and associated outdoor activities such as snorkelling, windsurfing, hand-gliding and jets skis. The water is calm, and you would have to walk out rather far before it gets too deep. The area is very family-friendly, and you will definitely find something for everyone, especially with the many bars, restaurants and cafes.
Originally serving as a gateway for the north of the island, you can book many of your Alcudia boat tours from here. Tours on offer include, glass-bottom boats, dolphin watching, sunset cruises, cave trips and this part of the coast is one of the best spots for fishing on the island.
If the beach and water is not your thing, then take a trip to the nearby Golf Alcanada, with its eighteen-hole course and superb clubhouse or take an Alcudia cycling tour and explore the nearby attractions.
Travel Tips for Alcudia
Best Time To Visit Alcudia
From about mid-April through to the end of September, Alcudia is bustling with people who have come to have fun and enjoy all the resort has to offer. Even in the off-peak seasons, Alcudia offers lots of cultural activities including a jazz festival in September and winter fiestas. Alcudia is generally a year-round destination due to the many historical and cultural tours on offer.
Typical Costs in Alcudia
Like everywhere, you generally get what you pay for. There are popular early-bird menus, and a three-course meal for two in a restaurant should cost between 35-40 Euros. Book your accommodation in advance. B&B's and boutique hotels are usually the best value and remember. It is generally cheaper to book your tours early to get the best bargains.
Know Before Visiting Alcudia
Like anywhere you travel to it is always better to be safe than sorry. Keep your personal belongings close and never carry large amounts of money on you. Do your research well before you travel to ensure you get the best deals on hotels and tours. It is safer better to drink bottled water and to make sure that the caps are adequately sealed before purchasing.
Weather in Alcudia
Palma enjoys a Mediterranean climate consisting of long hot summers and mild winters. August is the hottest month and temperatures average around 25 degrees. In autumn temperatures get a little cooler, though temperatures can still get into the 20's in October. Typical winter temperatures in Alcudia are always pleasant, ranging from 9°C to 10°C between December and January.