Ibiza the Holy Grail for Guetta and Private Island Tours
The population of Ibiza swells annually to over six million tourists to visit the Holy Grail of dance music and book backstage tours for a private meet and greet with DJ's like David Guetta, Sven Väth and much more. While Ibiza is mostly known for the clubbing side of things, the sandy beaches and watersports available here are fantastic, and there are some destinations on the Island that deal exclusively with family friendly holidays.
Sa Caleta is one of many resorts that specialise in romantic getaways with stunning sunsets and restaurants with staff ready to make any night a night to remember. Private Phoenician Ruins sightseeing tours are a perfect way to start the cultural end of your holiday as you will see how first settlers made Ibiza Island home.
Ibiza is full of beautiful palm trees along the white sandy beaches and wacky water sports, but there is also a beautiful cultural side to the Island waiting to be explored. Private village sightseeing tours will let you see real island life with a lot of locals converting their homes into front room restaurants and traditional B&B's with unique service and lots of helpful local information to make your Ibiza holiday and tours perfect.
Let the activities begin!
Ibiza Island Sizzling Top Ten
1
Sant Miquel de Balansat was a former fishing village and is now a busy, popular holiday resort destination. The beautiful white sandy beaches are stunning, and the excellent eateries and hotels serve lots of traditional local food, and if you are lucky, you might see some flamenco dancers ready to entertain. The beautiful deep bay is perfect for waterskiing, snorkeling, and exploring.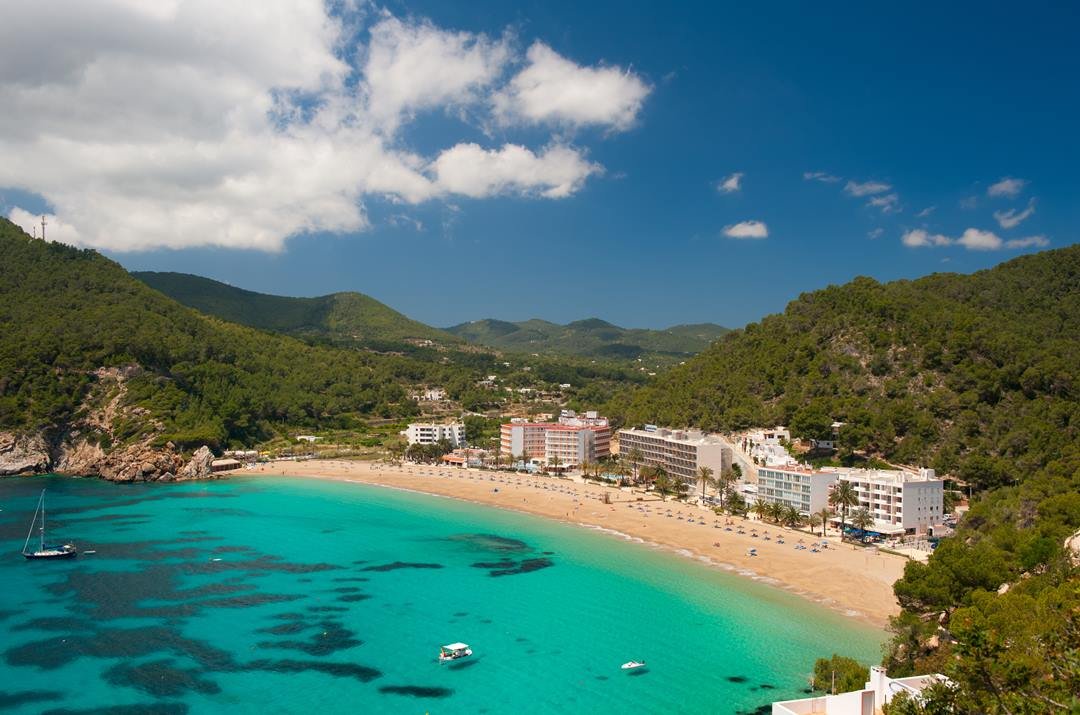 2
Exploring the north coast of Ibiza Island can be full of adventure with many resorts and tour opportunities. This section of Ibiza has some smashing sun-soaked beaches with great activities like private sightseeing tours of the Phoenician Ruins a definite highlight for tourists. If you prefer to just lounge around on the beach, this is a perfect spot.
3
Sant Rafel de la Creu was for many years a quiet little village in Ibiza, but it is now the hotspot for young revelers looking for fun packed and exciting holidays. Two of the most famous and visited nightclubs in the world called Privilege and Amnesia are located here with world class DJ's like David Guetta filling the dancefloors in both clubs every season.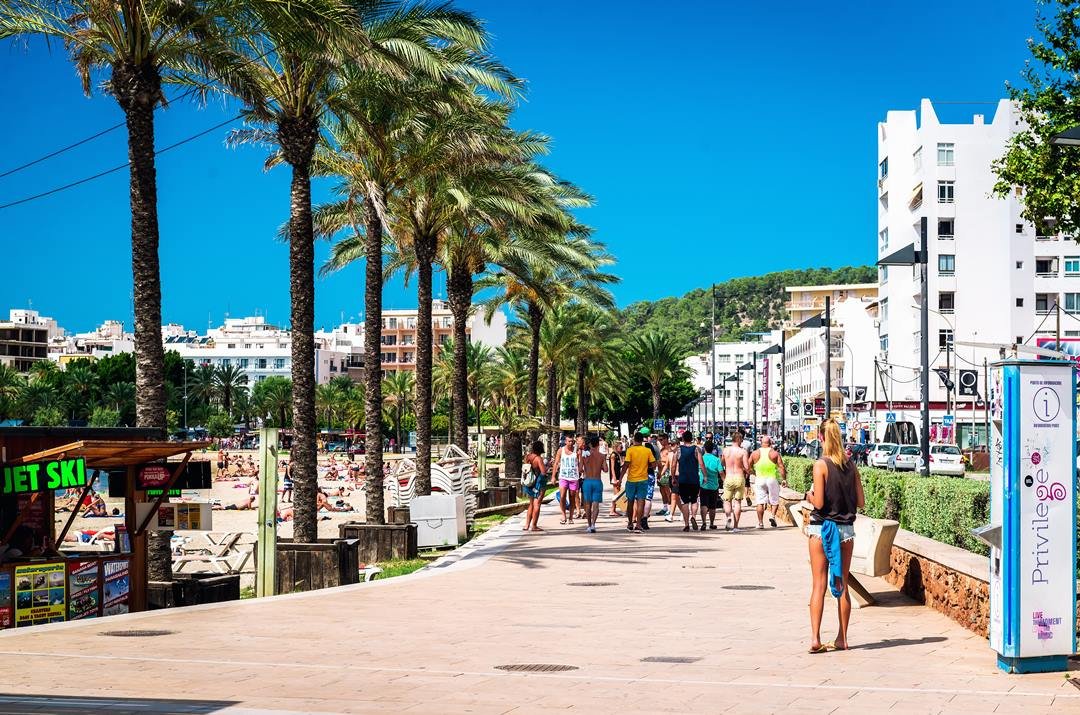 4
Ibiza's south coast is a cosmopolitan hotspot with quaint, chic bars and restaurants and beautiful beach clubs running along the stunning coastline. Tour guides will recommend the best beaches which are the most stylish and classy in Ibiza. If you want to be seen and part of the jet set then the South Coast is the place for you.
5
Tours to the sleepy town of San Carlos can only be described as perfect with everything you could need for a super beach holiday. Packed with lots of bars and live music, entertainment filled beach clubs and restaurants that all serve the famous local drink called Hierbas. San Carlos is perfect for an exciting vacation. There are many quaint shops and the best Saturday market on the Island of Ibiza.
6
Sant Juan is one of the only villages in Ibiza not affected by the influx of new tourism to the area. Guided tours of this lovely Ibiza village take visitors back in time to see real Spanish rural community life. The main street is full of old features with cobbled steps, flowered iron balconies, little shops and boutique restaurants and pensions. The Village is the perfect place to take some time out and relax.
7
Guided tours of Ibiza's west coast are filled with a lively atmosphere, awesome watersports, and crazy nightlife, especially in San Antonio. The long stripped sandy beaches draw great crowds in the summer season, and the resorts vary from family friendly to fun new singles escapes. The sunsets from the West Coast are spectacular and perfect to enjoy a romantic interlude.
8
Portinatx holiday tours are tailor made for families due to the safe shallow waters, hotels, and apartment or villa rentals. There is a huge variety of watersports and child friends activities on all of the three magnificent beaches which are full of luxury sunbeds and beach bars. Portinatx has an excellent safety record with some of the best-guarded beaches in Spain.
9
Private Santa Gertrudis tours have become a regular stop for all holidaymakers on Ibiza tours. This small town has grown from strength to strength and now maintains a lively, fun and multicultural atmosphere. Many of the locals converted their houses into little front room restaurants and fun bars with live music and lovely pleasant terraces to relax and enjoy the atmosphere.
10
Ibiza's North Coast is known by many travelers for its gorgeous scenery, unbridled countryside, and unspoiled beaches. The laidback cool bohemian lifestyles are reflected in the large residential community with many mind, body, spirit and wellness centers in this part of the Island. Private hiking or horse riding tours are a great way to see this beautiful region of Ibiza.
Private Phoenician Ruins Sightseeing Tours See How First Settlers Made Ibiza Home
Believed to be home to the first settlers on Ibiza Island the Phoenician ruins are in disrepair but there are dedicated archaeologists digging and cleaning up the site on an ongoing basis. Tour guides will escort you to the viewing area near the ruins and thrill you with the history and details of this rare sight. The settlers decided on this particular area due to it's location to the salt marshes and the many fruitful resources available in the area.
This settlement dates back to the 8th century but was abandoned and relocated to Ibiza Bay at a later date, as the settlement population grew. The layout of the town will show the narrow little streets with square rooms where it is believed ovens were located to prepare food for the all the village people. There are smelting rooms and residential areas; a whole community in one, while you can only view this settlement from the coastline, it is amazing to see Ibiza's most visited tour destination.
Travel Tips for Ibiza
Best Time To Visit Ibiza
Ibiza Island can get sweltering, but thankfully it is on the edge of the Balearic Sea so you may get a bit of a cool breeze often which is perfect for escorted Island tours. The location of the Island makes the weather consistently good most of the year. It is quite hot in the high summer season so maybe best to go in the cooler months if you like to walk around visiting the many sites and feel more relaxed.
Typical Costs in Ibiza
Ibiza registered tour guides believe 100.00 to 120.00 euros per day should cover two people for food, refreshments, and beach beds or entry to beach clubs. Tours on the island are relatively cheap, and many of them include some refreshments with breakfast or dinner. Alcohol and restaurants are averagely priced on the island, and many tourists tend to eat out as it is cheaper than then cooking at home.
Know Before Visiting Ibiza
Prices are the same as most EU resorts, and holidaymakers should budget 100.00 to 120.00 euros per day. Most shops take credit cards, but smaller stores and markets on Ibiza rarely do. Book your private guided island tours in advance to get more reasonable rates. Accommodation is reasonable, car hire is inexpensive as and hopping is very popular here.
Weather in Ibiza
Ibiza's location makes the weather consistently good most of the year even in the winter months. There is usually only a small amount of rain in the winter month from November and March. Flight packages and hotel accommodation are much cheaper off season than in the high season but deals are available. It's an ideal place for a winter holiday as the lowest temperature is around 13 degrees.