Magical Mallorca Private Guided Tours for Dreamy Coastlines and Culture
Private guided tours Mallorca are only one way to see magical Mallorca (or Majorca as known by some people). It is an idyllic Mediterranean Balearic island with lots to offer all types of travellers.
Not only does Mallorca have great weather but beautiful scenery, pristine beaches, picture perfect villages full of charm and character, history and culture, delicious food and excellent nightlife.
If all of that is not enough, there are brilliant Mallorca activity tours. The varied activities include water sports, hiking, walking, golf, cycling and fabulous Mallorca boat tours along the dreamy coastlines to name a small few.
On the island, you can find many great resorts that cater specifically for families where you can expect adventure parks, water parks and petting farms. Alternatively, there are also excellent resorts that are for adults only.
Whether you decide to stay in such places as the cosmopolitan city of Palma, the more 'livelier' town of Magaluf, scenic Alcúdia or the historic hilltop town of Valldemossa, there is somewhere on the Island perfect for everyone.
Let the activities begin!
Top 10 Things to Do in Mallorca
1
The cosmopolitan Palma de Mallorca is the Island's beautiful capital which offers much to tourists. On private guided tours Mallorca visit the amazing and impressive Cathedral de Mallorca, Castillo de Bellver, Fundación Pilar Í Joan Miró and range of museums. Alternatively, have a relaxing break on any of the stunning beaches, shop till you drop and enjoy a wide variety of excellent evening entertainment.
2
On sightseeing tours Mallorca, the hilltop town of Valldemossa is highly recommended. This is a historic village located between Tramuntana Mountains and the Mediterranean Sea. Bursting with charm and ambience, you find steep streets with old buildings and facades to match. The Port of Valldemossa and harbour is just below the village with beaches and coves to relax on also. Be sure to visit the Carthusian monastery.
3
A very popular tourist resort is Santa Ponsa which is found amid a stunning sheltered cove, south-west of Mallorca. The range of Mallorca activity tours available is immense especially relating to water. This is due to the Port Adriano, its harbour with deep water. The beach here is long and full of soft white sand with vibrant blue waters. History is important here also, as it was from here Jaune I began his conquest of Mallorca.
4
Alcúdia is among the most scenic towns to visit on sightseeing tours Mallorca. This walled, well-preserved, medieval town is surrounded by pine forests and lush green foliage. The winding streets and renaissance houses give you the feeling you have can back to Old World times. Visit the archaeological sites thanks to the town being built on an ancient Roman settlement and all the other fascinating must-see attractions here.
5
For historical sights, monuments and stunning landscape, take private guided tours Mallorca to the little town of Sóller. This lovely town is nestled away in an idyllic valley and has citrus orchards and olive groves surrounding it all the way to the seafront. See the spectacular scenery of the surrounding areas on the famous Sóller Train. The train is an Old World railroad car and passes many interesting sights.
6
Take one of the wonderful Mallorca boat tours available to visit the bustling port town of Pollença. Located in a gorgeous bay with the deepest of blue seas, it has the amazing backdrop of the Calvari Mountains. The town itself has a medieval feel and look with two churches that are important to the island. Explore the expansive shoreline, visit the historic centre of go scuba diving, it is all here to do.
7
One of the best places to find a wide range of adventure tours Mallorca is at Tramuntana Mountains. Due to the diverse terrain, you can do rock climbing, canyoning, hiking, mountain biking, coasteering, abseiling and adventure swimming. In Santa Ponsa's Jungle Park is the largest tree adventure park with lots of adrenaline rush activities to do such as zip lining, cycling over tightropes or tree swinging!
Diving and Snorkelling in Mallorca
8
One of the top Mallorca activity tours is diving and snorkelling which is not surprising given the deep waters surrounding the Island. The tours available will bring you to the top destinations where you can visit magical and mystical underwater caves, shipwrecks, coral reefs and of course swim with the wonderful marine life. All certified diving tours are with qualified instructors and can cater from diving beginners to experienced.
9
Take a sightseeing tour to the fascinating historical town of Artà, another idyllic town set in a valley. The backdrop of the town are the rolling hills of the Artà mountains and the towns name comes from the word 'garden' in Arabic. This town and its surrounding areas offer splendid views and perfect for amateur photographers. There are many places to visit such as the parish church and grand old houses.
Horseback Riding Tours Mallorca
10
To see the sights and landscape of Mallorca, an excellent way is on horseback riding tours. This is the perfect way to feel at one with nature. The range of tours to do by horseback range from sunset beach rides to full day mountain rides. All certified horseback riding tours are with experienced horse handlers and guides. The horses are well cared for, very friendly and perfect for all ages and family outings.
Visit the Backbone of the Island, Serra De Tramuntana on Adventure Tours Mallorca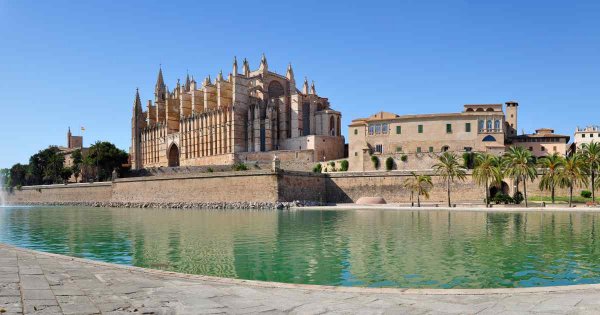 Great adventure tours Mallorca can bring you to such places as Serra de Tramuntana. This mountain range is regarded as the islands northern backbone and a UNESCO World Heritage Site. For the extreme sports fanatics, there is the challenging terrain for rock climbing, canyoning and coasteering.
Any sightseeing tours Mallorca allows you to see the most fantastic places and attractions but also an opportunity to find the perfect beach. There is a choice of fabulous beaches in most major cities and towns, so an early tour of the area is ideal to find your feet when visiting somewhere new.
To describe Mallorca is three words: stunning, diverse and entertaining!
Travel Tips for Mallorca
Best Time To Visit Mallorca
The best time to visit anywhere always depends on the wants and wishes of the individual or family. A good time to visit is from March to May when it is hot but still pleasant which are ideal conditions for adventure tours Mallorca or sightseeing tours Mallorca. It is also quieter at this time and slightly cheaper. Peak season is June to September. It may be busy, but it is also lively with lots of entertainment and festivities.
Typical Costs in Mallorca
The costs in Mallorca vary from place to place, but in general, the prices are good for tourists and even better for expats. If you do a little investigating, it is possible to find bargains or cheap but good restaurants and hotels. You can have a 3-course evening meal for less than US$20 or a room in a comfortable and clean hotel from US$18. Private guided tours Mallorca will vary in price depending on season and attraction.
Know Before Visiting Mallorca
In general, Mallorca is a very safe and officials work to keep so, due to the importance of tourism to their economy. Be aware of your surrounds at all times. It is better to be safe than sorry, so the advice is not to walk alone at night especially on any beach. In certain towns, the nightlife is crazy so be aware of how much you are drinking for your safety. Never stray from groups on sightseeing tours Mallorca.
Weather in Mallorca
Expect a Mediterranean climate when visiting Mallorca. This means the summer is hot and dry; winter is mild in comparison to central Europe with seasonal rain. The hottest months with average temperatures 31 degrees Celsius are July and August. The coolest months are January and February with temperatures averaging 5 degrees Celsius at their lowest. The wettest months tend to be October and November with varying quantities of rain each month.