You Can Tan and Have Adventures, Visit Yucatan on a Sightseeing Tour
Yucatan and great sightseeing tours a place where you can tan and have excellent adventures in a destination that is like no other.
Situated on the Gulf of Mexico Yucatan is a Mexican State with fabulous beaches, world-renowned ruins and archaeological sites, temples and sinkholes with underwater caves.
It also has inviting and welcoming cities such as Merida, Izamal, Uxmal and Valladolid where you will find interesting sights, beautiful scenery, history and charm, delicious restaurants and entertaining bars.
Culinary in Yucatan is well recognized not only all over Mexico but worldwide too. Due to the Yucatan Peninsula being inaccessible, for many years, from land it was still accessible from the sea and it is the influences from countries such as France, Cuba and New Orleans as well as ingredients from ancient Mayas that has made the cuisine from Yucatan unique and a favorite of many.
When coming to Yucatan, find out what festival is on when you are here because there is generally at least one festival a month. The Festival and holidays are great events to be here for with great activities, euphoric atmosphere and partying all night long. Read More...
The Most Fascinating and Spectacular Guided Tour in Yucatan Is of El Castillo Chichen Itza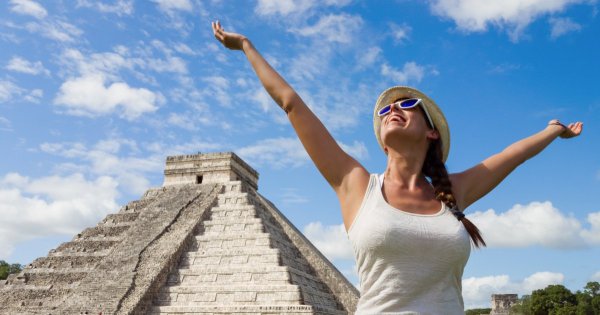 There are numerous activities and tours that can be done when you are Yucatan, places with spectacular beauty, incredible history, uniqueness and adventure.
The most extraordinary sight to see on a guided tour is El Castillo in Chichen Itza. It is the most stunning and fascinating step pyramid that stands out in the archaeological site of Chichen Itza.
Other activities to have adventures with include diving tours to the Cenotes and caves, Zip lining adventure tours for adrenaline and speed through natural beauty, sport fishing tours, kayaking and amazing bird watching tours.
The beaches found in Yucatan are some of the best. They have shallow waters of the Gulf of Mexico and white sand where you can relax and take a break from the hustle and bustle of normal life.
Top 10 Things to Do in Yucat
1
On a guided tour to Chichen Itza, the most dominating structure to see is El Castillo which is Spanish for 'the Castle'. It is also known as the Temple of Kukulkan. It is an amazing temple that was designed with astronomical significance. There are 91 steps going up each side of the temple and one step at the top, when added together make the number of days in a year, 365. It is fascinating to see the temples and learn their history.
2
A Maya archaeological site, Kabah is located near Uxmal and a wonderful place to see on an archaeological tour. The highlight of a tour is the Palace of Masks which is an ornate building covered with masks of the rain god Chaac. The repetition of the masks is a rare thing in Mayan art and some say it is to demonstrate the importance of water due to there being no underground cenotes, they relied on rain as a source of water.
3
Ik-Kil is a cenote (a natural underground reservoir of water) that is located close to Chichen Itza. It is quite possible the most spectacular and beautiful cenote in all of Mexico. On a sightseeing tour, you will need to climb 26 meters down to the waters. The water is 40 meters deep and a great place to take diving tours. According to Mayan history, these waters were sacred and human sacrificing took place to their rain god.
St. IIdephonsus Cathedral, Merida
4
When on a sightseeing tour in the city of Merida, be sure to visit St. IIdephonsus Cathedral. It is the oldest Cathedral in Mexico and the first to be built in Lain America. It is here that is home to Archdiocese of the stat of Yucatan. There are three naves, three chapels and a sacristy. There are two Moorish-style towers and dome with arches and pillars. There are lots of fascinating features to be seen in its architecture.
Hacienda San Ildefonso Teya
5
Go on a guided tour of the Hacienda San Ildefonso in Teya when in Yucatan. This is among the oldest Hacienda in Mexico and was founded 1683. The wide staircase that leads to the entrance of the main house is marked by two round arches which is also seen in the other interior places and courtyard. There is a dungeon which is now a cellar for aging liqueurs. See lots of photographs along the corridors depicting life through the ages.
Ek'Balam, near Valladolid
6
Ek'Balam, when translated, means Bright Star Jaguar and is another place to take an archaeological tour. As with most archaeological sites in Mexico, this site is still as work in progress, but the so far the amazing and well-preserved sculptures excavated here are exciting for everyone to see. The impressive temple is large, 500 ft long and 200ft wide, with stunning architecture. The sculptures from these Mayan ruins are unusual.
The Great Mayan World Museim of Merida
7
Take a guided tour of The Great Mayan World Museum of Merida (El Gran Museo Del Mundo Maya) On display are exhibits with one 1,160 pieces such as textiles, religious pieces, engravings, historical documents, pottery, ceramics, sculptures and more. There is also a display of luxury artifacts such as shell, jade and gold. It is a wonderful and detailed tour where you can learn o much about the Mayan history.
8
Another beautiful place to take a sightseeing tour is to Cenote Zaci which is located in the small city of Valladolid. This Cenote is slightly more open than other sinkholes located Yucatan and is a fabulous place to take a break from the tropics heat. There are stairs down to the water that are carved from the natural rock. Enjoy a luxury swim in the cool waters with the eyeless black fish as company.
9
When visiting the city of Uxmal, take a guided tour to see the Pyramid of the Magician which is also known as Pyramid if the Dwarf, Casa el Adivino of Pyramid of the Soothsayer. This is another Mesoamerican step pyramid, but you can never see too many as they are such fascinating structures. This one is 100 ft tall and the tallest in the Uxmal. Seemingly a magician god built this pyramid by himself.
El Corchito Ecological Reserve
10
A fantastic way to spend a day is on a sightseeing tour of El Corchito which is an ecological reserve not far from the city of Merida. It is a little oasis located between mangroves and the only way to get there is by boat tour. It feels like you are in a jungle when you get there and there is lots of see with the beautiful flora and fauna. There are also three cenotes to venture to and have a splash around in.
Travel Tips for Yucat
Best Time To Visit
The best time to go is any time other than May to July if you are visiting Yucatan purely for sightseeing tours or guided tours of archaeological sites. It is very hot and humid. The ideal but busy and possibly the most expensive time is from December to April, the weather is ideal for all actives, tours or just lazing on the beach. September and October have the possibility of hurricane and tropical storms.
Typical Costs
Yucatan is regarded to be cheaper than most top destinations in Mexico, United States and Europe. The prices although cheap, still vary from place to place and the different seasons. The smaller towns and cities are much cheaper than the busy popular resort towns and cities. The prices of guided tours vary depending on the month you are there. The prices in the bigger cities can also vary from neighbourhoods.
Know Before Visiting
Check the time you want to travel if there it is the busy season or what festivals are on. Book well in advance all flights, accommodation and guided tours. Make sure if you need a visa to enter Mexico that you apply early with the embassy. When going on Archaeological tours be sure to wear a hat to protect yourself from the beating sun and apply sunscreen regularly. Only drink water from sealed bottles.
Weather
Yucatan has a tropical climate which means that during June to October the weather is rainy and muggy, November to February is relatively cool and March to May is hot with temperatures reaching 40 degrees Celsius. The hottest month is usually May and the coldest are December and January with temperatures only as low as 29 degrees during the day. There is a good chance of Hurricanes inSeptember and October.
Let the activities begin!
Sat

Sun

Mon