Historical Tales to Tell of a Private Tour of San Miguel De Allende
Once you have been on a Private Tour of San Miguel de Allende, there will be plenty of historical tales to tell due to this city being rich in history dating back to 1542.
Its name alone has historical significance; the city was named after Mexico's War of Independence most prominent figure General Ignacio Allende. There is also the stories relating to the silver trade during the 16th century.
Other reasons why many tourists fall in love with the city of San Miguel de Allende is the beauty of the city from the buildings to the people.
The architecture of some of the grander buildings is stunning and you can spend hours looking at all the different nooks and crannies, sculptures, carvings and other features that are in the design.
The San Miguel de Allende locals are beautiful people both inside and out. Their warmth and friendliness is obvious from the moment you meet someone. They are proud of their city and therefore take pride in it and they want all visitors to fall in love with it as they do.
Let the activities begin!
Top 10 Things to Do in San Miguel de Allende
Historic Museum of San Miguel de Allende
1
The San Miguel de Allende Historic Museum is a fascinating place to take a guided tour. Located in the 18th century home of a leader in the Mexican Independence War, Ignacio Allende, this museum tells the story of this city's history. There is a replica of Allende's home on one of the floors and look out for the inscription on the front which when translated from Latin says 'Born here, known everywhere'.
Parroquia de San Miguel Arcangel
2
The Parroquia de San Miguel Archangel looks more like a fairytale castle than a church and is a place highly recommended to see on a guided tour. The main part of the church dates back to the 17th century, but the 'pink' towers were added in the 19th century and were designed by Ceferino Gutierrez, a native stonemason. Inside is the 16th-century image made from cornstalks and orchids, the Cristo de la Conquest.
The Charco del Ingenio Botanic Gardens
3
Take a sightseeing tour of the botanical gardens of San Miguel de Allende which is also a ceremonial place, a recreational area and wildlife and bird sanctuary. Within the 88 hectares of garden is a Conservatory of Mexican Plants which includes some incredible cacti. When there is a full moon, the gardens hold ceremonies which are interesting experiences and the canyon has a freshwater spring.
4
Sanctuary de Atoetonilco which has six chapels is close to San Miguel de Allende. It was founded as a spiritual retreat in 1740 and it was here that Ignacio Allende was married in 1802. It was also here that Ignacio, Miguel Hidalgo and other independent rebels stopped while on the way from Dolores to San Miguel to take the shrine's banner as their flag. There are many features and statues to admire here.
5
A very entertaining and enjoyable guided tour for all the family is that of La Esquina Museum in San Miguel de Allende. This is a toy museum set up to preserve Mexican toys and games. It was the first of its kind set up in Mexico. There are four rooms where the toys are displayed by region from which they came and the culture surrounding these areas. There are many toys to see from many different eras.
6
Casa de Cultura Banamex and Casa del Mayorazgo del la Canal on a guided tour. The Palace of the Conde de la Canal is an ornate baroque building with a peaceful courtyard that displays historical and fine art items. The building is from the 17th century and interesting even before you enter to see the showcases of art and history. If you like architecture, you will enjoy touring here.
7
For an enjoyable and leisurely sightseeing tour, visit Benito Juarez Park in San Miguel de Allende. It is a very tranquil and peaceful park that has winding paths, colorful vibrant flowers, a play area for children and benches to sit and relax on. It is the biggest park in the area and a great place to escape the bustling city. There are excellent facilities here too.
8
For the energetic, take a sightseeing tour to El Mirador which may include a bit of a hike. It is a scenic spot in San Miguel de Allende from which you get to see the incredible views of the city from. On a clear day, you can see from miles the city and surrounding areas. It is worth taking a tour to this location for the great photo opportunities and the exercise.
9
Another excellent church to see on a sightseeing tour is the Templo de la Concepcion. It has magnificent oil paintings that are ancient and a stunning altar. Just inside the doorway, there are wise sayings on the walls which will give pause to anyone entering the church. Building began in the mid 18th century and like Parroquia de San Miguel Arcangel, the same designer added a dome in the 19th century.
San Miguel de Allende Markets
10
Like most cities in Mexico, San Miguel de Allende has excellent markets and if you are a tourist, you should really try to visit one. The atmosphere is fantastic and you can have great fun with the vendors haggling the price of what you want to buy. The local craftspeople sell their fine crafts in the markets as do the local farmers. A very enjoyable place to pick up souvenirs.
Guided Tour of the Historic Museum of San Miguel De Allende for a True Historic Educational of This City and Mexico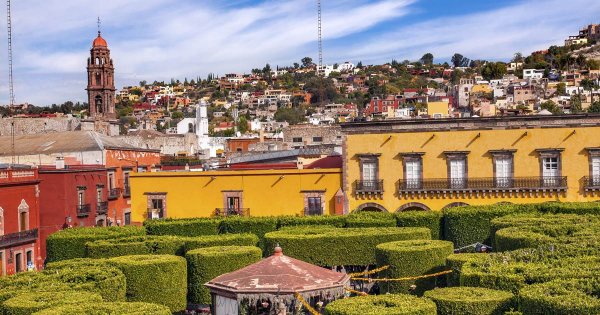 To truly know or learn about the history of this city, you need to take a guided tour of the Historic Museum of San Miguel de Allende located in the 18th-century house once owned by a leader of the Mexican Independence Movement Ignacio Allende.
A highlight of any visit to San Miguel de Allende is food. This city is well known for its restaurants and delicious cuisine. To add to the enjoyment of the food, there are many restaurants on rooftops where you can have a romantic meal watching the sun go down.
Travel Tips for San Miguel de Allende
Best Time To Visit San Miguel de Allende
Whenever there is a festival on in San Miguel de Allende is the best time to visit here. September and Mexico's Independence Day is partying all the time and anytime around Christmas is also a hive of activity with street parties and live bands. Weather wise, it is a warm, mild climate all year round with April and May the hottest. February and March are the driest and a good time to go on sightseeing tours.
Typical Costs in San Miguel de Allende
The prices in San Miguel de Allende for tourists is excellent as with most of the cities in Mexico. Enjoy a meal for two people for around US$20 or lunch during the day in a cafe for US$10 again for two people. Guided tours or any tour are very reasonably priced for the service they provide and the amazing sights you get to see. Accommodation starts from US$20 a night in a decent hotel.
Know Before Visiting San Miguel de Allende
Before traveling, find out whether a visa is needed to enter Mexico because there are certain nationalities who will need one. If you are planning on travel to San Miguel de Allende when there are festivals, you will have to book accommodation well in advance as the hotels get booked out very quickly. The same applies for guided or sightseeing tours. It is advised that you only drink bottled water.
Weather in San Miguel de Allende
The warmest months in San Miguel de Allende are April and May with temperatures averaging 30 degrees Celsius. The rainy season is from June to September when the rain can be infrequent but torrential when it arrives. The wettest month is usually July. The driest month are January to April and November to December. The coldest month is January and temperatures are around 19 degrees Celsius on average.