Go Loco on a Private Tour to Acapulco With Sun, Thrills and Cliff Dives
To quote a famous song 'Let's go loco' on a private tour of Acapulco with lots of sun, many thrills and the possibility of cliff diving for the experienced diver.
This resort was once the most popular in Mexico thanks to the jet setters from Hollywood, royalty and the wealthy making Acapulco their top holiday destination during the 1950's and 1960's.
It is located in a, now protected, bay off the Pacific Ocean on the southwesterly coast of Mexico and is one of the oldest resort towns. Even though there are newer resorts which are more popular, Acapulco still has so much to offer a tourist.
The beautiful beaches, secluded coves, crystal clear warm waters, the excellent and countless outdoor activities, fantastic scenery and the 'raging' nightlife are the main attractions that make people from all over the world want to come here as well as the locals from all over Mexico. It is fun in Acapulco! Read More...
The Best Sightseeing Tour in Acapulco Is to the Cliffs of La Quebrada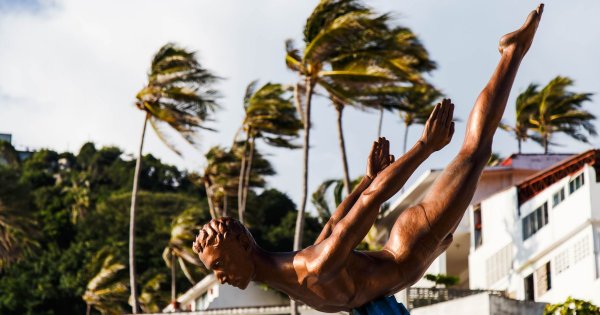 In Acapulco, there are more activities to do than sightseeing tours, but a highly recommended sightseeing tour is the one to the cliffs of La Quebrada.
These cliffs have come to symbolize Acapulco and are the most iconic attractions. The main reason being that on a daily basis, day and night, there are people who dive from the jagged cliffs into a narrow inlet below, timing their jump with the incoming waves.
Water activities that can be done include private tours to swim with dolphins, scuba diving, sailing in glass bottom boats, parasailing, fishing and a lot more.
Other activities to be enjoyed here are bungee jumping, horseback riding, bull fights and lots of shopping.
Top 10 Things to Do in Acapulco
1
The top attraction in Acapulco has to be the Cliffs of La Quebrada and this is a great sightseeing tour. The cliffs are spectacular to see and the views are superb, but the best thing is the divers. Experienced and professional divers plunge from ledges 40 feet high or 80 feet high into the narrow inlet below on a daily basis, day and night. They have to time their dives perfectly to coincide with the incoming waves.
2
Home to Acapulco's History Museum, the Fort of San Diego is an important historic monument in Acapulco. On a sightseeing tour, you will find it on a hill in the heart of downtown. The shape and geometric design of the fort is a major part of the landscape with its five point star. The museum shows the most interesting moments of Acapulco's history and the role the fortress played. There is much to see on tour here.
3
A private boat tour is definitely the best way to explore the Coyuca Lagoon. The boat navigates through some fantastic jungle scenery, see Bird Island and the Isla del Hombre de Las Siete Espousas. Sail down the canal and you are in the area where the movie Rambo II was filmed. From there move on down to where the river, ocean and lagoon meet. Other trivia is that Tarzan the tv series was filmed here. This is a leisurely tour.
4
For an unforgettable experience in Acapulco is fishing. On a private fishing tour, you are brought out to the high seas where it is possible to fish for the likes of Northern Red Snapper, Marlin and Mahi-Mahi. All tours are with experienced anglers who are there to help or teach you how to catch the fish of your life. Even if there are no fish caught, it is an excellent way to spend a day.
5
To get away from beaches for a day, take a day tour to Papagayo Park in the heart of Acapulco. This is a protected natural area where you can interact with a variety of animals and birds. There are restaurants to sit, relax and watch the people going by. Also, you can swim in the swimming pool or visit one of the 3 lakes. Other activities include skating, basketball, volleyball, soccer and going on rides.
The Cathedral of Our Lady of Solitude
6
An interesting place to see on a sightseeing tour is The Cathedral of Our Lady of Solitude. This cathedral was built in 1930 with Byzantine towers and a Moorish-style dome. There is a lot of gold decoration in the interior. Acapulco's patron saint is The Virgin of Solitude since heritage was sent to Mexico by King Philip II and during Mexico's Independence, she was symbolically named General.
7
Off the coast of traditional Acapulco and the coast of Las Playas is a large island called Isla de la Roqueta. Take a glass bottom boat tour over to the island which is a big stony crag that is topped with lush green vegetation. Playa Roqueta is a small rustic beach where you can go snorkelling, kayaking and other water related activities. See exotic animals in the modest but compact zoo or take hiking tours along the trails.
Chapel of Peace, Trouyet Cross
8
Take a guided tour to a place of peace and serenity, The Chapel of Peace which is located perched on a cliff that is overlooking the Bay of Acapulco. The views are exceptional and worth the tour alone. The chapel is charming, quaint and small with onyx facades. There is a large cross beside the chapel called Trouyet Cross and in front of it, is a stunning statue of 2 hands joining that signifies brotherhood.
9
It is a true to say that Acapulco has some of the best beaches in Mexico and a lot to choose from. The wonderful thing about the beaches is that they each offer something different and have their own distinct personality. To name a few: Pie de la Cuesta is miles of sandy beach and has stunning sunsets, Playa Roqueta and Playa Marin are rustic beaches, Playa Caleta and Caletilla are traditional beaches and huge favorites.
Diving and Snorkelling Tours in Acapulco
10
There are many areas along the coast of Acapulco where you can go on excellent Diving and Snorkelling tours. You are brought to areas to get the best experience of life underwater. All tours are with experienced divers who are with you the entire time. Other activities that can be done while on these tours include snorkeling and paddle boarding. Great adventures and memorable times can be had on these tours.
Travel Tips for Acapulco
Best Time To Visit Acapulco
The most popular, not necessarily the best, time to take a trip to Acapulco is during the dry season which starts mid-November and ends in May. However, the best time to visit is from late April, May, October and November due to the weather still being sunny but there are more opportunities for bargains and going on sightseeing tours without lots of crowds. If you like the rain, then you will enjoy being here during June to September.
Typical Costs in Acapulco
The costs of meals, accommodation, sightseeing tours and activities in Acapulco will vary from season to season. However to get an idea of average prices; a meal for 2 in a mid-range restaurant will cost US$25 whereas a budget restaurant meal for 1 is US$5. Accommodation for one night B&B starts from US$19 and can go as high as US$300 depending on the standard and luxury you prefer. Local transport and taxis are very reasonable.
Know Before Visiting Acapulco
Research the area in Mexico you are traveling to and also if you are from a country which requires you to have a visa to enter. If you are planning on being there during peak season, book well in advance accommodation and any sightseeing tours or activity tours. When taking a taxi, always agree on the fare before getting into the taxi and look for the blue and white Volkswagon bug taxis. Only drink bottled water.
Weather in Acapulco
On average the temperatures in Acapulco only slightly vary from month to month. For instance, the hottest month of the year is July with temperatures of 29 degrees Celsius and the coolest month is January with temperatures only 3 degrees less at 26 degrees Celsius. The main difference weather wise is when it rains and how much. June to October are the wet months with August and September being the wettest.
Let the activities begin!