Start Your Safari in the Enjoyable, Enticing Entebbe on a Private Tour
An excellent way to start your safari tours is in the enjoyable, enticing Town of Entebbe on a private tour
Once the capital of Uganda before the 1962 independence, Entebbe is a more relaxed and enjoyable place to visit. Located within walking distance of Lake Victoria, it has plenty of open greenery areas and some popular beaches such as Lido Beach.
Entebbe is an ideal town to stay before venturing off on safari or to relax in after you have been trekking for a few days.
Places of interest to visit on guided tours when in Entebbe include the Entebbe Botanical Gardens and the Uganda Wildlife Education Centre. Also, there are great shopping areas, Victoria Mall is an example, where you can pick up some bargains. Read More...
Seen the Amazing Animals at the Uganda Wildlife Education Centre Entebbe
The large national parks where you can do the real adventurous safari tour are located within hours of Entebbe. The closest one is Lake Mburo National Park where you can do horse riding safari tours, hiking or nature walks while on the look out for buffalo, hippos or crocodiles.
Lake Victoria, however, holds lots of opportunities and Entebbe is on its shores. Being the largest lake in Africa it has numerous tours. A popular one is to travel the waters on a safari boat tour and watch a sunset or visit one of the islands and have some fun feeding chimpanzees.
Top 8 Things to Do in Entebbe
Uganda Wildlife Education Centre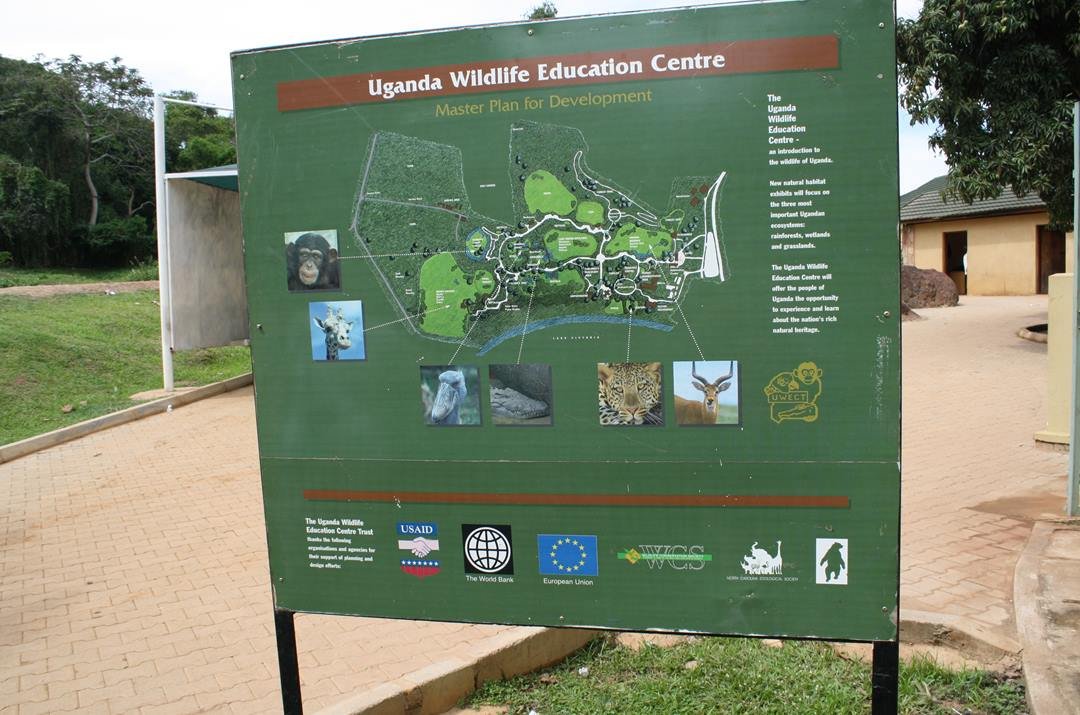 1
Established in 1952 primarily as a traditional zoo where young animals who were orphaned due to poachers killings their parents or they just died found sanctuary. In 1994 it became a wildlife education centre. There are over 200 animals representing 50 different species living in habitats similar to the wild. With over 250 bird species to see, birdwatchers will be very happy.
Entebbe Botanical Gardens
2
Upon the shores of Lake Victoria, you will find the beautifully landscaped Entebbe Botanical Gardens, a great place to go on a guided tour. Not only are there stunning plant life, there is also a wide variety of birds to see such as the red chested orange Sunbirds. Some of the animals found in the small patch of rainforest are vervet monkeys, Blue and Ross traces and Guereza Colobus.
3
Between Entebbe and Kampala is the Uganda Reptile Village, another great place to visit on a guided tour. The importance of this reptile village is to educate the locals and tourists on the reptiles here and to preserve them. The type of snakes are mambas, cobras, pythons and puff adders. Also to be seen here are chameleons, lizards, varieties of tortoise and a huge pool for crocodiles.
4
Take a sightseeing tour to Ssese Islands in Lake Victoria. A ferry goes from Entebbe to the Island, or you can take a private boat tour to it. There is a lovely white sandy beach to relax on or why not take a canoe out onto the waters. If you stay the night on the Island, you can enjoy a bonfire on the beach after watching the fabulous sunset. On the boat tour, you may catch sight of the odd hippo!
5
If you are looking for a place to buy some souvenirs of you visit to Entebbe, then take a sightseeing tour to the Entebbe Craft Village. This small village is where you will find beautiful crafts made by Ugandans being sold to locals and tourists. The type of items you can find here include sculptures, clothes, footwear and creatively designed jewellery. The items here tend to be a lot cheaper.
6
Take a safari tour to Lake Mburo National Park which is the closest National Park to Entebbe, it is the smallest national park of Uganda's savannah but the most compact and there is still plenty to see and do. On a boat safari of Lake Mburo explore the banks and watch out for buffalo, hippos and crocodiles. Horseback safaris are very popular as well as hiking and nature walk tours.
7
Another Island that can be reached from Entebbe by private boat tour is Chimp Island on Lake Victoria. You are in for an unforgettable experience when you visit here because the Chimpanzees and monkeys are brilliant. You are even allowed to feed them but under the strict rules and guidance of the rangers on duty. It is a real wildlife experience to be enjoyed.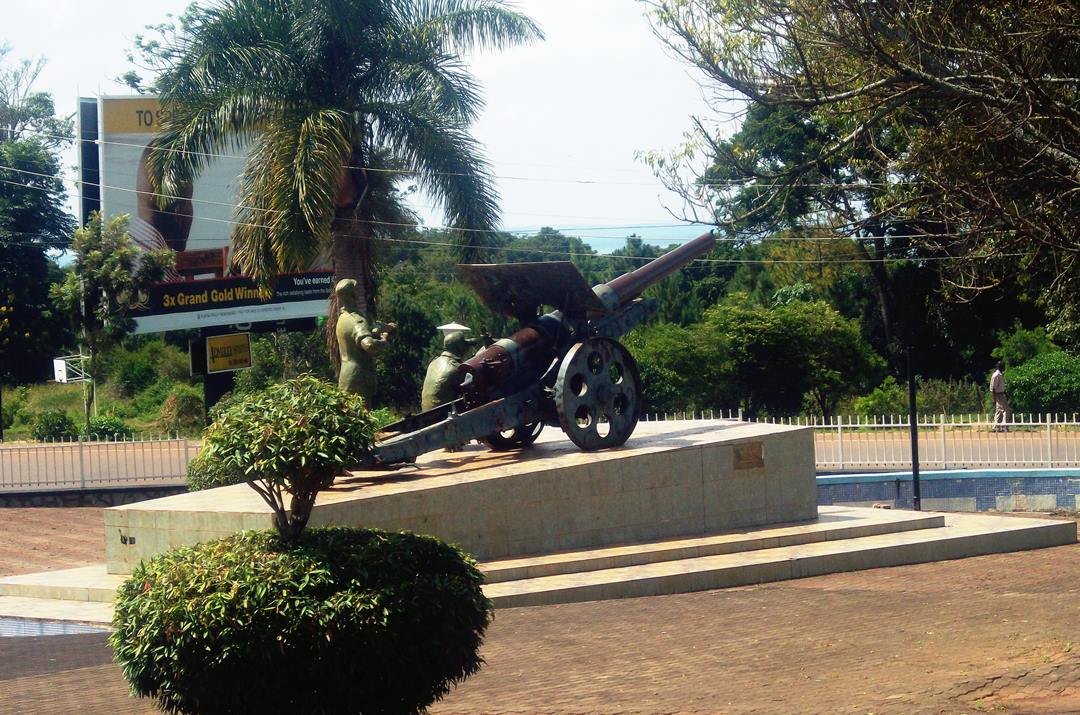 8
In the heart of Entebbe is the Muzinga Square, a recreational park and landmark of the city. The Muzinga monument is a historic attraction here left behind by. The Tanzanian army after they ousted the Ugandan President Idi Amin Dada. Things to see in the park include a cannon with two soldier statues next to it. A sightseeing tour to this park is very relaxing and enjoyable.
Travel Tips for Entebbe
Best Time To Visit Entebbe
The busiest time to visit Entebbe is during Christmas and New Year as the weather is good here so many travellers from Europe and the United States come here to escape the cold winters. Many of the resorts are booked out up to 2 months in advance. The months from May to September are the off peak season because the weather is not guaranteed, but it is much cheaper for accommodation and sightseeing tours.
Typical Costs in Entebbe
Entebbe is very reasonable priced for a tourist. The average daily expenses a person can expect to spend is US$250 during peak season, this is for 3 to 4-star accommodation, breakfast, lunch and dinner in a good restaurant and local transport costs. There are of course cheaper deals, especially during off-peak season. Safari tours or guided city tours will vary in price too with the seasons.
Know Before Visiting Entebbe
Entebbe is a safe place with little crime, however, you still need to be careful when going out at night alone. Also pickpockets are everywhere in the world so have your money safely on your person. Book all big safari tours or guided tours well in advance of traveling. You are expected haggle when shopping in the markets and local gift or clothes shops, the vendors have overpriced everything in preparation!
Weather in Entebbe
The temperatures tend to vary little throughout the year in Uganda and Entebbe. The hottest months are September to March with temperatures averaging 26-27 degrees Celsius. It is not much cooler in the colder months as temperatures only drop one degree. Rain is the only difference weather-wise throughout the year, April and May have the most days rain and July to September have the least, averaging 7 days rain.
Let the activities begin!