Take the Gorilla Safari Path on a Private Tour of Bwindi National Park
When you take a private tour of Bwindi Impenetrable National Park, you are on the path to an experience of a lifetime on a Gorilla Safari tour.
When you visit Uganda for safari, it is highly recommended that you travel to the Southwest of the country and to the mountainous Bwindi Impenetrable National Park.
This magnificent National Park is listed with UNESCO World Heritage Centre and is one of the most ancient habitats of Africa. When most of the forests in the continent disappeared, Bwindi Impenetrable National Park survived even the Ice Age.
Thanks to the age, size and altitude of the park, there is a huge diversity of fauna and flora. There are at least 120 species of mammal, 350 species of bird and over 400 varieties of plant.
Activities that can be done when you are in the Bwindi Impenetrable National Park are may variations of safari, trekking, mountain bike trails, hiking, visit the Batwa people in their part of the forest, the Buhoma Village Walk and birdwatching. Read More...
There Is No Better Tour in Bwindi Impenetrable National Park Than the Gorilla Tracking Safari Tour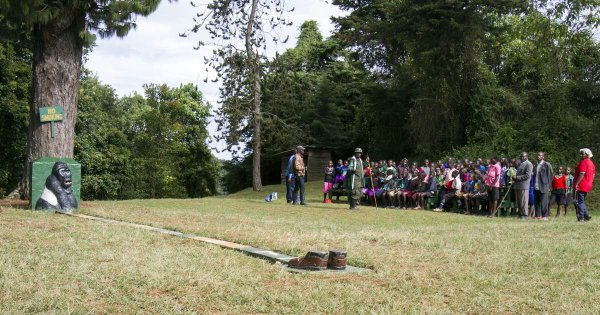 Bwindi Impenetrable National Park is home and protection to around half the world's population of mountain gorillas and to experience the Gorilla Tracking Safari Tour here, is an adventure like no other.
These tours are only allowed with permits because of the tourist's safety, as well as the gorillas, are paramount and too many people at the one time might spook them.
Animals that you can see on other safari tours in this national park include chimpanzees, vervet monkeys, baboons, forest elephants duikers, giant forest hogs, black and white colobus and the red-tailed guenon.
Bird watchers are in for a treat when they come here because it is home to the likes of Shelley crimson wing, African green broadbill, cinnamon-chested bee-eaters and many other rare and wonderful species of bird.
Top Things to Do in Bwindi National Park
1
On a Safari tour on Bwindi Impenetrable Forest, be sure to pick Gorilla Tracking as your first choice. You get to track a family of gorillas in their own habitat. These animals are the most amazing and fascinating creatures in the world and it is fabulous to see them carry on normal life in front of you. The guides that are with you are excellent and make sure you do exactly as they say just in case!!
Birdwatching in Bwindi Impenetrable Forest
2
The number one place to go bird watching in Africa is in Bwindi Impenetrable Forest. Take a guided tour to the advantage spots where you can watch out for some of the rarest birds and the most beautiful in the world. The number of species of different birds recorded in the forest is as high as 347. Again the guides and rangers are great and work with you to make sure you get the most from your tour.
3
There are villages in Bwindi Impenetrable National Park where you can take cultural walking tours. The village in the Buhoma area is one of the more popular tours. See the friendly local people making crafts such as intricately designed baskets, beer which they make from bananas or gin distilled from bananas. Enjoy a traditional meal cooked while you are there. The guides know all there is to know about the culture and customs
4
The Batwa are the original forest people in the Bwindi Impenetrable National Park and an excellent guided tour here is to go to their part of the forest and meet the Batwa People. They are pygmies who were hunter-gatherers that lived happily with nature and who left an ecological footprint. This tour to meet them leads you to the part of the forest at the edge of Bwindi where you can learn their traditions in hunting and gathering.
Mountain Bike Tours in Bwindi
5
One way to see the sights of Bwindi Impenetrable National Park is by going on a Mountain Bike Tour. The average length of time these tours take are a minimum 3 hours, but it passes very quickly as you are mesmerised by all there is to see along the road, path or trail. Again the guides are super and are trained to deal with pretty much anything from first aid to a bike mechanic. The tours are at a leisurely pace with lots of rests.
Hiking through Bwindi Impenetrable Park
6
There are many hiking tours available in Bwindi Impenetrable Park due to its vastness and each one is as good as the other. There are easy hikes for the less fit but eager and tough hikes for those who want to explore the difficult areas to reach. No matter what tour you pick, you will see wonderful plant life, lots of different wildlife and birds. Never stray from the group though, to be on the safe side!
7
Lake Mutanda in Bwindi Impenetrable National Park offers lots of activities. There are walking safari tours along the shores, hiking tours down to the lake or small boat tours from where you get to see the animals gathering around the banks. Canoeing/kayaking is a very popular activity on the Lake and it is a fun way to spend the odd hour or so when in the area. The scenery is fantastic and there are lots of great photo opportunities.
Nkuringo in Bwindi Impenetrable Forest
8
For breathtaking scenery take a safari tour to the Nkuringo area of the Bwindi Impenetrable National Forest. Gorillas are found in the area, six families to be exact, and obviously, a huge highlight when coming to this area. There are lots of other wildlife to see, plant life to explore and jungle to push your way through. The bird watching is great in this area too so be sure to have your binoculars with you.
Travel Tips for Bwindi National Park
Best Time To Visit Bwindi National Park
It is possible to view wildlife including Gorillas in Bwindi Impenetrable National Park all year round; however, it is recommended to go during the months of June to August and December to February. The reason being, these months have is less rain, the trails through the forest are not as slippy and are more passable. For bird watching the wet months are actually the best time, March to April and September to November.
Typical Costs in Bwindi National Park
The cost of safari tours in Bwindi Impenetrable National Park varies from tour to tour. Depending on what you want to see, how you want to get there (walking, biking, hiking) and whether you go for a 1-day safari tour of more, the prices will change. On average the starting price for a basic tour is US$150. A safari tour with Gorillas is more expensive as special permits have to be bought which is included in the price.
Know Before Visiting Bwindi National Park
When deciding on going on a safari tour holiday, make sure you do as much research as possible. Book all safari tours you wish to take in advance of traveling if they are not included in the full package. Be sure to have any shots needed in good time. Although the weather is good during the day, it is advisable to have warm clothing for nighttime. When it is hot on safari make sure to bring and drink lots of water.
Weather in Bwindi National Park
The weather in Bwindi Impenetrable National park is very similar all year long due to its distance to the equator. The temperatures during the day average around 23 degrees Celsius and then it takes a drop at nighttime to around 11 degrees Celsius. Rain can happen at any stage, there is no dry season just a drier season during the months of June to August and December to February. The wettest months are October and November.
Let the activities begin!