A Private Tour of Nepal the Adventurous City of Pokhara
Experience a Private Tour of Nepal the adventurous city of Pokhara, have the time of your life in one of the most tranquil parts of Nepal. Enjoy the magnificent scenery of Lakes, mountains, waterfalls, caves, sunsets and sunrises that are spectacular; the list is endless with a Private Tour of Nepal the Adventurous City of Pokhara
This peaceful and spiritual city has everything you need to enjoy that relaxing break.
However, for the more adventurous traveller, Pokhara does not let you down with its numerous treks, water rafting, boating, and paragliding.
In fact, the adventure side of Pokhara is getting more and more familiar with a massive increase in things to do and fast becoming a must place for the thrill seeker.
For the traveller who is interested in learning about the history of Nepal and Pokhara, there is a fantastic Museum all about the Nepalese Gurkha soldiers who are famous worldwide and well known for the saying "Better to die than be a coward." Read More...
The exquisite and Appetizing Cuisine of Pokhara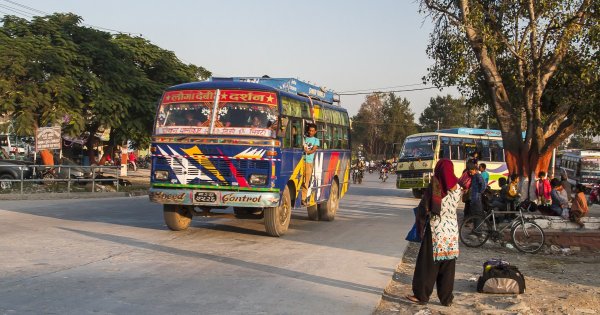 The cuisine of Pokhara will get your taste buds going. With the multi-ethnic population of Nepal, the traditional cuisine varies from city to town and in Pokhara theirs is Thakali.
The thakali cuisine is appetising and is made up of barley, millet, dal and buckwheat.
However thankfully for us, the restaurants in Pokhara cater for all types and tastes with a huge European menu available as well as the traditional cuisines of all over Nepal.
So whether it is a private tour for the relaxing holiday maker or adventurous thrill seeker, all your needs and wants are taken care of in Pokhara.
Top 10 Things to Do in Pokhara
1
A Pagoda is locally known as "World Peace" is a huge Buddhist Temple situated on a very high hill near Pokhara city. This Pagoda is one of the most exceptional places to take a private tour. From where you stand on the highest point, you are looking onto the superb scenery of the Himalayas, Pokhara city and its surrounding land. At the bottom of the hill is the famous Phewa Lake. So a Temple to roam of views to absorb!
2
Devi's fall is the most spectacular waterfall you will see in Nepal and it is well recommended to take a private tour. Not far from the Pokhara airport it is falling from the Phewa Lake. Devi's fall local name is Fatale Chhango. After the huge rainfall of the monsoon season, the sound of the waterfall is extremely loud and exciting. Its name is said to come from a visitor named David who fell into a sinkhole and drown.
3
If you are going to take a private tour to any lake in Nepal, then Phewa Tal is certainly a good place to start. It is one of the largest Lakes in Nepal and has fantastic sights to be seen from the lake. You can look up at the forests, greenery, Pagoda on a hilltop or, on a fine day, the Annapurna mountains but better still when you look down into the lake, not only is your image reflected, all the fabulous sights can be seen too.
4
It is always great to visit a Bazaar, and in Pokhara, that is no exception. Pokhara has a very traditional, colourful market and due to its multi-ethnic stall holders, it offers a multitude of things to see, taste and buy. The people at the booths are entertaining and funny, who enjoy interacting with travellers and with a private tour you know you will be looked after. As with most places in Nepal, the bazaar is of the Newar craftsmanship.
5
Nepal in inundated with Temples and shrines of all different shape and sizes, dedicated to numerous Gods and Goddesses and yet you can never, not see enough, as each one holds something different to make it unique and taking a private tour to the Bandy Basini Temple is not different. This Temple is situated in the old bazaar and important to all in the area with plenty of religious ceremonies going on day to day.
6
Another different and interesting place to take a private tour is to Gupteshwor Mahadev which is an enormous cave which goes as far a 3 kilometers long. Right across from Devi's Fall waterfall, you can find the entry point to the cave. A long time ago a Lord Shiva phallic symbol was found in this cave and it has been preserved in the same place and condition since the day it was found. Gupteshwor Mahadev is important to Hindus.
International Mountain Museum
7
A private tour of this museum is not just for the climbers of mountains but also for those who wish to learn the highs and lows of famous historical climbers of mountains especially Mount Everest. This museum was opened in Pokhara in November 1973 as a place to record, chronicle and document past and also present mountain climbing activities from everywhere in the world but importantly to remember the dangerous undertakings of climbers.
8
This magnificent river is full of raging white water. It is so powerful that it has caused a gorge in the Mahabharata Range. The Seti River also managed to run a gulley through the Pokhara town. The Seti River has managed to change the landscape wherever it flows. You can get a private tour to guide you along the Seti River with the best place to view its white water in the park near the Gurkha Museum. A very popular place for rafting.
Annapurna Natural History Museum
9
This is another great visit on a private tour especially if you are into butterflies. Originally founded by an American peace corp volunteer back in the mid-1960's, this museum has grown and grown with different people from all over the world helping to add to this museum. The collection and preservation of beautiful butterflies species grew so big that the museum became known locally as "the butterfly museum".
10
A trip to Nepal would not be complete without a private tour to The Gurkha Museum, found a north of Pokhara city. The Gurkha soldiers are known worldwide for being very brave and selfless. The Gurkha Soldiers helped allies in India's unrest in the 19th century as well as world war 1 and 2. The Museum recognizes all that the soldiers achieved during these wars and tells us all about the Gurkha soldiers given the famous Victoria medal.
Travel Tips for Pokhara
Best Time To Visit
Ok, so your heading to Pokhara and you've researched it thoroughly but still unsure when to travel? The peak tourist season starts in September and ends late November and are therefore the most expensive times for flights and accommodation. If you are on a budget, the springtime is a good chance to get away with slightly lower prices.If you wish to come to see the various religious festivals, always research the dates as they change yearly.
Typical Costs
Travelling around Nepal is incredibly cheap to do, you will be lucky to spend 5 dollars a day, and that includes a trek up the mountains! However, the higher up you go the food and drink do get more expensive. The restaurants and cafes are very reasonable to eat out in. So on a day to day basis, you can quite easily survive on 8 to 10 dollars a day.Woo hoo, more to spend on shopping maybe! The local tour guides are very reasonable.
Know Before Visiting
the climate is arid and dusty so be aware of this and wear a mask for a few days until your system is used to it otherwise you will find your respiratory system will go down fast! There are power cuts most days and for various degrees of time! So beware no internet, but most importantly only eat at the larger restaurants as they have backup generators, so their meats, etc. will be fine, unlike the smaller cafes whose meat will be without refrigeration!
Weather
When is the best time to go to Kathmandu well Probably the worst time to visit would be between June and September when the monsoon rain is at full peak ! if you fancy a trek up the mountains we would suggest from October to November as the days are sunny and warm and more importantly, dry! If you would like cooler days to trek the spring weather between March and late April is the best time for this, ask your tour guide before visiting.
Let the activities begin!
We Provide Trekking, Nepal Peak climbing courses,Expeditions,Cultural Tours,Pilgrim Tours, Sightseeing,Mountain Flights,Hiking,Jungle safari,Rafting,Tours
This trek is more significant trails in Annapurna Area due to its Himalayan scenery, cultures of peoples and geographical diversity. Poon Hill is popular.
Sat
Sun
Mon