Kuala Lumpur Tour of the Vibrant Whirlwind of Customs and Cultures
Kuala Lumpur Tour of the Vibrant Whirlwind of Customs and Cultures. Kuala Lumpur is full of culturally vibrant quarters dedicated to Indian communities, and Chinese, Malay. New shopping centres with designer labels, 5-star resorts, and top notch eateries also proliferate in this bustling city of 1.6 million.
Kuala Lumpur provides a whirlwind tour of customs, Asian cultures, and cuisines. It's chaotic roads are home to Chinese Joss, colourful Hindu temples, houses, and towering mosques.
Above them, all climbs among the most distinctive skylines on the continent - centred by the twin turrets of the Petronas Towers. The roads form an income map of the countries and races who assembled here in colonial times.
Turn one corner, and you might be in Kowloon or Shanghai. Turn the next, and find yourself transported to steamy South India. One moment, you may be standing among gleaming skyscrapers, the next you are encompassed by traditional can roofed Malay houses. Read More...
Take a Private Tour of the Old China Town That Moved Into the Future of Kuala Lumpur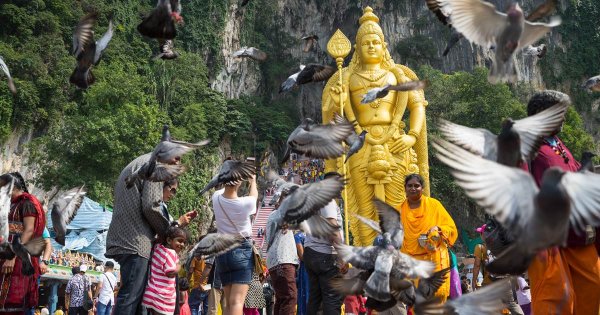 Old portions of the city are vanishing quickly as Kuala Lumpur marches towards the future. The pockets of old that stay in Chinatown, Little Brickfields, India, and Chow Kit continue to be the most atmospheric portions of the city and well worth a visit on a guided tour.
For travellers, Kuala Lumpur is first and foremost a spot to eat and to shop. The fusion of flavours has created among the most dynamic dining arenas in Asia. Breakfast on nasi goreng, snatch a banana leaf that is stunning curry for lunch and hit at Jalan Alor Eat Street for the finest Chinese street food in Malaysia. Kuala Lumpur's standing as a shopping destination grows annual, with enormous malls across the Golden
Triangle region of the city playing home to leading brands. If you do not need to travel for deals, sights are readily attained via monorail and abundant. Regardless if you lose yourself on sightseeing tours of Bukit Nanas Forest Reserve, a piece of virgin jungle in the heart of the city or head to the top of the Petronas Towers, Kuala Lumpur is Asia incarnate.
Visit and see the beauty and experience a wild holiday on a tour to Malaysia. Enjoy the private tours of
Malaysia
and explore the country's best theme parks, cultural highlights, natural wonders, jungle landscapes and the white sands.
Top 10 Things to Do in Kuala Lumpur
1
The Twin Towers, as they are known, stand tall at 451.9 meters and have 88 floors. They were built in 1996 and have 39 elevators. There is an observation deck on the 86th floor! The fantastic 360-degree view of the city is breathtaking! There is an aquarium, Cinema, Shopping Centre and Science centre. You can purchase a ticket in reception to go the observation deck. There is also a sky bridge connecting the two towers as well.
2
Petaling Street is in the Famous China town; You have to visit here on a sightseeing tour, the beautiful streets are adorned with colourful lanterns and umbrellas. The food is fantastic, as is the amazing amount of different produce. Daytime, it's a place for the street vendors to sell their wares and the evening it becomes busier with everyone thronging to the night markets, it's a shopaholic's paradise! From souvenirs to unique Chinese artefacts.
3
A private tour here is a bird enthusiast delight! This amazing aviary is set in 20.9 acres of stunning rainforest. It is a Tropical paradise for our feathered friends. It is home to many species of birds including Parrots, Flamingos, and emus. There are many things to take part in with activities throughout the day, from feeding the ostriches or holding a bird of prey. Plenty of eggs waiting to hatch and you might get lucky to see a baby bird being born!
4
This incredible lush green park bang in the heart of the city is a stunning mixture of sculptures, and unique man-made fountains and pools. Once you take a stroll through this massive park, you will forget you are in the heart of the city as it is so peaceful. The fantastic musical water fountains where you can watch the show twice a day is awesome and something the whole family will enjoy. Optical illusions at every turn, enjoy !!
5
The aquarium is situated in the convention centre and is popular with families and fish lovers alike. The underground tunnel is home to some of the strangest sea creatures from all environments. Many rare types of fish can also be viewed. Plenty of different exhibits from electric eels to the man-eating Piranas and the venomous fish !! During your guided tour, you can participate in feeding various species. Fantastic Family day out.
Sultan Abdul Samad Building
6
This stunning architectural building was once a courthouse but has now been placed into the hands of the royal family. Unfortunately, it is not open to the public, but there are rumours this will eventually happen. Situated in the old town, it is worth seeing especially in the evening when it's all lit up, while on a nighttime city tour. Great place for photographers. The stunning building with amazing copper topped clock tower is definitely worth a visit.
7
This amazing huge mosque is stunning in both design and size! It offers spaces for over 15,000 worshipers and is large at 53,000 meters. The mosque is open to nonmuslims at certain times so double check before going and dress modestly for a visit. It is surrounded by lush gardens and fountains. The interior is covered in Arabic calligraphy and boasts a lecture hall, meeting room and a massive library.
8
Definitely, take a sightseeing tour to these caves that date back over 400 million years !! initially used by the Temuan locals as homes and now used as Hindu temples. Once you have climbed the 272 stairs, you will see the interior and the colourful cave art and paintings, some of the caves are as long as 500 meters long ! You will also see the statue of the Hindu god Hanuman. The local monkeys are all over the caves!
Berjaya Times Square Theme Park
9
One for all the family, this extraordinary indoor park is the biggest in
Malaysia.
It has everything to keep you and the kids entertained. If you're an adrenaline junkie or a young child, there is something for all the family. Enjoy a tour in a jeep through the fantasy garden; The galaxy centre is the adrenaline paced area!! Plenty of places to sit and eat and can easily spend a full day here!
KL Tower Revolving Restaurant
10
For the most fantastic romantic way to see the city and spend time with your loved one! This restaurant is situated in the tallest tower in Kuala Lumpur, the spectacular view of the city in its full panoramic glory is a fabulous way to end your holiday here. The super fast elevator will whip you to the top in no time for a fabulous Malaysian buffet. Afterwards, head to the observation deck and see the sparkling city at night.
Travel Tips for Kuala Lumpur
Best Time To Visit Kuala Lumpur
Kuala Lumpur is lucky to have a rainforest, tropical climate and be prepared for the heat and humidity on private tours. There isn't much chance to the weather throughout the year. It doesn't really have a cool season, just a few typhoons !! so best to avoid Mid March to late April and October and November ! Just ensure you bring appropriate loose and cotton clothes and a hat!
Typical Costs in Kuala Lumpur
I would have to say Kuala Lumpur is by far the cheapest holiday destination in many ways. Air fares are reasonable; accommodation is very cheap including the top end hotels! Even the most affordable 1-star hotels and hostels are to a very high standard.The various historical sites are priced for locals, so it is so cheap to get into everywhere! The food is phenomenal whether it is a street vendor or restaurant you will get a bargain.
Know Before Visiting Kuala Lumpur
Most restaurants have a service charge already included, but for a few cents more see their face light up when they get a tip! Pre-book your travel from airport to hotel and back as its quite far out and can be very busy on arrival and departure. Purchase a sim card on arrival as it will work out a lot cheaper if you need to keep in contact with friends back home. Overall it's a fabulous place for guided tours or to go just kick back and enjoy.
Weather in Kuala Lumpur
Which do you prefer a dry holiday or a wet one? If you fancy the dry season the best time to book is definitely between May and September you may get the odd day of rain, but otherwise, it is hot and humid !!If you prefer it wet and wild, you can book between November and March bearing in mind November is the wettest month! Whatever the weather most of the activities are indoor and heated so enjoy and have a fabulous time.
Let the activities begin!