City of Soul and Traditions the Historical Yogyakarta Guided Tour
The City of Soul and Traditions the amazing historical Yogyakarta or Jogja as it's affectionately called and easier to pronounce, is one of the most popular destinations in Indonesia. The fantastic world heritage sites and temples are sure to astound you with their beauty and history.
If you love history, you have come to the right place; Jogja is filled to the brim of it !!
The city is run by the Sultan Hamengkubuwono, try saying that with a drink on you !!
This city is all soul, and you will fall in love their culture and traditional life.
Although on first look this city is very modern, with shopping centers galore, Fancy hotels and restaurants, it is still fiercely clutching at its faith and traditions.
So many attractions to see you won't be disappointed in Jogja. Read More...
Shop Till You Drop at Jalan Malioboro at Yogyakarta With a Sightseeing Tour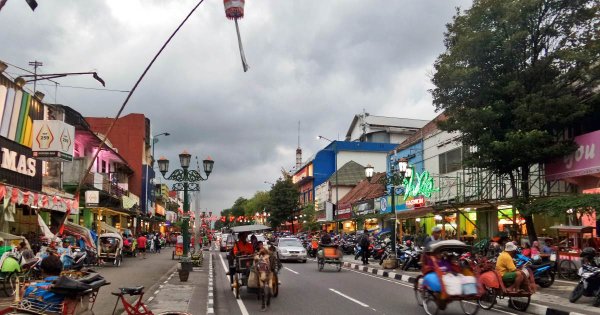 If you fancy a nice stroll and also enjoy shopping, then you must go and visit Jalan Malioboro, the most famous street in Jogja.
There is a new pedestrian pavement, so it's great to be able to walk without worrying about cars or scooters.
On a city sightseeing tour go through the streets that are full of musicians and street vendors.
The shops are full of traditional clothing and souvenirs which you need to haggle for otherwise they are a bit pricey. The old houses still in fabulous condition is a great way to see how the locals live.
A visit to Jalan Malioboro is a must.
Top 10 Things to Do in Yogyakarta
1
A phenomenal place to visit, even as you get closer, you are in awe at the size of these temples ! how they built them is fantastic. The private tour guide was excellent and explained a great deal about the Hindu religion, and it is just oozing centuries of history! Should you go in the evening, you will see the stunning sunset and there is also a ballet show on, which sounds fabulous to see among the ruins.
2
A private tour here is a must while in Indonesia, this huge Budda is the biggest temple in the world dates back to 800AD! This historical site lay abandoned for centuries and was eventually uncovered under a tonne of volcanic ash! It is believed to have taken over 80 years to build this magnificent temple! Surrounded by lush vegetation and palm trees no wonder this is a world heritage site! There is a modest train that takes you around.
3
Fancy a hot tour? Well get ready for a bumpy but fun ride up to the Active volcano of Merapi, you will have a fantastic time, and it is ideal for all the family! The views are breathtaking, and you pass by an abandoned vision village your private tour guide will give you the history. The lava running down the volcano has created faces and looks a bit alien like ! spooky but great to see !!
4
This beautiful bathing complex and pools is a lovely way to relax during your holiday, the stunning landscape and man-made lake is an excellent spot for a picnic. The underground mosque is beautiful, and the place, in general, is a great place for photography. Entry fee is cheap but book a private guide so you learn the history behind it, otherwise, you will miss out.
Taman Pelangi Adventure Park
5
A perfect nighttime tour of this park is a must if you have children, the park is all lit up, as are the attractions, with lanterns swinging in the trees, the kids will love it! Don't forget your camera as its beautiful at night! Entry fee is cheap, and there is a free train that takes you around the park. Great night out for the whole family.
6
This iconic monument of Yogyakarta can be found very easily, and it is best to go in the evening to get your selfie !! One, it's quieter in the evening and two, it is lit up. It is situated on a busy road, so late night when the traffic is not so busy would be an ideal time to visit. It is obviously free to view and a great spot for photographs.
Ramayana Ballet at Prambanan
7
Wow, what a backdrop to view a ballet! The Prambanan temple was a stunning place to see this entertaining concert. We went in the evening and you are given a leaflet detailing each part of the ballet ( in most languages) so you can understand it fully. We loved the experience and it was reasonable prices for entry.
8
A fascinating and enjoyable museum where you can learn about the Royal family and all the cultures of Indonesia. The place itself is breathtaking, and the private tour guide was knowledgeable and happy to answer all my questions! The interior paintings are breathtakingly beautiful and it explains how well they lived back in those centuries. A worthwhile visit we all enjoyed.
9
The climb to the top takes a bit of an effort and often very muddy so wear the right footwear, the private tour guides help you along the way. Once you reach the top, the views on a clear day are awesome! You are not allowed to abseil on your own but help is given by the porters down the 60 meters drop. It was a great experience and not at all scary! It was a bit expensive but worth it to get a photo of me abseiling !!
10
This temple was not on my bucket list, but I am so glad I visited it. The private tour was well organised and it was huge! I was not expecting that at all ! the views in the evening of the sun setting down over Prambanan was stunning. The peacefulness and the quiet was the highlight for me as it is not one of the most popular temples which is a shame as it's full of history.
Travel Tips for Yogyakarta
Best Time To Visit
A good time to travel would be around June or July as it is the hottest at this period, and you get a chance to enjoy the private tours to the historical sites. Lots of water, suncream and a hat for this time is also required. For those who like it wet and wild! September to April is the wettest seasons, just bring the right clothing! Regardless of the time of year, the city is always humid!
Typical Costs
I was pleasantly surprised how cheap everything actually was in Yogyakarta. I spent four weeks backpacking, and I paid in total 600 $, and this included my flights and accommodation !! I ate very well had a few ( yes only a few ) drinks, I visited various historical sites and grabbed a rickshaw when my feet were too sore to walk! A cheap holiday can be done just research and book ahead! Same with tour agencies book ahead and save money.
Know Before Visiting
The city is so passionate about their cuisine; you have to try Nasi Gudeg, which is a mix of jackfruit, chicken and rice it is delicious! As with any large city just be aware of your surroundings and keep only the small amounts of cash on you. Bring in your own alcohol from duty-free as no shops sell any. No old looking tattered currency will be accepted; it must be crisp and new, or you will get a lower rate !! tour guides are very reasonably priced .
Weather
The weather is a bit unpredictable in most places now. However, the dry season is between mid-July and end of September. June and July are the most humid and hottest time to visit, and also the most accessible so bear that in mind when booking, as everywhere is a bit more expensive. September through to April is the wettest months so come prepared !!
Let the activities begin!
Sat
Sun
Mon