To Have Fun and Adventure Is Not Taboo When on a Private Tour of Taba
When you are having fun and adventure, it is not a taboo if you are on a terrific private tour of Taba.
The City of Taba is uniquely located near the borders of Saudi Arabia, Jordan and Israel on the eastern Sinai peninsula of Egypt. When you opt for here as a destination for a holiday you are giving yourself a choice in landscape too.
Due to its location, the city of Taba has diversity at its feet, with famed 'Riviera' the Gulf of Aqaba and also well known, The Sinai Desert, both close by. One day spend the day splashing, waterskiing, windsurfing of just immersing yourself in water because you know, the following day you are trekking the fabulous arid desert by jeep safari or camel meeting the interesting local Bedouin people.
There are other outdoor facilities found in and around the city of Taba such as sightseeing tours to one of the wildlife refuges that is located in Taba Heights.
Let the activities begin!
Top 10 Things to Do in Taba
1
Take a sightseeing tour to the Gulf of Aqaba and enjoy the fabulous activities on offer there. Spend your time relaxing under the sun on the sandy beaches or alternatively go wild on the water jet skiing, water skiing, windsurfing or parasailing. There are excellent areas to go snorkelling in the clear blue waters or scuba diving in the many reefs and lagoons exploring the wonderful world underwater.
2
There is an excellent guided tour to the Castle Zaman found on top of a desert cliff along the stretch of Sinai. Castle Zaman is found halfway between the city of Taba and the city of Nuweiba. This castle is of elegant and yet simple architecture with the most breathtaking and spectacular panoramic views of mountains from Israel, Saudi Arabia, Jordan and Egypt all the while overlooking the Gulf of Aqaba.
3
If trekking in the deserts is something you like to do, then take a guided tour to Wishwashi Canyon. It is one of many canyons in Sinai and one of the closest to the city of Taba. Like all canyons that have been carved from forces of nature, Wishwashi is incredible to experience. There are trails to take in and around the canyon that may involve a little scrambling, but that is part of the thrill of being here.
Salah El-Din Fortress on Pharaoh Island
4
Go on a short ferry ride to take a guided tour of Salah El-Din Fortress. This Saladin fortress was built in the 12th century by Crusaders and thanks to the Council of Egyptian Antiquities, has been restored. Salah El-Din based his soldiers here because it was where he could control the trade coming from Asia and demand tolls from pilgrims on their way to Mecca. There are spectacular views from the fortress.
5
One of the most beautiful places in Taba and an excellent place to take private diving tours is The Fjord. The sensational location of golden coastline, deep blue colour of the water and the rugged green mountains is amazing. It also is where you will find the 'Fjord hole' which is well known and a huge draw to experienced divers. The 'Fjord Banana' is for the less experienced divers, a shallow reef in the shape of a banana.
6
Another natural wonder of the Sinai is the Colored Canyon and you can take a guided tour from the city of Taba to here. This maze of sandstone rocks emits hues of purple, magenta, red, gold and yellow reaching as high as 40 meters in some areas. The trails you take to get the best advantage point of the canyon may entail a small bit of climbing so be prepared. This tour is exhilarating and a lot of fun when in a small group.
7
There are spectacular sunsets and sunrises if you are lucky enough to be on a sightseeing tour of Mount Sinai at the right time. It was here that the Ten Commandments were given by God to Moses. You can reach the summit of Mount Sinai by hike or camel and the route is lined with various chapels remains. At the top, there is a mosque and chapel from which you see the village of St. Catherine. For many, it can be inspirational.
St. Catherine's Monastery
8
While you are on a guided tour of Mount Sinai, visit St. Catherine's Monastery which is situated at the foothills of Mount Sinai. This is one of the oldest Christian monasteries in the world and contains the burning bush seen by Moses and many valuable icons. Within the monastery, is the Fatimid mosque, the monk's cells and a bell tower. The library preserves the 2nd largest collection of early codices and manuscripts in the world
Jeep and Quad Bike Safaris of Sinai Desert
9
For the most exhilarating, sometimes nerve wrecking (depending on your guides driving) and fun packed days, take Jeep or Quad Bike Safari tours of Sinai Desert. You can also opt of a dune buggy too. The hours on this tour is filled with racing and skipping over the sand dunes and only slowing down when close to and Bedouin settlements or some interesting sights to admire. Excellent way to spend a few hours.
Camel Tours to Bedouin Settlements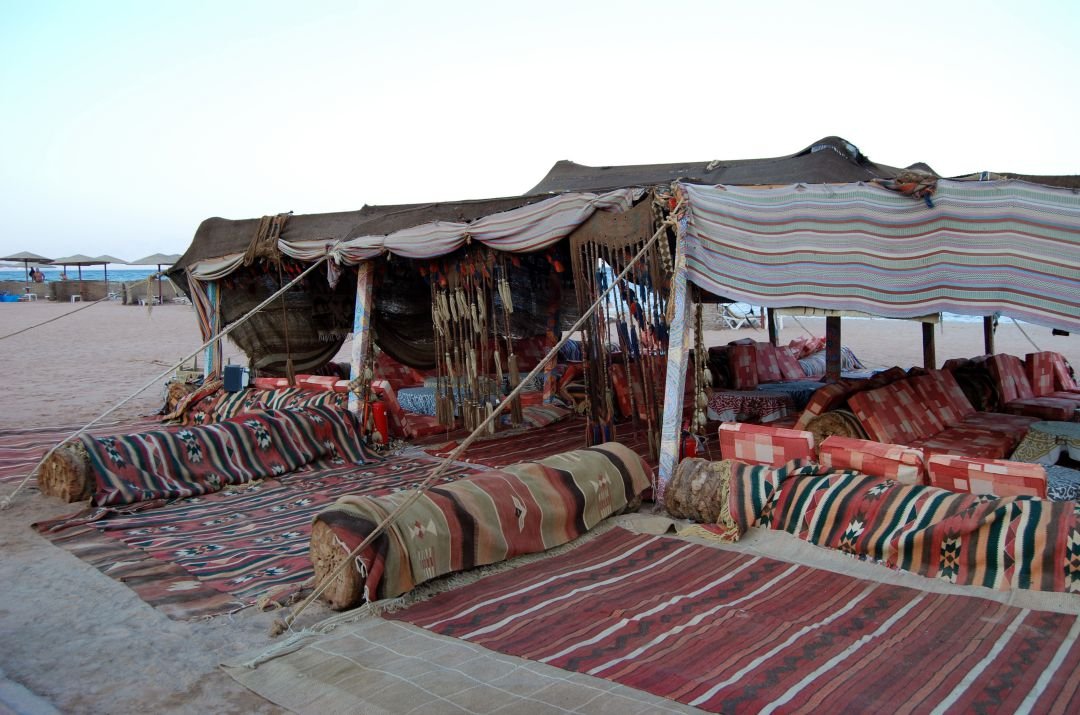 10
Another way to venture through the desert of Sinai that is completely different from jeeps and quad bikes is by camel. This is where you take a leisurely camel tour from one of the Bedouin settlements to another. At the Bedouin settlement, you will be offered traditional lunch or dinner cuisine depending on when you arrive. Ideally, try to be there for dinner as it is fabulous to watch the sunset in the desert. Very romantic!
Private Diving Tours of the Gulf of Aqaba or Safari Desert Tours by Camel of the Sinai Desert
The City of Taba is a growing resort, with more and more facilities being built and major investment from huge companies. For the moment, however, we should enjoy the peacefulness and calm of this area after all it has been through.
There are many romantic evenings to be had in this city or at least the areas surrounding it. As an example; after spending the best part of a day on private diving tours in the Gulf of Aqaba why not enjoy a romantic sunset while on a safari desert tour by camel and then have candlelit dinner in one of the traditional Bedouin Tents.
Travel Tips for Taba
Best Time To Visit Taba
Visit Taba from March to April or from October to November as it is the best time to book your private tour. These months have comfortable temperatures, fewer crowds and low hotel rates on most days of the week. Winter is by far the most popular time to visit anywhere in Egypt because the days are warm and sunny and the evenings are cool and breezy. If you're planning a trip between December and February, you can expect it to be crowded with tourists.
Typical Costs in Taba
Taba is, for the best part, a very reasonably priced city. It depends on how much you want to spend as to where you go to eat and sleep. There are restaurants of varying standards and prices and the same goes for accommodation. However, the varying standards does not mean you are necessarily receiving a lower standard. All private tours and trips from Taba are usually negotiable in price, be prepared to bargain hard for the best deals.
Know Before Visiting Taba
Firstly book any private tours or sightseeing tours in advance of going, it may be cheaper and you can work in other things around the tours. During the hot months, be sure to carry around lots of water so not to get dehydrated. It is always advisable to walk in a group rather than walking alone especially at markets and in other city's you will not be harassed as much to buy stuff. Be aware of your surroundings in crowded areas.
Weather in Taba
According to the Annual Weather Averages, May is the driest month and September is the wettest month of the year so avoid this month if you do not like rain. The hottest months are July and August with temperatures over 35 degrees Celsius. The coldest months are December and January where temperatures only go as low as 18 degrees Celsius. Temperatures around March and April and October and November are approx. 25-30 degrees Celsius.