Australia going "Down Under" on my Dream Holiday of a Lifetime
Having never been to Australia, my old school friend Gillian who had immigrated many years ago invited me over for a holiday. I arrived in Sydney on a Tuesday morning, not being a great traveller, I tripped as I exited the plane it was hilarious but I carried on and was proud of myself for going so far.
What a city a short while later we travelled past Sydney harbour with all the gorgeous flowers in bloom and the beautiful sunshine - well, after leaving snowy Scotland, I felt I had come to a tropical paradise.
Sydney is a great gateway to see other places on the many tours available in Australia, but it has loads of tours so I was happy to spend my whole holiday there. With spectacular sandy beaches, nature reserves, great attractions, tours and out of this world food Sydney had everything to show me and I was ready to give everything a go.
What I didn't realize was that I would actually be here on Australia's national holiday. Two days after I arrived it was Australia Day, and Gillian assured me that we would have a great time enjoying the many celebrations and stuff. She had everything planned and suggested we have a quiet night in before we would begin sightseeing tours in Sydney the next day, which was one day before the big event.

The following morning Gillian surprised me by booking a tour on Sydney's Harbour's famous Bridge Climb. Now, as I mentioned before, I am not a great traveller, scaling large heights is not on my bucket list. The climb is expensive, but because she had already booked it, I felt I had to give it a go and boy was I glad I did. Our tour guide was fab and it was absolutely the experience of a lifetime, and it was fascinating to climb through the steeled arches of the bridge and hear the stories of its construction and that of the Opera House standing opposite.

Next day we took a ferry ride to Manly Cove (I did mention I am not a great traveller and here I am getting on a boat). What a wonderful time we had. Viewing the harbour and city from the ferry was amazing, and we sailed past many famous places including Government House and Mrs Macquaries Chair which was built by convicts in 1810. Once we reached Manley Cove, we had a lovely time on a guided tour wandering around the quaint shops and watching the street performers give it their all.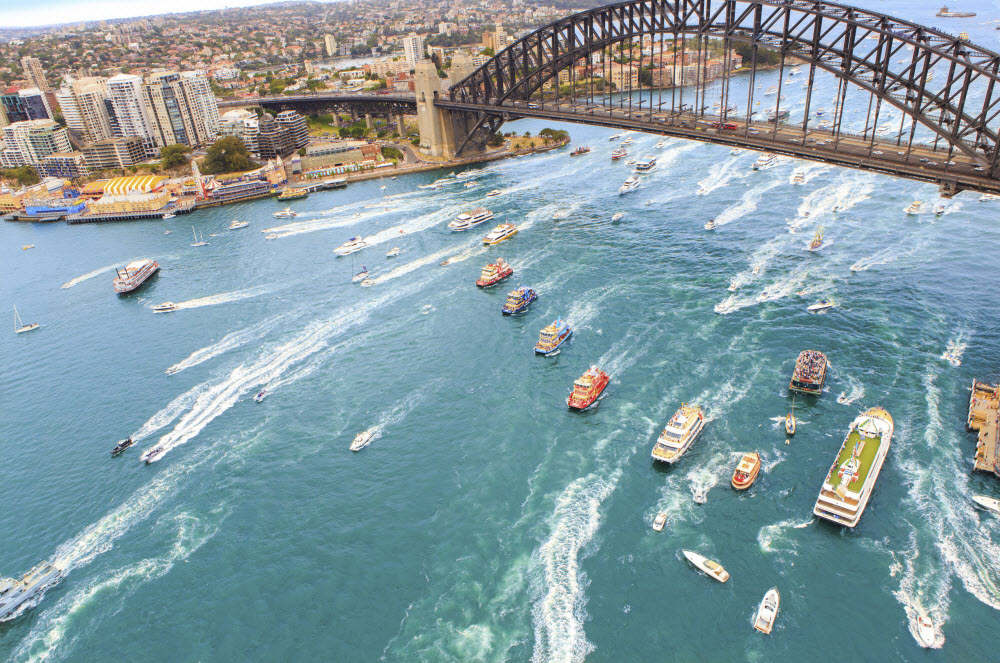 Today is the big day, and there are so many things going on it was difficult to choose what to do. This is the day when Australian's celebrate all things Australian. It is about acknowledging and celebrating the contribution that every Australian made to their nation, from their Aboriginal and Torres Strait Islander people who have been here for more than 65,000 years, to those who have lived here for generations and who have come from all corners' of the world.
You could go to the smoking ceremony, wheelchair race, Children's fun at Tumbalong Park, Salute to Australia, Ferrython, Live at the Opera and the Harbour Parade.

We decided to go to the Aboriginal smoking ceremony at Barangaroo WOW! it was so worth it, the singing and traditional dancing were unreal and we were lucky enough to get really close to see it all. Even though it started at 7.30am which was an early start to a very long day, I had the experience of a lifetime. A fire is started, and it is said that it's cleansing smoke wards off evil spirits and also makes way for new beginnings which struck a corde with me and I had a little epiphany watching the ceramoney LIFE IS FOR LIVING. We had a little street food for breekkie (breakfast) and I have to say it was delisious but anything at that time in the morning has to be good.

The Salute to Australia was next on our agenda. The Australian Army, Royal Australian Navy and Royal Australian Air Force conducted a tri-service Salute, and there were choirs singing at different points around the harbour. At 12.00pm everybody joined in to sing the national anthem it was spectacular. As this was all happening at the harbour, we also watched the Tug and Yacht Ballet where ten yachts and two tugboats danced on the waters, the Harbour Parade where a flotilla of boats all decked out in different colours provided an amazing sight and finally, we saw the end of the Tall Ships race.

It was now time for a late lunch which we had in a local pub. We had Kanga Burgers made of Kangaroo meat OMG did I ever think I would be having Kangaroo burgers!!! shocker and of course I had to have a pint of Fosters to wash it down. The pub was really traditional with Aussie flags and everyone was in a party mood which only added to the atmosphere for me, one of the guys we hooked up with was telling me about some of the fantastic sightseeing tours around Sydney and how Perth is a must see place but my time was limited. We had a great night together he was a blast so I will give a mention to Banjo or as we all called him banging Banjo!!!!

Tonight was the best part and one of the highlights of this whole Australia Day experience. We saw some of Australia's most famous and artists perform at Sydney Opera House like Guy Sebastian, Tina Arena, Dami Im, Human Nature, Nat Conway and James Morrison. It was one of the best nights of my life and all the people around were sharing drinks and homemade food. I felt very lucky to be there and to be celebrating with all the locals it blew me away and we partied all night.



I will never forget this day, and I hope to come back again and see some more of Australia, it has so much to offer. Maybe a tour to the bush or a trip to Perth the country is so big with so much to choose from my only regret is I did not stay longer. One other thing is that I need to remind Gillian that I am not a fan of extreme sports, boats or planes but my bucket list is well and truly ticked now. I do think I did very well giving them all a go on my holiday down under.