Amazing Amman Private Guided Tours to Jordans Desert Oasis
Amman was made the Capital of Jordan in 1921, with a special mix of old and new culture. It is situated on a hill across the desert. Amazing Amman Private Guided Tours to Jordans Desert Oasis are a must see overlooking the extraordinary scenery and Citadel. With amazing Amman Sightseeing Tours, you will see Roman Ruins, excellent Museums and Mosques. Amman has a residential district with cafes, bars, modern, malls and art galleries; East Amman is great for a traditional sensation of the Capital. Read More...
Downtown Private Amman Sightseeing Tours of the Magisterial Citadel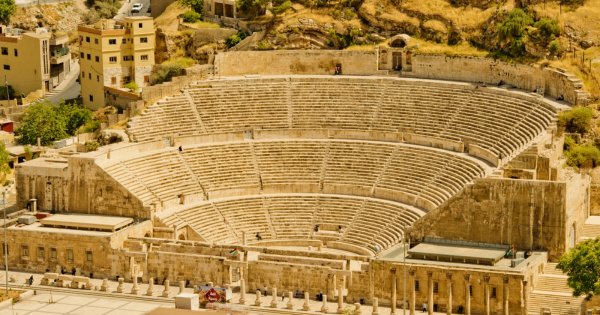 The citizen's of Amman are friendly, welcoming visitors on Private-Guided Tours, With its modern climate great for Sightseeing Amman Tours. There are lots of delightful and unique sights to see on Private Amman Tours.
Their cuisine is delicious starting with hummus, kebabs, lamb and many more wonderful tasty dishes; street food is also incredible you can get a shawarma wrap soaked in tahini sauce. Amman is an amazing city to visit to see all the historical sights on Guided Jordan Tours. The capital of Jordan, Amman, is a unique city to visit with the best Jordan tours. Jordan is a safe country to visit.
Jordan is also one of the oldest Christian communities in the world. Amman is one of the most accessible cities to enjoy the middle east experience. Downtown Amman is a must see with the city's hills that are overlooked by the magisterial Citadel, with spectacular Roman ruins, an international-standard museum and mosques. Easy to sense the more traditional and conservative pulse of the capital.
Travel Tips for Amman Governorate
Best Time To Visit Amman Governorate
The ideal time to visit Amman is between March-May if you are travelling to Amman go around these months as it would be more enjoyable when on Amman tours, with cooler temperatures in their high teens. June - September is unbearably hot, but the sea breeze makes it bearable. The beaches can reach 40 degrees in July. December to February can be cold as nighttime temperatures can drop below freezing. And may get snow.
Typical Costs in Amman Governorate
The costs in Amman when on Guided Amman tours are reasonable, eating in local restaurants is ideal when you are on a budget. You can get cheap accommodation, but you get what you pay for cheap is not always best. Hotels are midrange between 40-90 JD. 5-star hotels will be a bit more expensive starting between 90-120 JD, but I would highly recommend as you will also have privacy in the hotel and not offend anyone wearing your bikini by the pool.
Know Before Visiting Amman Governorate
Guided Amman tours are the same as another country obtain all the necessary documentation before travel. Always keep your important documentation and valuables in your accommodation safe. Cash is best to pay within Amman. Carry a copy of your passport with you at all times. Amman has low a crime rate, but please be aware of your surroundings. Muggers and pickpockets love vulnerable foreigners. Please wear appropriate clothing and footwear.
Weather in Amman Governorate
Temperatures in Amman can be unbearable in summer; it would be best to travel when temperatures are cooler so you can enjoy the beautiful sightseeing. The winter temperature goes below 20°C and is often quite a few degrees warmer. In summer the weather is hot daytime temperatures can reach 35°C, but the sea breezes make it bearable when on sightseeing tours of Amman. Follow the traditional siesta: everything shuts down around 2 pm and re-opens, around 6 pm
Let the activities begin!