Booming With New Life Take a Private Tour of Bangalore for Alot More
Booming with new life take a Private tour of Bangalore for a lot more!! Bangalore is the cosmopolitan capital city of Karnataka which is a major state in the southern part of India.
It is the most up and coming town in India due to the booming IT industry and has earned the reputation as of being India's 'Silcon Valley' and yet has manages to preserve its greenery and lose none of its heritage.
It is ranked in the top 10 fastest growing cities in the world and fifth largest in Asia.
It is not all IT and technology although that is what has helped the city to improve its amenities. Due to the rise in companies and people now in Bangalore, there are new large shopping malls, parks, luxury hotels and excellent restaurants.
The local people of Bangalore are so happy with the way their city is growing and regrowing with it. It is as if they are thankful for the way their city as improved and in turn are very helpful, welcoming and always have a smile for you. Read More...
A Sightseeing Tour to the Cascading Shivanasamudra Falls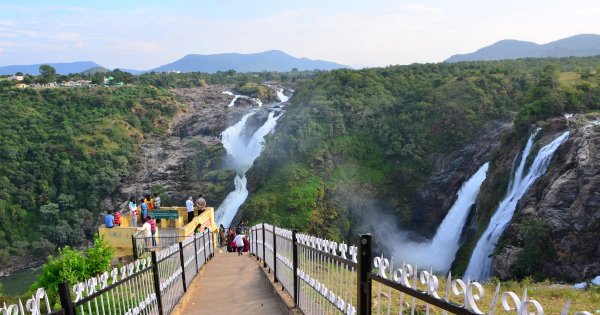 Few cities in the world can attract and motivate a tourist to want to stay permanently, but that is what has happened in Bangalore many times on a sightseeing tour.
It has so much to offer with its very welcoming people, great weather for the majority of the year, a great social life to be had.
Excellent food, accommodation and lots of attractions to go on sightseeing tours, such as museums, Palaces, temples, parks, lakes, handicraft emporiums, churches and gardens.
A private guided tour of Bangalore is a must to take advantage of their knowledge as there is so much learn in this fabulous city.
Top 10 Things to Do in Bangalore
1
A private tour to Bangalore's Tipu Sultan's Palace, within the Bangalore fort, is an impressive tour to take. The architecture is stunning and tells us a lot about the lifestyles of the Mysorean King Tipu Sultan also known as 'Tiger of Mysore.' A tourist cannot help but be curious about the history of this King. The Palace displays paintings and artefacts from when the palace was first built, and the landscaped gardens are beautiful.
2
Located in the Archdiocese of Bangalore, St. Mary's Basilica is among the oldest churches there, and It is the only church that has been elevated to Minor Basilica status. A private tour of Bangalore's Basilica is extraordinary with the stunning Gothic Architecture to admire and a humbling mass to attend. It is a very peaceful and calming place to spend a quiet moment to reflect and appreciate, especially as it is so noisy outside.
Gavi Gangadhareshwara Temple
3
A private tour in Bangalore of an Ancient cave temple, in Hulimavu, Karnataka is so fascinating. Dedicated to the Lord Shiva the Hindu God, and unique from all other temples in Karnataka because of the two huge discs in front of the shrine. During the festival of Shivaratri and the Astronomical phenomenon there are thousands of people coming to pray, on 14th January a ray of sun beams shoots a beam of light onto the Shiva shrine.
4
Lumina Gardens is a public park on the Nagawara Lake in Bangalore are dedicated to Lord Buddha of Nepal. It has in it a boating park, an artificial beach and a children's pool. Even though it is a public park, it is recommended to take a private tour of this park to be sure you get to see all the interesting parts. It has many restaurants and cafes along the banks of the river to sit and relax in.
Lalbagh Botanical Gardens
5
Translated Lal Bagh means Red Garden in English. These botanical gardens are very well known in southern India and host two annual flower shows. It contains a famous Glasshouse, the largest collection of tropical plants and home to a certain few species of birds such as Parakeets and Myna. A private tour guide, to these Gardens, is a must as they can tell you the names of rare and wonderful flowers and much more.
Karnataka Chitrakala Parishath
6
Found in the heart of Bangalore cityKarnataka Chitrakala Parishath is a vibrant, beautiful premises established in 1960. It is an Art Complex and landmark for visual culture in the city and state. It is a network of museums, galleries and displays from the Archives of priceless collections such as Pan-Indian culture. Already a very touristy spot to visit, it is also welcoming to other painters from all over the world.
7
Lepakshi is a small village outside of Bangalore, and a private tour to here is well worth it. The ancient Lepakshi Temple displays the relics of Vijayanagara style of architecture going back to 16th century and is culturally significant as it is the location of 3 shrines dedicated to Lord Shiva, Lord Veerbhadra and Lord Vishnu. Within the temple are mural paintings of Vijayanagar kings and Kannada engravings.
8
Also found in Lepakshi, is an idol of Nandi Bull and paintings. It is located in the proximity of Veerbhadra Temple and another striking feature for this small village. It is a, 4.5 meters high and 8.23 meter long, monolithic sculpture of the sacred bull Nandi and is believed to be the largest statue of its kind in India. Other brilliant displays of craftsmanship from olden days and paintings can be seen around it.
ISKCON Sri Radha Krishna Temple
9
Sri Radha Krishna Temple is one of two ISKCON (Intl Society for Krishna Consciousness) temples found in Bangalore.The Architectural style of this temple is magnificent, and it has a perfect union of modernity and spirituality. There is a gold plated pillar at the entrance, 108 steps each side of the Mantapa and devotees chant Hare Krishna at every set as they climb. A private tour is recommended as there are only certain times to visit.
10
A small island town not far from Bangalore is Shivanasamudra Falls, on the banks of the River Cauvery. It has forest and lush, vibrant green valleys all around. The river Cauvery winds its way through the Deccan Plateau and drops downstream to form two fabulous waterfalls and are the second largest in India. A private tour in Bangalore, by boat, is fantastic with superb views as you are sailing up to the island and the waterfalls.
Travel Tips for Bangalore
Best Time To Visit Bangalore
The very best time to visit Bangalore is during the months from September to February, and there is a notable increase in tourists on private tours then. The weather is best even though it is their winter season. For sightseeing, the attractions are busy but guaranteed to be open any other time, and they could be closed for repairs. August and March are not 'bad' times to go either, and flights/ accommodation will be a little cheaper than in peak season.
Typical Costs in Bangalore
Being a tourist in Bangalore is cheap. In a mid-range restaurant, you can get a lovely three-course meal for two, for approximately $10, a Mc Meal from McDonald's is only $3. To get a taxi for a short distance like 1km, it costs as little as 18 cents, and for some trivia, Bangalore has the 3rd least expensive taxi 1-hour 'waiting' tariff in the world at 88 cents. To go clothes shopping the prices vary, some things are great value for money.
Know Before Visiting Bangalore
Like everywhere in the world Bangalore has a few drawbacks. It is not advisable to eat from roadside vends but if you do make sure it has been properly cooked. Be careful and only drink bottled water the seal hasn't been broken. Never carry too much cash around with you at any one time. Always be respectful when visiting religious places. Gather as much information about the places you are going to before you travel. Always prebook tours before you go.
Weather in Bangalore
The climate in Bangalore is very pleasant all year round because of the city's elevation. A lot of rain can fall during the months of May, June, July, August, September and October but the temperature can be excellent then too. It is dry and hot for the months of January, February, March and December and the best time for private guided tours. In may it is the warmest although there is plenty of sun all year round even during the raining season
Let the activities begin!