The Stunning Paradise Island, a Private Tour of Ko Lipe, Is a Must!
Visit the stunning island paradise of Ko Lipe in sparkling turquoise waters see this stunning jewel and island paradise in the waters of the Andaman Sea.
The most southern of the islands Ko Lipe is surrounded by over 50 islands and is part of one of the oldest marine parks in Thailand. The stunning paradise island, a private tour of Ko Lipe, is a must!
These tropical islands are surrounded by stunning coloured coral reefs, and the sea is teeming with life from fabulous bright fish to crabs and beautiful sea anemones.
Spend hours on a Private Tour discovering what lays just beneath the surface or dive down to the reefs and see the barracuda and tuna and the urchins and snappers.
Relax in a hammock under the cooling canopy of tropical palms fringing the white beaches. While away many hours reading or sleeping, before heading out to one of the many trendy bars for dinner and a few beers or cocktails. Everywhere you go, you will find a warm welcome and make some new friends as well as have a wonderful time…it is a hard life, but somebody has to do it!
Let the activities begin!
Top Ten Places to Visit in Ko Lipe
1
Clear, azure blue warm waters make this snorkelling Ko Lipe Private Tour a guaranteed success. By taking a little outing, you can freely dive amongst the beautiful coral reefs and seek out the amazing array of tropical fish found there. Snorkelling equipment is also available for those who want to stay in the shallower water. At Eight Mile Rock and Yong Hua, you will find the best underwater spectacles including a shipwreck and hidden treasures.
2
At the fantastic Lipe, Vacation Resort take a Private Tour, and you can witness this ancient form of painting at first hand. Dating back to the 4th century and originating in Egypt this ancient art form uses a unique wax resistant fabric that makes this type of artwork so attractive. You can learn the history behind this form of artistry and from where this idea came from before you can spend a few pleasurable hours making your own masterpiece.
3
From this superb tropical location, take a Private Tour of the Ko Lipe Island Hopping scene. You can reach many of the smaller islands that lie just offshore as well as some of, the farther ones. Normally the first or last stop on your Thailand holiday, it is a fantastic way to wind down or prepare for the next part of your holiday. Small ferries make the journey to such exotic locations as Phuket, Malaysia, Park Bars and Phi and many offer the opportunity do some snorkelling on the way there.
4
Spend some time in the lush green forests of the National Park amongst the huge trees standing after hundreds of years. Listen to the chattering monkeys and the melodic bird song as you wander through the carpet of tropical flowers. Take one of the private tour day trips to see the stunning sunset or a leisurely trip with some snorkelling and diving thrown in or feast on tropical fruit lying on one of the perfect tropical beaches.
5
Get your boots on and get hiking in Ko Lipe with Private Tour. Haven is an excellent location to take on some adventure into the magnificent forests that cover the whole area. There are different routes from a leisurely strolling to a more strenuous hike and everywhere you walk you come across unusual animals or insects and some truly stunning displays of exotic flowers. The route out to Cha Doa was a fantastic choice as we saw the most incredible views on the way.
6
Situated high on a hill amongst the dense jungle is this excellent example of a Buddhist Temple. Situated off the road between Sunrise and Sunset Beaches it is well worth a stop off. This unusual Temple differs from the other Golden wonders found in the areas as it is basically a wooden shack. Brightly decorated with colourful artefacts a few Monks live here with their many cats and dogs. An unusual, but interesting place off worship.
7
Take a private tour by motorboat to the neighbouring Mediterranean Island of Ko Adang. This fun boat ride through the crystal clear waters allows you to relax with a beer or two while seeing some of the colourful sea life found around this shores. Mainly uninhabited the island has stories from long ago of piracy and hidden booty along the Chado Cliff. Hiking trails and picturesque waterfalls are hidden gems amongst the lush forest.
9
Where else can you experience the relaxing calmness of yoga in the way it was meant to be taught. In the beautiful lush gardens of Mali Resort, you can take lessons every day at 10 and 3. In these fantastic surroundings, it is hard not to relax and feel the calming effects of the yoga and the melodic voice of the teacher. She was very professional and knowledgeable and made the lessons fun. You come away feeling totally revived.
10
No tourist coming here on holiday leaves without at least one night at the bars. After spending most of the day sleeping or reading in your hammock under the swaying palms that fringe the beach you should be ready to party. Of the many bars around this area, we found Jacks Jungle Bar to be popular, and it fast became one of our favourites along with Karma Bar. Staff were pleasant, and lots of fun and you certainly won't go thirsty at either.
A Custom Private Tour of Ko Lipe With Its Stunning Beaches or Go Island Hopping Around the Crystal Turquoise Waters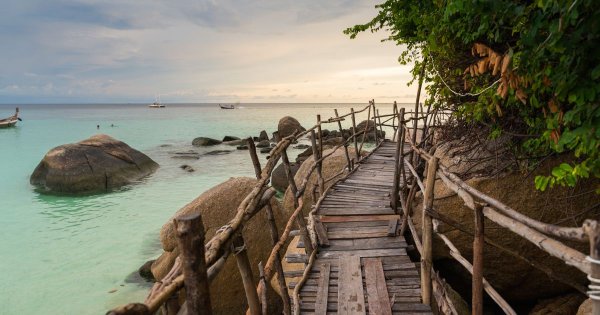 Take a guided private tour of Ko Lipe, and the fabulous coral reefs and snorkelling opportunities await you on this stunning tropical island. Laze away the day in your hammock under the swaying palms or take one of the many private tours:-
Learn the fascinating, unique art of Batik Painting originating from ancient Egypt with a registered guided tour. Head Island hopping around some of the most picturesque uninhabited islands of Thailand.
Trek the National Park maybe you will come across some chattering monkeys or birdlife. Visit one of the most significant Buddhist Temples ever, quite literally a shack but a beautifully decorated one.
Relax on the stunning palm-fringed Pattaya Beach by the crystal waters. Do some serious bar crawling in the many trendy bars...relax and make some new friends.
Travel Tips for Ko Lipe
Best Time To Visit Ko Lipe
Weather wise the best time to go to take a Private Tour of Ko Lipe is from December to March when it is beautiful and hot but not unbearable. The cheapest time to go is September and October, but then the weather can be unpredictable. For people going for the diving and snorkelling the coral reefs the best season is from November to April. If surfing is your thing then anytime from April to November is when you will find the best waves.
Typical Costs in Ko Lipe
Ko Lipe can be as cheap or inexpensive as you make it, but in general, it is not easy to spend much when lying on the beach all day. The main expense you could have would be one of the varieties of private tours that are on offer and as an example snorkelling is about 20$ per hour including hire of equipment. An average bottle of wine will cost 7$ and beer around 2.50$. A 3 km tuk-tuk ride is at most 11$. Pre-Book your tours to save money before you go!
Know Before Visiting Ko Lipe
You do not need a visa to enter Ko Lipe if you are from Europe, but if you're from a few Middle Eastern countries, you may need one so always check when booking your Private Tour. Tipping is not necessary but nice to do and will always be appreciated by the servers. Ko Lipe is regarded as a safe Island, but it is advisable to be aware of your surroundings and take care of your personal possessions while out shopping, in night clubs or when you go swimming.
Weather in Ko Lipe
As Ko Lipe has a tropical monsoon climate, it is warm all year round. April, May, September and October are the hottest months of the year, and it is very Hot. In September and October, not only is it 'hot' it can rain heavily but rarely will it rain for several days at a time. K Lipe is lucky as it is in a temperate zone which means that if there are typhoons and tropical storms battering Hong Kong or the Philippines, Ko Lipe has mild weather!