Explore Curious Captivating Caribbean Cuba on Private Sightseeing Tours
The largest Island in the Caribbean is Cuba and it is a curious yet captivating destination to visit with private sightseeing tours. It is made up of rugged mountains, white sand beaches, farmland, urban cities and quaint villages.
The natural beauty of this country is what stands out the most with 3,000 kilometres of white sand coastlines and glimmering turquoise waters washing up onto it. Inland there is as must beauty with lush countryside and mountains.
The history Cuba has had is fascinating in many ways and there are many ways to learn these facts with all the great private guided tours of Cuba available. Visit where possible one or all nine UNESCO World Heritage Sites found all over the country to emphasize the unusual places and attractions Cuba has to offer a tourist.
With all the mystery and uniqueness found in Cuba's private tours it shows us that this is a country that is crying out as a location which should be explored, have adventures, thrills, spills and most of all lots of fun. Read More...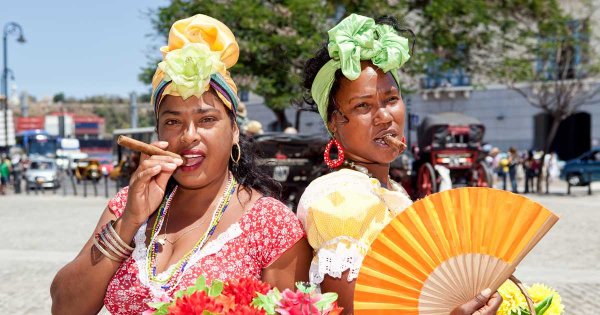 When you visit Cuba, you may as well be locals next door neighbour as you are treated and welcomed so beautifully. The friendship and kindness offered by strangers is incredible and remembered forever.
It is crazy when you are walking in the different cities on Cuban city tours you notice the common factor with them all, is the vintage cars that everyone drives. It is a vintage car collector paradise to see; unfortunately, you cannot buy.
For fun and adventure tours of Cuba, there is a range of activities in all the different regions and cities. There are diving and scuba tours everywhere along the coast and horseback riding or off road jeep safaris when you head inland to name just a few of the things you can get up to when in Cuba!
Top 10 Things to Do in Cuba
1
When you decide to visit Cuba a must-see place is Old Havana or Habana Vieja which is a UNESCO world heritage site. On a custom Cuban private guided tour you get to see this well-preserved piece of Cuban history. It has neoclassical and Baroque buildings with cobblestone streets and you feel you have stepped back 200 years in time. There are many historic and cultural buildings to explore and visit along with other major attractions.
2
The town of Trinidad is yet another UNESCO World Heritage Site in Cuba. This beautiful town is another example of exceptional preservation and restoration of buildings from the 17th to the 19th century. Nowadays this town is a trendy tourist resort with excellent sightseeing tours of historic and cultural places. It is a lively town with charm and a very friendly ambience. It is the ideal place for a mix of fun and culture.
3
One of the most perfect beach destinations in Cuba is Cayo Coco. This isolated area was a favourite of novelist Ernst Hemingway as he wrote about here in novels such as the Old Man and the Sea and Islands in the Stream. Cayo Coco is part of the archipelago of Sabana-Camaguey and connected to the mainland by a bridge. There are great nature trail tours to do for animal lovers to see crocodile, turtles and more.
4
Viñales Valley is regarded as being among the most impressive part of Pinar del Rio Province and is on the UNESCO World Heritage List. Here you can do some of the best Cuban private tours and activities. There are caves to explore, fascinating flora and fauna to see, views to admire from natural lookouts and history to learn about the world of tobacco. It is a stunningly beautiful place to visit.
5
For a more cultural experience take a sightseeing tour of Cuba's Santa Clara which is found in the province of Villa Clara.It was here in 1958 the Che Guevara led the last guerrilla battle and his body is buried here. His monument and mausoleum are star attractions. Beside the monument is the museum which exhibits the personal items of Che. There are other historical places to visit when you are here.
6
Another famous beach destination in Cuba is Varadero which stretches along the Peninsula de Hicacos. It has the look of the idyllic beach with palm trees lining it and crystal clear waters washing up on the white sandy beach. There is also a nature reserve Parque Natural Punta Hicacos with caves and a pretty beach. This is an excellent place to do diving and snorkelling tours as there are shipwrecks and other stuff to discover.
7
Do sailing tours and jungle adventure tours on day trips from Guardalavaca. While Guardalavaca is stunning and the perfect place for peace and relaxation, it is a great place to do a vast range of different tours and activities. Diving and snorkelling tours are excellent with a large amount of sea life found along the coral reefs. There are three islands to explore too on sightseeing tours or boat tours.
Castillo de San Pedro del Morro
8
In the southwest of Santiago de Cuba, at the entrance to the Bay is Castillo del Morro. On another excellent Cuban sightseeing tour, you must visit this well preserved Spanish fortress which dates back to the 17th century. Tourists can explore the fort and all its levels, visit the small museum and take in the impressive views from the Fortresses location on top of a cliff. The fortress was originally built as a protection from pirates.
9
In a sparsely populated and remote area of Cuba, you will find the Peninsula de Zapata. This area is a bird and nature lovers paradise with its diverse landscapes and being among the largest wetlands located in the Caribbean. The Zapata Swamp or Cienaga de Zapata is home to around 150 varied species of birds and is a UNESCO Biosphere Reserve. Not surprising to learn, Crocodiles are a common sight too.
10
A sightseeing tour of Cuba should include a trip to the Country's oldest city Baracoa in eastern Cuba. This beautiful city was founded in 1511 and virtually cut off from the outside world until the La Farola highway built in the 1960's. The city keeps its remote feel and it has a wealth of charm and attractions. Visit the colonial architectural buildings and rich countryside with beaches and waterfalls dividing the steamy jungle.
Let the activities begin!