Visit the City of Roses Beautiful Bloemfontein on Private Tour
Visit the city of roses beautiful Bloemfontein on a private tour. Known locally as the "City of Roses", Bloemfontein is the Judicial Capital and one of the largest cities in South Africa. Not known as a top tourists destination it is more referred to as a gateway to South Africa's heartland but try not to just pass through stay a while and see what this city has to offer.
There is less haste and little stress here; the relaxed atmosphere can be felt in everywhere in the litter free clean and beautiful streets. Sightseeing private tours of Bloemfontein will take you to Naval Hill and many cultural and active sites including Oliewenhuis Art Museum and Franklin Game Reserve. With the most competitive cost of living in the region stay and enjoy a visit to this unique and pretty city. Read More...
Sightseeing Private Tours of Bloemfontein Will Take You to Naval Hill and Many Cultural and Active Sites
The Naval Hill Bloemfontein private tour will take you to the site where during the Anglo-Boer War the British Naval Guns were emplaced.
The panoramic views from the hilltop are beautiful, and you can see the Franklin Game Reserve from any angle. As you stroll around Naval Hill on a private tour, don't be surprised if you see giraffes and zebras wandering around.
Also, take a visit to the planetarium and take an escorted private tour to see the epic Nelson Mandela statue it is amazing.
Top Things to Do in Bloemfontein
1
The Naval Hill Bloemfontein private tour will take you to the site where during the Anglo-Boer War the British Naval Guns were emplaced. Once you reach the very top the panoramic views are beautiful and an amateur's photographers dream. You can see the amazing Franklin Game Reserve with it's roaming animals or on a bright day the famous Nelson Mandela Statue.
2
Established in 1930 take a private tour of Bloemfontein Franklin Game Reserve is only on of two city wildlife reserves in the world. This uniquely beautiful 250-hectare wildlife reserve is home to blue wildebeest, giraffe's and zebra but also houses many bird species. Private tour guides are essential as the animals are free to roam and danger could be around any corner.
3
Located on the grounds of one of Bloemfontein's most beautiful gardens is the Satellite Art Museum. Book a guided private tour to see one of the youngest museums in the state and admire how the locals campaigned to developed it for their love of art and the love of their city Bloemfontein. With update technology, the curators are in a position to house and store climatically many works of art.
4
Take a guided private tour and visit the National Women's Memorial Commemorating the 26,000 women and children who died in British concentration camps during the 1899–1902 Anglo-Boer War. The memorial depicting an Afrikaner going off to war leaving behind his child and wife who subsequetly dies in a British camp is heart wrenchingly sad.
The Anglo-Boer War Museum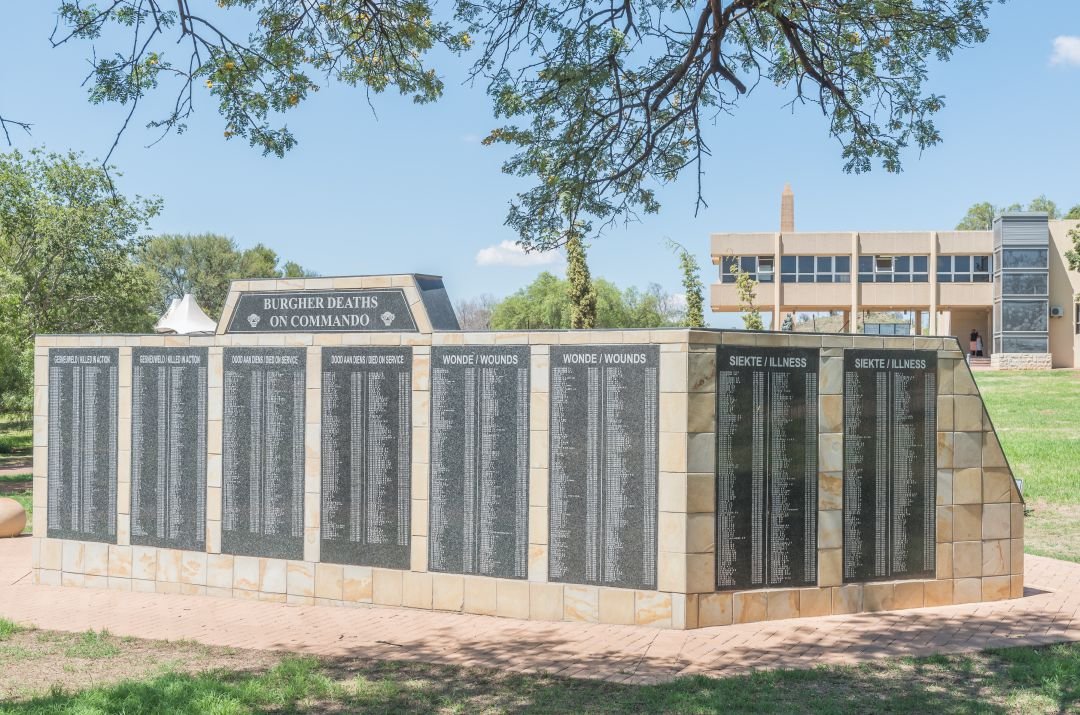 5
The Anglo-Boer War was one of the most noteworthy events in the history of South Africa. Take a museum guided private tour and see the unique dioramas, exhibitions and art collections on display. As you go through the gallery, you will see how all the details of the war unfolds in front of you. While some of the displays are disturbing, it will show the strength and diversity of the people of South Africa.
National Botanical Gardens
6
On the outskirts of Bloemfontein go on a sightseeing private tour and see the 70 hectares of stunning gardens. With over 400 species of plants and decorative trees indigenous to the area, this is a lovely family day out. Keeping most of the natural elements of the original landscape, the gardens are uniquely beautiful, and a must see on a visit to Soweto.
Bloemfontein Orchid House
7
On a custom private tour of Orchid House, you will enter the circular glass house and see the largest collection of orchids in South Africa. The beautiful boardwalk that runs around the Orchid House will let you have an up close and personal view of the beautiful species of flowers. Pack a picnic and take the day to relax and enjoy a family fun day out.
Travel Tips for Bloemfontein
Best Time To Visit Bloemfontein
The best time to take a trip to Bloemfontein South Africa weatherwise, during the months from October to April, are recommended. October, November and April are the ideal months for private tours or sightseeing tours as the weather is cooler, there are fewer crowds and it may also be a slightly cheaper time. January and February are hot, so if it is just a beach holiday you are looking for, it is a perfect time.
Typical Costs in Bloemfontein
Probably the most expensive thing about South Africa is getting there because when you are there, it is relatively inexpensive. The biggest expense is likely to be accommodation, but if you are not too fussy you can get a night in a b&b, with an evening meal, that is basic but clean for $60. Activities are more expensive in peak season, as are private tours, but shop around as prices vary with different tour operators.
Know Before Visiting Bloemfontein
Sadly, there is nowhere in the world that is crime free, so when in South Africa be careful of your belongings. Only carry enough money to do you for the day and keep it somewhere safe on your person as there are pickpockets everywhere. Never walk alone at night in unpopulated dark areas. Tipping in restaurants and bars is between 10-15 percent but never feel obliged to leave a tip if the service was a disaster.
Weather in Bloemfontein
South Africa has a lovely climate that is temperate with plenty of sunny, dry days. Winter is June, July and August when it is generally dry and cool with snow only falling in the mountainous regions. September and October are springtimes. Summer is December to February and it also is the rainfall season with The Cape getting most of the rainfall. It can get extremely hot during January but perfect for getting that golden tan you always wanted!
Let the activities begin!