Private Tour of Etosha National Park for Exhilarating, Energetic Safaris
Etosha National Park, Namibia on a private tour and you can enjoy exhilarating and energetic safari tours. The large salt pan that makes this national park unique in Africa is so vast it can be seen from space.
The shimmering green and white open expanse that is the Etosha Pan is approximately 130 km in length and 50 km wide in some areas. Not surprising, it is Africa's largest salt pan. What was once a lake is now this salt pan due to the change in the world's climate.
Rainwater pools approximately 10 cm deep form during the wet season in the pan and this draws migrating flamingos. Etosha National Park is Namibia's only known mass breeding ground for Flamingos with over a million of them at times.
The Etosha Pan was discovered by Europeans Charles Andersson and Francis Galton in 1851 when they visited the wild region with Ovambo traders. "Great White Place" is the loose English translation of Etosha in the Ovambo language. Read More...
Safari Tours of the Numerous Waterholes to See Rewarding Wildlife Gatherings
When you take safari tours in Etosha National Park of the many waterholes, you really are rewarded with the amazing sights of the incredible wildlife that gather. The animals that can be seen include elephants, black rhinos, wildebeest, lion and Zebra to name just a few.
There are unique floodlit waterholes for nighttime safari tours, natural springs and fountains are another type and then there are the man-made waterholes.
Etosha National Park is also a fantastic place for bird watchers with over 340 bird species. The majority of which are found where there are extensive woodlands.
Don't be surprised to see reptiles and amphibians on your travels as there are around 110 reptile species and 16 amphibian species. You will be lucky to see the one species of fish!
Top 8 Things to Do and See in Etosha National Park
1
Okaukuejo is one of the most popular waterholes in Etosha National Park. The fact that it is floodlit means that you can go on adventurous and exciting nighttime safari tours here. The endangered black rhino can be seen here almost every night along with many elephants. Between the months of June to December are the best months to go on a safari tour here.
Halali and Goas Waterholes
2
These waterholes are located on the eastern edge of the Salt Pan in Etosha National Park. When you take a safari tour to the Goas natural spring waterhole which is like an oasis, you can see many birds, elephants, zebra and impala to name a few. The man made waterhole of Halali tends to attract the elusive leopard along with many other of the large wildlife.
3
A fascinating safari tour to the Okondeka waterhole may be a bit different than the other waterhole safari tours due to this being the best place to see Lions. There is a very high possibility that the lion will have the prey they just caught with them. This waterhole is a natural fountain that is located on the very edge of the salt pan on the west side.
Suede and Salvadora Waterholes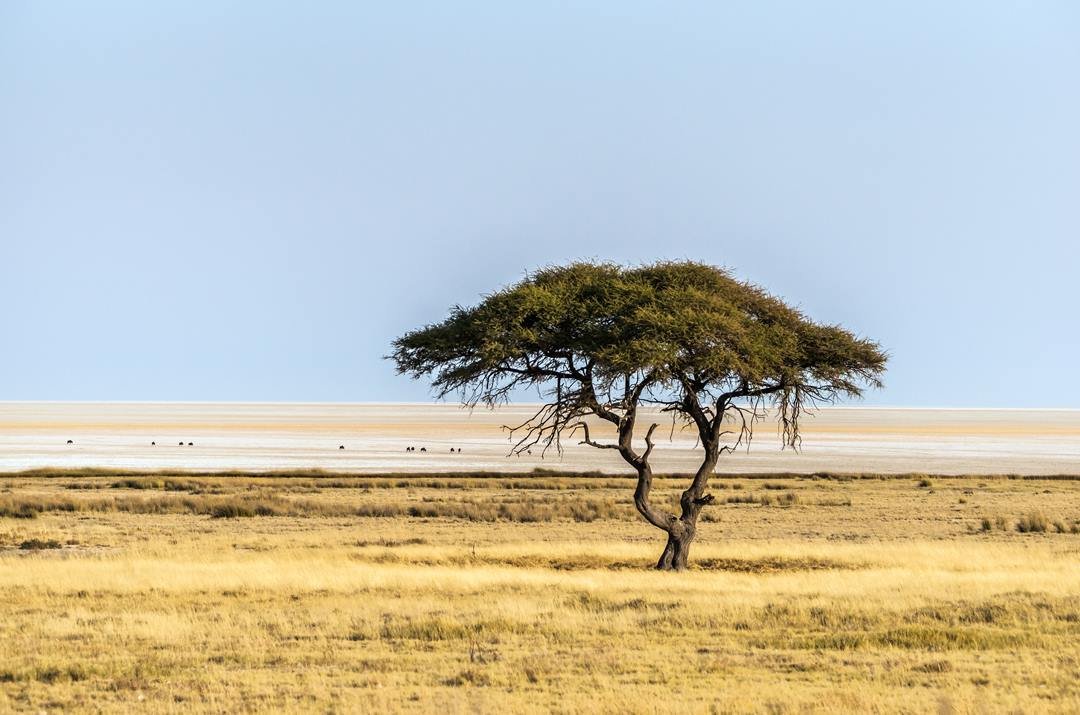 4
The waterholes of Sueda and Salvadora are the best places to catch sight of cheetahs on a safari tour. These waterholes are probably the better ones to visit if you are looking for some stunning vistas. The views of the northern horizon and the pan stretching away is amazing to see. A number lions tend to roam to this waterhole from other nearby ones.
Bird watching safari tours
5
When you visit Etosha National Park during the rainy season months, you can go on excellent birdwatching safari tours. The most common bird species you are likely to see include northern black korhaans, Crimson- breasted shrikes and pale chanting goshawks. The rare bird that you may see include the Egyptian vulture, crowns crane, Caspian Plover or cape vulture.
Safari Daytime Game drive tours
6
When you go on a safari game drive tour in Etosha National Park, you are in for an adventure. Whether you leave early morning or late afternoon, there is always great wildlife to see which includes giraffes, lions, elephants. It is fascinating the way one elephant approaches a waterhole and once they deem it safe, the herd follows with baby elephants in tow.
Safari nighttime Game Drive tours
7
There is an extra thrill and adventurous feeling when you go on a safari nighttime game drive tour in Etosha National Park. It is fascinating to see the nocturnal wildlife and what they get up to during the hours of darkness. Black Rhinos tend to visit the waterholes during the night as do many elephants. There is also a much better chance to see some jackals at night.
Fairy Tale Forest Safari tour
8
Take a safari tour to Fairy Tale Forest and see the fairy tale trees which look like they are upside down. Normally these trees are found in mountain and hill areas, but Etosha National Park is the only place in Namibia on flat plains. The forest gives off an eerie appearance and the San tribe say the trees were thrown in anger from heaven and landed upside down.
Travel Tips for Etosha National Park
Best Time To Visit Etosha National Park
The best time to visit Etosha National Park is during winter months of May to October which is the Dry Season in Namibia. During these months is when there is the highest concentration of animals around the waterholes and the best time to do waterhole safari tours. If you are interested in birdwatching then the summer months of the rainy season, November to April, is the best time but be prepared for the heat.
Typical Costs in Etosha National Park
It is advisable to book an all inclusive safari tour when visiting Etosha National Park. This way you get the best value for money as your accommodation, meals and safari tours are all included in the one price. The prices will vary depending on the accommodation you choose and the number of safari tours. As an example of prices a three day safari holiday, staying in a lodge starts from US$460 per person.
Know Before Visiting Etosha National Park
When researching Etosha National Park as a destination, make sure you find out when is the best time to see what you want to see, for instance, birdwatchers should go in the summer while game animal lovers should go in the winter. When you are there, make sure you listen to the instructions given by the Rangers before going on any of the safari tours. Have plenty of water during the hot months and bring lots of bug spray.
Weather in Etosha National Park
The winter months of the dry season are May through to October. The temperatures range from 28 degrees Celsius in May, 26 degrees Celsius in July to 35 degrees Celsius in October. The summer months of the rainy season are November to April and temperatures average 33 degrees Celsius. February has the highest quantity of rainfall while July and August have literally none. The hottest months is October and the coolest is July.
Let the activities begin!