Enjoy Unique Dynamic Views With Private Guided Tours Corfu
Renowned for its majestic coastline, mountainous landscapes and cultural heritage, you will always enjoy dynamic views with a Private guided tour in Corfu. Located in the Ionian Sea with its crystal clear waters, there is much to see, and this island certainly has something for everyone.
Corfu is well-watered, fertile, and is recognized as having the most eye-catching countryside of the Greek islands. Olive trees dominate the landscape, and in the most northwestern point, you will discover a unique natural landscape called Cape Drastis and which you can visit on a Corfu boat tour.
The island has much to offer and on a Corfu sightseeing tour, you will visit the stunning palace of Achilleion, inspired by the hero Achilles, Mouse Island, the magnificent Paleokastritsa and may beautiful villages along the way.
Corfu town is full of charm and is a perfect example of ancient Venetian and Byzantine buildings and churches. The town is built between two fortresses, and with a Corfu guided cultural tour, you will discover Corfu's many hidden surprises and secrets.
The paved streets in the centre of the old town will bring you to the large beautiful Esplanade and the romantic gallery of Liston which are surrounded by a public park. The town is bursting with lively restaurants, energetic bars and fascinating shops along with quiet little squares with fountains in the middle. As well as being a joy to explore, you will find everything you need in the town from outdoor markets, clothing stores, gift shops.
Let the activities begin!
Top 10 Things to Do in Corfu
1
Built-in 1890 exclusively for Elizabeth the former Empress of Austria, Achilleion Palace is located in surrounds of exotic beauty overlooking the beautiful Corfu coast. Not only is the palace famed for its classical features, but the gardens are also set in picture-perfect surroundings. Here you can marvel at the mural which shows Achilles carrying the dead body of Hector, and for all, you James Bond fans, the movie For Your Eyes Only was filmed here.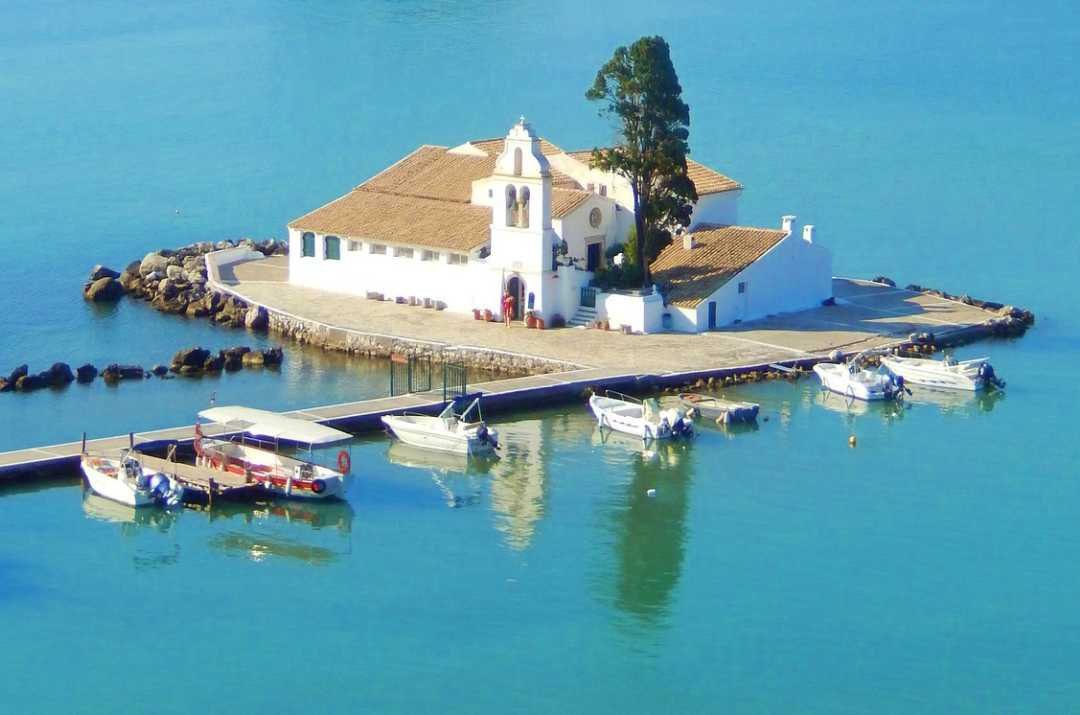 2
It is known to be one of the most symbolic places on the island you can reach this idyllic islet either by a stone pier or by boat which run many times a day. Although the Monastery lies in beautiful settings, many visitors also enjoy experiencing flights landing and taking off from the nearby airport literally above their heads.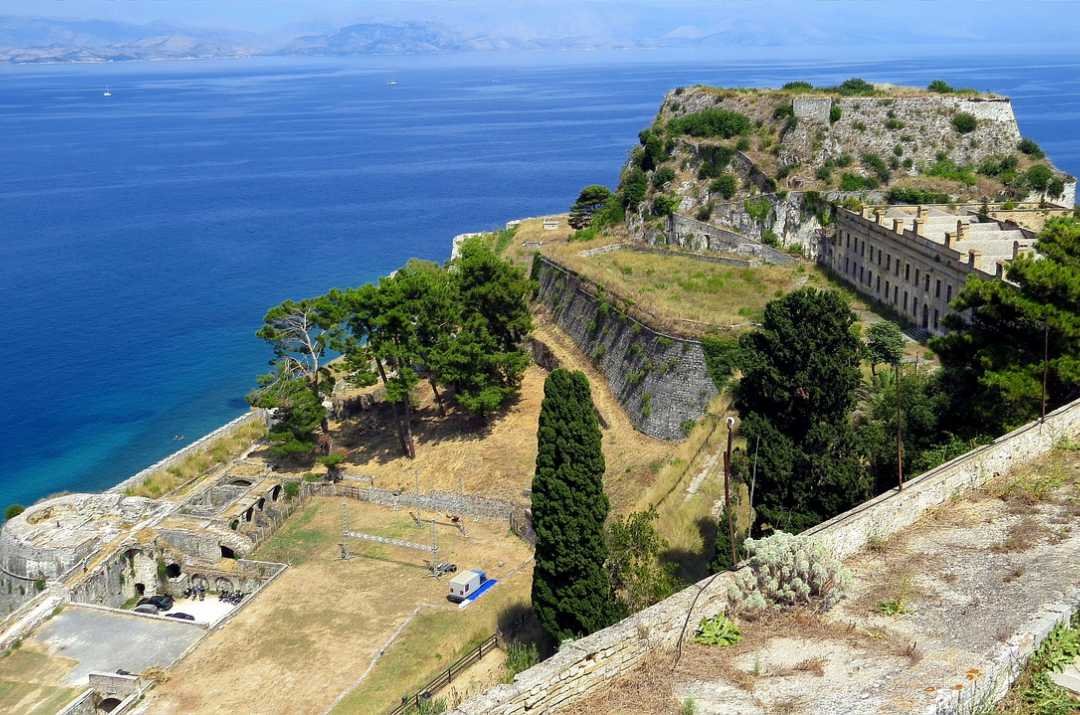 3
Taking a Corfu cultural guided tour to The Old Fortress and you will be visiting a place of historical value. Housed in the fortress is Saint Georges temple, as well as the Byzantine collection of Corfu displayed in the exhibition hall. From the top, you have a magnificent view of the town below.
4
Although not as spectacular as the Achilleion Palace, the museum has well laid out gardens surrounded by old Greek monuments and panoramic sea views of the eastern coast. This is an ideal place for pleasant walks under the shade of the trees and is the birthplace of the Duke of Edinburgh, Prince Phillip.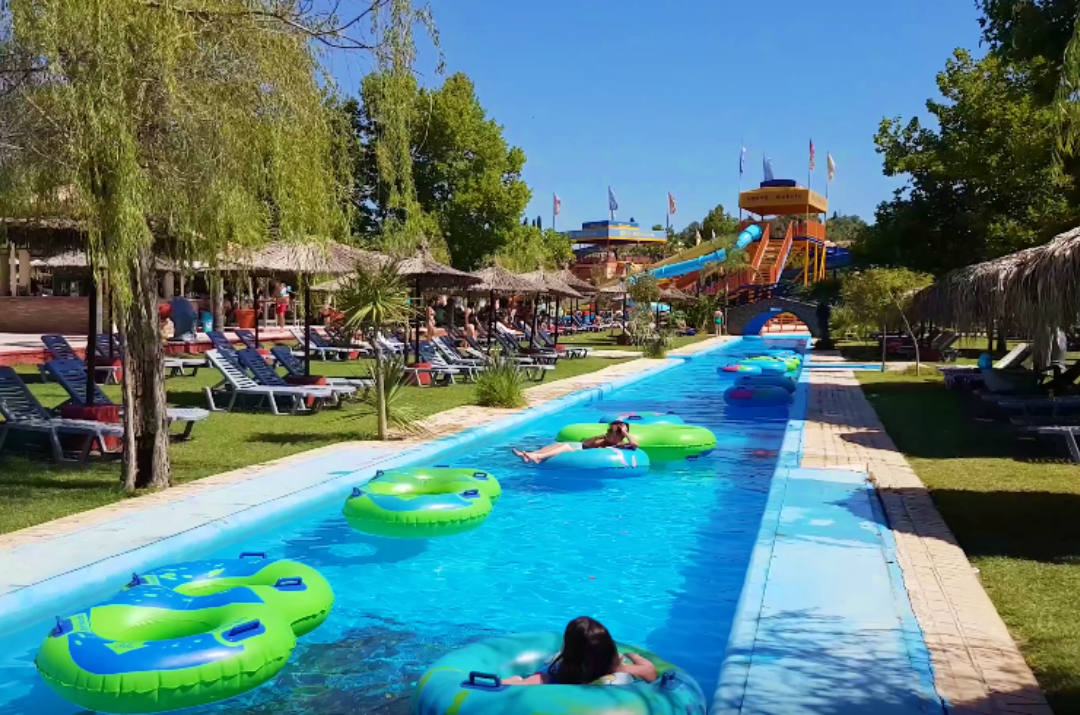 5
Surrounded by forests, this water park has all kinds of attractions to suit the whole family. With more than 36 slides, twisters, kamikazes and a 350-metre "Lazy River". You do not have to be a child to grab a rubber ring and head for the biggest slide you can find at Aqualand. You will never forget your experience in what some call a tropical oasis.
6
Enjoy a day away from crowded beaches with a guided sightseeing tour to Cape Drastis. This unique natural beauty is surrounded by clay cliffs, and there are many secluded beaches and small islands which you can either swim or take a boat to. Experience amazing sunsets, and for all your photographs, Cape Drastis ranks as one of the top places for photo opportunities.
7
Known to be the centre of entertainment, Kavos features a large sandy beach about 2 km long and is fully equipped with water sports, bars and restaurants. If it is the nightlife you enjoy, then this is the place to be. Kavos is the party capital of Corfu with big-name DJ's and foam parties galore. For all you early risers, you will be guaranteed to meet the party revellers returning to their hotels as you find your spot on the beach.
8
Enjoy an unforgettable olive oil experience on a private guided tour to the multi-award-winning Governor Olive Mill. Learn about the story of the oldest olive variety in the world and how best to taste and recognize high-quality olive oils. Walkthrough the ancient olive groves in beautiful countryside and by the end of the tour, you will be able to identify high-quality olive oil like a professional!
9
With a private guided tour, you can plan your perfect day with a professional guide. You can choose where you would like to visit. Corfu attractions such as Kanoni, Achillion Palace, Paleokastritsa, Bella Vista, Troumbeta Pass, Liston Promenade and Angelokastro Castle are to name, but a few and you also have time to relax on one of the many white sandy beaches.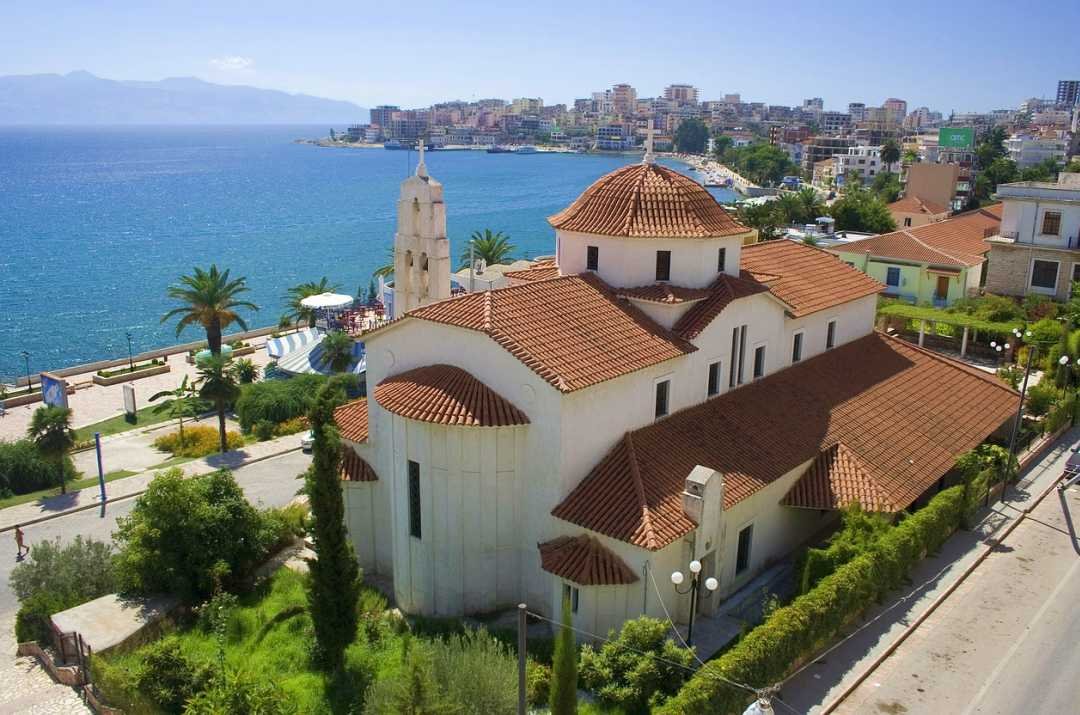 10
Experience the magic of Albania on a full-day guided sightseeing tour. Visit Butrint, a UNESCO World Heritage site and discover the Temple of Asclepius, the Venetian Tower, the Roman Baths and the Baptistery with its priceless mosaic floor. Enjoy lunch and explore the beautiful streets of Saranda before sailing into the sunset and back to Corfu.
Anecdote's Galore After a Corfu Boat Tour
Take one of the many amazing Corfu boat tours and sail to many beautiful beaches and islands. Relax as you enjoy a full day sailing experience dropping anchor at many secluded coves and Corfu's very own famous Blue Lagoon. Enjoy swimming in crystal clear waters before sailing to one of the many charming seaside towns on the Greek mainland which overlook picturesque ports and where you will experience Greek hospitality at its best.
For the more adventurous you can hike from the southern tip of the island to the most northernmost point through picturesque trails and know you are in safe hands with a Corfu private tour guide.
Travel Tips for Corfu
Best Time To Visit Corfu
The best time to visit Corfu will depend on your preferences. If you want to relax and enjoy the sun by the pool or the beach then anytime during the summer months is for you. The best time for sightseeing, hiking, and walking tours Corfu offers are the months, of March, April, and October.
Typical Costs in Corfu
Corfu, in general, is known to be slightly more expensive compared to other Greek destinations. However, there are many different ranges in prices and standards in restaurants and hotels and you get what you pay for. A typical meal in an inexpensive restaurant would cost around 10 Euro and a meal for two people in a mid-priced restaurant would cost roughly 28 Euro.
Know Before Visiting Corfu
We recommend you try to book well in advance and take advantage of deals on hotels and all guided sightseeing tours. Always take care of your personal possessions, especially at night and in crowded places. Be vigilant on the roads, and you will notice that many shops close for a siesta in the afternoon, due to the heat.
Weather in Corfu
Having a Mediterranean climate, Corfu enjoys mild, rainy winters and hot sunny summers. The best time for sightseeing, hiking, and walking tours are April, May, September and October. June, July and August are hot with maximum temperatures exceeding 30OC – 40oC however; the sea breezes do provide relief.