For Stampedes and Great Camaraderie! Take a Private Tour of Calgary
For stampedes and great camaraderie, take a private tour of Calgary, the fifth largest city in Canada.
Located at the sunny foothills of the Canadian Rocky Mountains towards the eastern side, Calgary is the major city for the entire southern half of the Province of Alberta.
There are countless stunning, glimmering skyscrapers in this ever vibrant and ever growing cosmopolitan city.
However, surrounding the city is the profound beauty and unspoilt natural environment. The Canadian Rockies on one side and where the Bow and Elbow rivers meet, on the other.
Calgary is rich in natural resources with the main one being the oil industry after oil was discovered in 1914 in Turner Valley which had a dramatic effect on the cities economy, for the better.
Before the discovery of oil, Calgary was full of ranchers and cowboys/ cowgirls. To this day there is still a huge Rodeo called the 'Calgary Stampede' held annually.
The roots of this rodeo go back to 1886, but the first official rodeo and festival started in 1912.
Let the activities begin!
Top 10 Things to Do in Calgary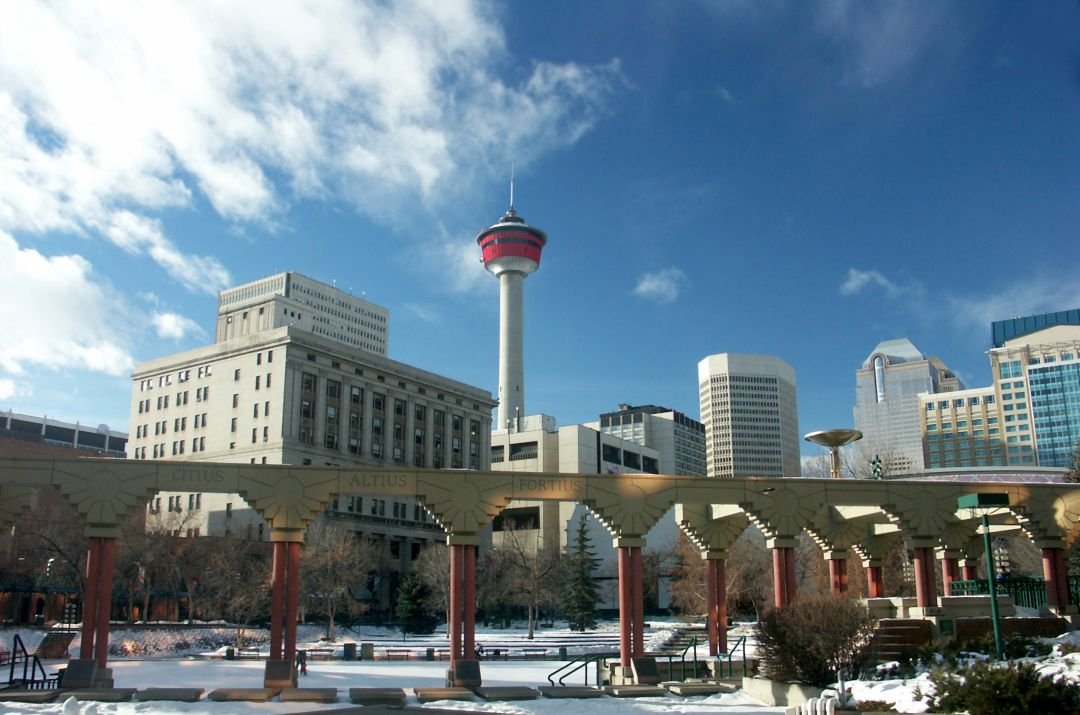 1
Take a guided tour of the stand out landmark of Calgary, the Calgary Tower. It stands 1228 meters above sea level and it is here you will find the highest 360-degree observation deck in the world. There are two elevators that will get you to the top in 62 seconds or you can walk the 762 steps. Two observation decks and a restaurant with a rotating floor. Built to withstand even an earthquake, on very windy days it can sway 7 inches.
Heritage Park Historical Village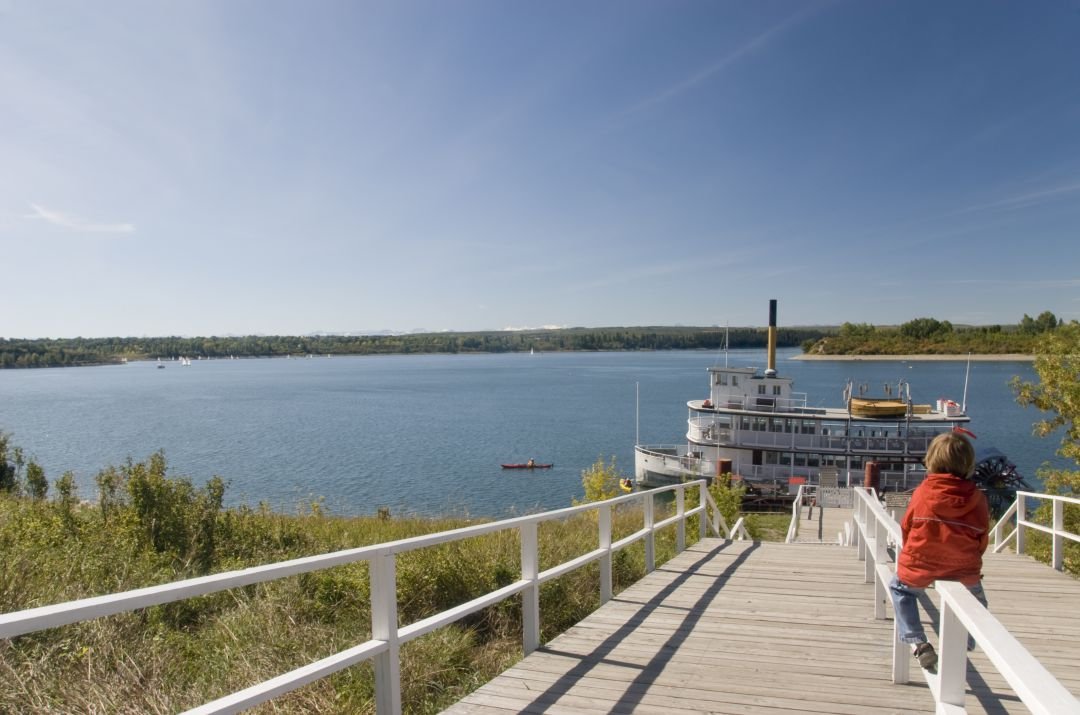 2
Take a guided tour of North Americas largest and very successful living history museum and Calgary's top tourist attraction. Opened since 1964, this park gives people the chance to interact with 100 years of history. The staff of the park are dressed in costumes which really brings the history to life. There are lots of different sections replaying the history of their time, amusements for kids. A fully entertaining place to visit.
3
Step back to ancient times on a guided tour of Dinosaur Provincial Park. Experience an authentic dinosaur dig and hopefully, you will be lucky enough to make a new discovery! A Unesco World Heritage Site, it has stunning landscapes, quirky wildlife and of course plenty of fossils to look out for. The visitors centre is very informative and a good way to start the tour off. You can partake in lots of great activities too.
4
Visit the birthplace of the modern city of Calgary, Fort Calgary which is now a National Historic Site. The Fort is found in the heart of Blackfoot territory. Built by the North West Mounted Police in 1875, it became a police administration centre which was a focal point for settlers and ranchers. The Fort to the Calgarians is a place to think about their past and plan for their future. See the exhibit of its history.
5
Take a guided tour to the fabulous purpose built Science Center, Telus Spark. People of all ages can embrace science, technology and art through exploration and discovery in new and surprising ways. There are over 100 exhibits, demonstrations and programs. See Calgary's only HD Digital Dome Theatre and there is also an Outdoor Park. This Centre is a very interactive and informative place to tour and well worth a visit.
6
If you are on vacation in Calgary during the month of July, then you are very lucky because you get to take a tour to Calgary Stampede. This is an annual rodeo that has existed since 1912. It is the highlight of the year for all cowboys and cowgirls and thrilling for tourists experiencing it for the first time. There are lots of exhibits that feature the history the Stampede Rodeo. The Festival around the Stampede is exciting and vivacious.
7
Previously known as the Aero Space Museum of Calgary, take a guided tour of The Hangar Flight Museum. The museum open now was founded in 1975 and it exhibits the history of aviation and space technology in Western Canada. The museum is still growing as it understands and appreciates the evolution of flight and that there are always new and futuristic inventions. The history of aviation is told through physical aircrafts.
8
For a pleasant guided tour, visit the Devonian Gardens which reopens in Summer 2017. After complete lifecycle maintenance, the gardens are refreshed and welcoming. Described as an 'urban oasis,' it is the only indoor public park in Calgary. See palm trees and tropical plants, fountains, ponds with lots of fish and a 900 sq ft 'living wall'. With a children's playground and cafe, it perfect place to escape, be at peace and reflect.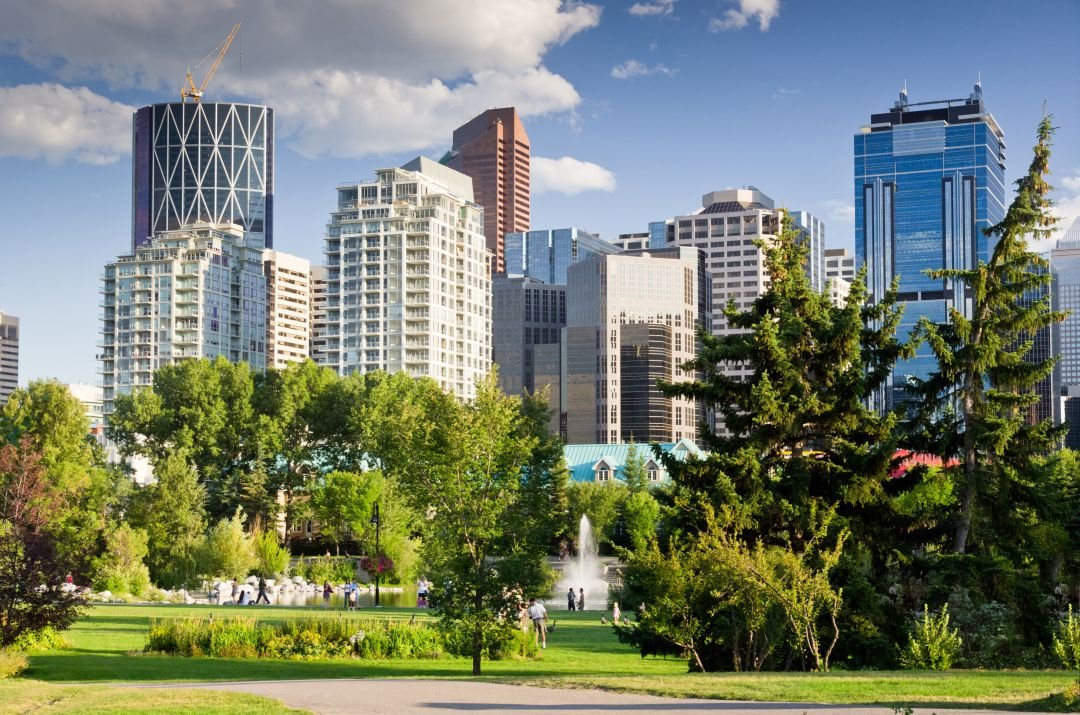 9
Take a sightseeing tour of the other 'Urban Oasis' found in Calgary, Prince's Island Park. A park on an island on Bow River that is accessible by bridges. There are lots of activities for every season and great hiking trails for all year, beautiful flower gardens and so much more. The park is named after a lumberman, Peter Anthony Prince who dug a channel (now a lagoon) to get logs closer to the sawmill which resulted in the island.
Fish Creek Provincial Park
10
A great day out is a trip to Fish Creek Provincial Park. Here you have lots of activities to do all year round in the second largest urban park. There is walking/hiking, biking, bird watching, nature trails and Artisan gardens. It also has Sikome Aquatic Centre which essentially is a human-made lake. There is no lifeguard here so be aware of that when you have children. Lovely beach area around it.
Sightseeing Tours of Calgary to Visit the Famous Calgary Tower or on Adventure Tours Go to the Canadian Rockies for Wild Times
There is much to do in Calgary city and the surrounding areas for both young, very young, middle-aged and elderly.
The sightseeing tours and city tours are plentiful and fun with excellent guides educating you on the different landmarks.
The adventure tours are even more exhilarating and wild. During the winter there is every thinkable winter sports activity available.
Just to throw in a bit if trivia; Calgary held the 1988 Winter Olympics, so the climate is, of course, perfect for winter sports.
During the summer, you need not worry, there is still lots of adventure to be had; skydiving, hiking, kayaking, caving, kiteboarding, zorbing, rock climbing, white water rafting, rodeos and the new thing Geocaching are just a few.
Travel Tips for Calgary
Best Time To Visit Calgary
For the best events, festivals and hot weather, the best times to visit Calgary are June all the way through to end of August. If winter sports are your thing, then anytime from November to March is your prime time. However, if you would like a holiday free from lots of tourists, lower prices for hotels and private tours and weather that is still warm then visit Calgary in April or in October.
Typical Costs in Calgary
Calgary is like most places in Canada, not too expensive a city and you can have a great holiday without going over your budget. It is possible to get a double room in a standard hotel for $150, or if you want luxury, the prices start from $250. In a local restaurant, dinner for two can cost $40 and in a fine dining restaurant $100. It all depends on how much you are willing to spend. Sightseeing and city tours will vary from season to season.
Know Before Visiting Calgary
Always do research about the destination you intend to travel to. Book as many private tours as possible in advance to ensure you are not disappointed upon arrival. Be aware of your location and never walk alone at nighttime in dark streets. Pickpockets are everywhere in the world so keep your money in a safe place or on your person. You may encounter scam artists looking for money to 'get back home', do not engage in conversation
Weather in Calgary
Spring is short in Calgary and the place is slightly muddy as the snows melt and temperatures begin to rise. Summer is warmer with temperatures from 20 to mid 20's degree Celsius; there is also some rain during these months. Autumn the weather is cooling but still very pleasant with temperatures averaging 15-20 degrees Celsius and finally winter, temperatures plummet and lots of snow on the mountains and the city looks like a snow-globe.