Have a Devious Adventurous Experience on a Private Tour of Tasmania
Do not let the far-flung location stop you from having devious adventurous experiences on a private tour of Tasmania.
This heart shaped, smallest state in Australia, is an island of alluring mystique. Situated approximately 300 km off the south of the Australian mainland and across the stormy Bass Strait.
World Heritage Areas and national parks, which make up nearly half of Tasmania, have fabulous alpine lakes, gushing wild rivers and mist covered peaks.
There are many reasons to visit Tasmania other than the national parks such as; the frozen in time, beautifully preserved heritage towns with haunting convict history and the amazing wildlife which include the real life, Tasmanian devils Unfortunately the Tasmanian tiger are now extinct.
In and around the small cities and towns of Tasmania there are plenty of museums to learn and explore, botanical gardens to leisurely stroll, fabulous landmarks and amazing wildlife refuges and zoo to keep you well entertained on holiday here.
Let the activities begin!
Top 10 Things to Do in Tasmania
1
Visit Russel Falls on a guided private tour and see one of the most beautiful and most photographed scenes in Tasmania. Situated in Mt Field National Park the falls are the main attraction at the park. With two main drops the waterfall is a photographers paradise, and from any angle they are amazing. Take a walk on the boardwalk and stroll through the rainforest, this is a unique and beautiful place a must see.
Cradle Mountain - Lake St Clair National Park
2
When in Tasmania, you should take a sightseeing tour to Cradle Mountain-Lake St Clair National Park. It has ancient rainforests and the famous Overland Track which is a six-day walk that passes through the magnificent mountains to Lake St Clair. It is part of the Tasmanian Wilderness World Heritage Area and regarded as one of Australia's most special places. Visit the many Aboriginal historic sites.
3
An excellent sightseeing tour is the one to Freycinet National Park. The scenery is spectacular and when you hike to the visitor's platform, you get to experience the great view over Wineglass Bay. There is also a more difficult hike to the top of Mt Amos, but the effort rewards you with even more fantastic views. Some of the activities to be enjoyed in pristine waters around the park are kayaking, snorkelling and diving.
4
On a sightseeing tour of Mt. Wellington, you are visiting a reserve and not a national park even though it contains a wealth of wilderness looking down on to the city of Hobart. Due to the many micro-climates that are in the park, there is a diversity of plant and wildlife. The type of animal you may see while on hikes or trails are platypus, bandicoots, possums, potoroos. There are many extreme sports to enjoy from the cliff tops
Bonorong Wildlife Sanctuary
5
Take a guided tour to the Bonorong Wildlife Sanctuary where you get to see some very special animals. In this sanctuary, the aim is to get healthy animals back out to their natural inhabitant however that is not always possible, so there are many animals who live here permanently. It is a very enjoyable tour and the people who run the sanctuary along with the volunteers are inspirational and the animals are adorable.
6
On a guided tour of Port Arthur, learn all there is to know about this historic site which is definitely one of the most important heritage sites in Australia and a very popular tourist attraction. On your tour see Isle of the Dead Cemetery, Point Puer Boy's Prison and the museum. For a little bit more excitement and at times scary why not take the ghost tour that takes place after dark with everyone carrying lanterns!
Tasmazia and the Village of Lower Crackpot
7
Located in Promised Land in the north-west of Tasmania, why not take a quirky guided tour to Tasmazia and the Village of Lower Crackpot. You find a maze complex with eight mazes, a fanciful small scale village, a Pancake Parlour for a little indulgence and a brilliant gift shop with locally made crafts, games and puzzles. There is also a working lavender farm to investigate. This is a fantastic place to spend a good few hours.
Cataract Gorge Reserve - Launceston
8
On a sightseeing tour in Launceston, you get to see a rare natural phenomenon for a city, which is Cataract Gorge Reserve. Known as just 'the gorge' locally is a unique natural formation. There is a pathway that was originally built in the 1890's that you can walk along which goes along the cliff face looking down onto the South Esk River. The Kings Bridge which is beautiful that goes across the Gorge was floated into where it is now, back in 1867.
Museum of Old and New Art
9
Take a very interesting guided tour of the Museum of Old and New Art (MONA) which is located in the north of Hobart city centre. The contents of the museum are laid out across three underground floors and is described by the owner David Walsh (a philanthropist) as a subversive adult Disneyland. There are antiquities from many eras on display beside the modern contemporary works. It is a museum that is like no other.
Mole Creek Karst National Park - Launceston
10
On a sightseeing tour of Mole Creek Karst National, you will be amazed. It is this park that protects superb limestone caves, stalagmites, stalactites, columns, subterranean streams, cathedral caverns and glow worm displays. There is a total of 300 caves and sinkholes to be explored here that include the best known Marakoopa and King Solomons Caves. Get involved in the adventure caving experience with skilled guides.
Experience the Wilderness on a Sightseeing Tour of Cradle Mountain-lake St Clair National Park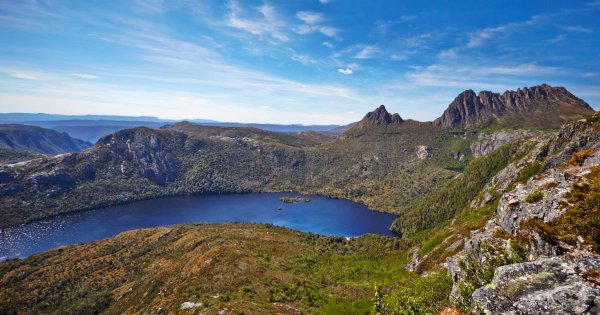 On the many sightseeing tours available to National Parks in Tasmania, Cradle Mountain - Lake St Clair is one of the best. On one tour see jewel on the crown of natural wonders such as glittering lakes, beech forests, alpine heathland, jagged peaks and glacier-carved crags.
For historic tours the most popular one is to Port Arthur Historic Site, it is an old convict settlement and its ruins are part of the Australian Convict Sites World Heritage Property.
It is not all sightseeing tours; there are lots of places for excellent shopping, mouthwatering restaurants and high-energy nightclubs.
There are great times guaranteed on a tour of Tasmania.
Travel Tips for Tasmania
Best Time To Visit Tasmania
The best time to visit Tasmania is during its summer months which are December, January and February. The weather can reach temperatures of high 30's they tend to remain in the 20's which is ideal for going on sightseeing tours and adventure treks. There are excellent summer festivals too. The months November and March are also good times and if you are lucky, may be slightly cheaper for tourists too.
Typical Costs in Tasmania
Tasmania is very reasonably priced for tourists. A daily budget of $150 - $200 will get you a double room in a good hotel, transport and food for the day. Of course it is possible to find cheaper hotels and if you want to splash out more expensive ones! The price of private tours vary in price depending on operators and seasons so always check around. A short taxi ride starts from $25 but the public transport is much cheaper.
Know Before Visiting Tasmania
Do your research before travelling to any new destination. Depending on where you are from, you may need to apply for a visa before arriving in Tasmania. Security in and out of Australia is very strict, so be sure to fill out all documentation carefully and honestly. Be careful when walking around in crowded areas as there are pickpockets everywhere. Be aware of your surroundings and when on a sightseeing tour be sure to stay with the group.
Weather in Tasmania
The four seasons are distinct in Tasmania. From Mid-December, January, February and all the way to late March are the warmest months with temperatures averaging from 17 to 23 degrees Celsius. The winter months of June, July and August have temperatures ranging from 2 to 12 degrees Celsius. Rainfall varies across the island and Hobart is the second driest city in Australia. Regardless of where you are in Tasmania, be prepared for sudden weather changes.