The Stunning Spectacular Cosmopolitan City of Sydney on Private Tour
The stunning spectacular cosmopolitan city of Sydneyon private tour and the holiday of a lifetime. Sydney is primarily a cosmopolitan city well-known as the Harbor City of Australia; it is surrounded by World Heritage sites to explore and beautiful white beaches with the vast territories just waiting for you.
Take a guided private tour and visit the stunning Opera House or head out to Blue Mountain and bask in its beauty. Some cities have tours that are unique, and the Sydney Bridge Tour is one of those, and a definite must do on your holiday.
The diversity of this city is second to none there is so much to see and do here you will have a full itinerary. The cultural scene is very strong here, but its, not all the city has to offer as you will see on the many Sydney sightseeing tours available.
For foodies, it's a dream come true with amazing food markets and diverse restaurants you will indulge every whim here. Read More...
Take the Opera House Guided Private Tour and or Head Out to Blue Mountain and Bask in Its Beauty and Sightseeing Tour Gems.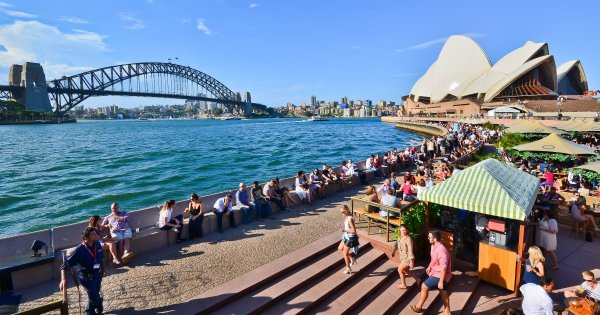 On the Sydney Opera House Private Guided Tours, you will discover why UNESCO has listed this iconic, amazing building.
The design of the Opera House is a masterpiece of creativity and talent and shows the mastery of the building crew that worked on it.
On the Opera House Tour, you will learn all about the Danish architect Jorn Utzon and how he pulled off such an unusual build. Go backstage and see exactly what goes on behind the scenes of the many shows at this stunning site.
It's a photographer's dream, and you will be clicking away all day as every angle is unique.
Sydney Super Top Ten Things to See and Do!
1
The Sydney Opera House Private Guided Tour is a must see, and you will discover why UNESCO has listed this iconic place. Go backstage and see exactly what goes into hosting the many shows and Opera's at this stunning site. The design is a masterpiece of creativity and demonstrates the mastery of the building crew that worked on it. On the Opera House Tour, you will learn all about the Danish architect Jorn Utzon and see first hand his incredible vision.
2
The Sydney Harbour Bridge climb with Private Tours is an experience you will never forget. The spectacular bridge spanning the city centre to the North Shore is instantly recognisable with its distinctive arch design. On a bridge walk guided tour you will see Sydney at its best from the Opera house to the blue mountains. This experience is unique, and a must do if you are travelling to
Australia.
3
Private Tour Blue Mountain trips will captivate you from the start. The blue horizon of eucalyptus trees that appear as you enter seem to go on forever and will entrance you, but its natural beauty will captivate you. 87 miles of trekking walks and bushland see the fabulous rock formations and underground caves. The local Aboriginal guides delight you will their dream stories. It is a unique, amazing and beautiful tour.
4
Australia's most famous beach and often the first port of call for sunbathers, backpackers, surfers and billionaires alike. Check with your local tour guide about Bondi Beach and get all the information you need to know. The golden beach and clear water never fails to impress all visitors. There is a lot more to see and do on Bondi as it is the hub for cafes, markets and some lovely gift shops. Check out the action at the Promenade.
5
Not for the faint hearted book your Sydney Tower Private Tour and be ready for a breathtaking experience high above the city centre. As you step onto the glass floor viewing platform, you will have a view of the city that is amazing. 268meters above the city you have a full panoramic view of Sidney and its fantastic attractions. You can also see the Blue Mountains in the distance. After your tour you can retire to the beautiful eatery relax and enjoy.
6
Take a guided private tour of Sydney's sea life aquarium and see the unique marine aquatic and freshwater environments that house over 13,000 animals from 700 countries. There are 14 zones all themed, see the bay of rays and the rockpools they are amazing. If you are brave, you can do the shark walk at shark valley and see the variety of sharks living there or the skeletal whale remains and ancient stone temple as well.
7
Book your Sydney Guided Harbour Tour and see the great range of cruises available. This is a unique and gratifying way to see Sidney, as you sail through the harbour you will be satisfied that you made a great decision in booking one of these tours. You can book Lunch or Dinner Cruises whichever takes your fancy. A dinner cruise can be very romantic and is usually a couple's trip, you will see the harbour and the opera house at its best.
8
Sydney Taronga Zoo is always a hub of activity will lot to see and do. Visit the animals, and catch one of the twenty zookeepers talks or see a show and get lots of information about both the zoo and its inhabitants. Do an exciting rope adventure course and see the zoo from up high, it will actually test your will.... Go for the ultimate sleepover in safari style tents, and you can snore and roar the night away.
9
Book your Private Tour Sand Dune Safari and head off for the beautiful Port Stephens. This is an excellent day trip or weekend break and fun for all the family. Try Sand boarding on the magnificent Stockton Bight Sand Dunes, you tour guide will show you how very exciting and a unique this experience is. Maybe you would like a 4WD adventure, climb the 30-meter sand dunes but hold on as this is a ride to remember.
10
If you want to get into the water with sharks then book your guided private tour and give it a go. You will experience the excitement of watching a shark swim past you during a scuba dive experience. The expert guides will teach you basic scuba lessons to prepare you to dive, and they will dive with you. Watch these sometimes misunderstood mammals but be warned they can turn very quickly. There is also other aquatic life to see so watch out....
Travel Tips for Sydney
Best Time To Visit Sydney
Peak Season in Sydney is in December and January where the weather is tolerable for sightseeing. From September through to November it is usually dry, so keep that in mind before you book your Private Tours as it is likely that you will get a better deal depending on your travel dates. Because these periods in the year are usually very busy with holiday seasons it is always better to pre-book everything even if you travel in the off-peak season.
Typical Costs in Sydney
You need to budget approximately $190 per day for both accommodation and food, remember your tours will be extra. Dormitory beds range from $30–50 and you can get food on the go for $10–20. Get an Opal Card for public transport its costs about $15 a day, and you can pop on and off any bus or train (good value). As with many other holiday destinations you get what you pay for so if your budget is tight stick to it.
Know Before Visiting Sydney
Visitors to Australia who do not require a visa in advance of arriving are Australian and New Zealanders everyone else needs a visa. The security in and out of Australia is very strict so please note fill in all the documentation correctly and be HONEST as the smallest thing can stop you entry into the country. Be aware of your surroundings constantly, drifting off or loosing your guide could be disastrous here especially in the outback.
Weather in Sydney
Sydney experience's a temperate climate with very mild winters. It has approximately 100 blue skies sunny day per year. The average temperatures from June to August is around 9 degrees while maybe not perfect for lying in the sun it is tolerable for sightseeing. The summer season, however, boasts hot hot hot conditions with temperatures reaching into the 70's so bring your sunscreen and lots of it.
Let the activities begin!