Travel to the Tropical, Tasteful and True Tel Aviv on Private Tour
Travel to the tropical, tasteful and true Tel Aviv on private tour. Tel Aviv is Israel's commercial and political heart with beautiful sandy beaches, restaurants, outstanding architecture, museums and contemporary art galleries ready to be explored on a guided private tour.
Tel Aviv has become a most cosmopolitan city in the Middle East, among its youngest and most energetic cities; although Israel is most likely best known as the home of historical cities like Jerusalem and Nazareth.
Travel to Tel Aviv on private guided tours and take in the modern, somewhat European lifestyle in this metropolis that is the Middle East. Book a private sightseeing tour and investigate its many beaches that are stunning, famous Bauhaus buildings, curated museums, and exciting nightlife.
On a guided tour see the residents of "The White City" take great pride in their hometown's modern culture and are always excited to share its many sights and attractions with visitors. Make sure to prepare all your guided private tours before taking in the finest of this Mediterranean city. Read More...
Tel Aviv Is Israel's Commercial and Political Heart With Beaches, Museums and Art Galleries Ready to Be Explored on a Guided Private Tour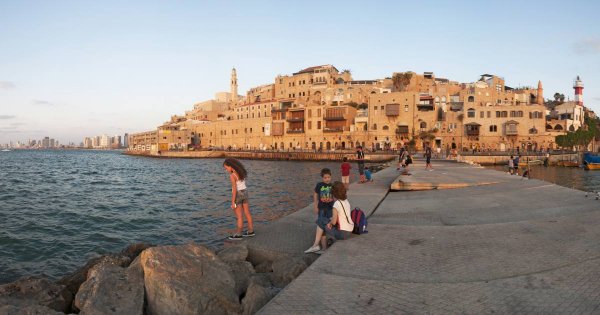 Tel Aviv Museum of Art on a guided private tour is a municipal museum and one of Israel's leading artistic and cultural institutions.
With many departments from Israeli Art, which holds a comprehensive collection of local art from the beginning of the 20th century to the present.
The Department of Modern and Contemporary Art, which encompasses international works from the mid-19th century to the present.
Many other departments on Prints, Drawings, Photography, Architecture and Design, Old Masters Department, with art from the 16th to the 19th century.


Tel Aviv Top Things to See and Do
1
One of the biggest museums in the world specialising in the history of the Jewish People; The Jewish Diaspora Museum is a must see on private tour. This Museum offers activities, works of art, and other artefacts of culture, which tells the story of Jewish communities from around the world. The museum offers information from as early as 2,500 years ago about the Jewish History; when the Jewish tribes were exiled from the land of Israel.
2
Tel Aviv Eretz Israel Museum is spread across a beautiful campus in the Ramat Aviv district of the city, overlooking the centre of Tel Aviv. On your private tour of the Museum, you will see the amazing exhibits relating toJudaica, archaeology, ethnography, history and culture and arts and crafts. Each exhibition housed in a pavilion, of which there are many spreads across the museum site it is a fantastic tour.
3
The Tel Aviv Port has recently been upgraded and is now one of the hottest places to visit in town. On your private tour of the port, you will see that during the day, the cafes and stores at Namal Tel Aviv, host some of the city's richest and trendiest stores. While at night, Namal Tel Aviv transforms into one of Tel Aviv's most popular nightlife and romantic venues.
4
The Yarkon River, Israel's longest coastal waterway emerges in Yarkon National Park in hundreds of beautiful springs. On you guided private tour in the shade of huge old eucalyptus tree's you'll see the el-Mir water mills, which first ground grain in Roman times. You can take the Romantic Trail along the quiet stream or enjoy a picnic while the little ones romp in the playground. Sit by the pond where water lilies bloom from May to September.
5
Take a stroll down Tel Aviv's promenade and awaken all the senses with a feast of colours, sights and smells. Every private tour will tell you nothing beats walking – or cycling – along with the seaside promenade, breathing in the fresh, salty air of the Mediterranean. Take a seat on a bench and watch Tel Aviv life unfold before your eyes with beach-goers, joggers and paddle players doing their thing as the sounds of the waves gently crash on the shore.
6
The Ramat Gan Safari Park private tour is the top zoo in of the Tel Aviv area and is home to the largest collection of animals in the Middle East. Arranged as a 250 acre African Safari Park, unique in the world as the African animals who live here can roam around the park freely. Visitors can have an African safari experience, just minutes from the centre of downtown Tel Aviv.
7
The Tel Aviv Luna Park, with countless attractions and adventures, can be a thrilling and fascinating experience for everyone, big and small! A visit to the Luna Park is an opportunity for the whole family to experience together with an atmosphere of freedom you will feel like a child again. One ticket gains you entry to all the rides at this park which is great and very easy for parents and children a must see custom tour.
8
In the center of the busy city, some fresh air, blue skies, grass and trees. This park is a sanctuary of greenery in the busy bustling city. Located on the central and noisy King George Street just off Dizengoff Center, is one of the most popular havens for children, dogs and people, who are tired from the city's white buildings and honking cars. There is also a lovely little pond covered with Water Lilies of all different kinds.
9
Take a private tour of the Palmach Museum, an experiential museum that relays the incredible story of the elite striking force of the Hagana-the underground military organisation of the Jewish community in Palestine. The presentation is highly innovative with three-dimensional décor, films and special effects bringing to life the documentary material; a real one off tour.
10
The kibbutz headquarters is one of the most iconic society in modern Israel's history check it out on a guided private tour. There is an aura of spiritual authenticity that still pervades over the kibbutz image. Founded in 1976, Samar started out as a new social experiment that proposed individual enhancement instead of the strict collectivist rules that characterised the original kibbutzim movement and it is still going to this day.
Travel Tips for Tel Aviv
Best Time To Visit Tel Aviv
The best times to visit Tel Aviv are April through May and October through November, when the weather is mild, and the crowds are thin. However, make sure to cross-check your travel dates with major Jewish celebrations such as the High Holy Days, Sukkot, and Passover. A strong surge of visitor traffic drives hotel prices up during these holidays. Summer is Jerusalem's peak tourism season, despite hot daytime temps.
Typical Costs in Tel Aviv
If you want to travel on a fixed budget in Israel, you should allow at least 30-40 USD a day for accommodation, some transportation, some attractions, and of course, food. The cost to travel around Israel depends very much on how you plan out your trip and on how clever you are booking tours. As a western country, travel costs in Israel costs more than the rest of the Middle East – you'll need to expect Western European prices.
Know Before Visiting Tel Aviv
When you book your private tour holiday your rep will inform you that there are no more passport stamps, so you needn't worry about old advice claiming to beware of a stamp showing you have been to Israel. Instead, nowadays a paper visa is issued at entry which shows your stamp. Issued on arrival Visas are free of charge to USA, UK, Canadian, Australian, New Zealand and Irish passport holders.
Weather in Tel Aviv
July is hot! hot! hot! in Tel Aviv with average temperatures of 23°C (73°F) and the coldest is January at 8°C (46°F) with the most daily sunshine hours at 13 in July. The wettest month is January with an average of 90mm of rain. On average, the warmest month(s) are July and August. The rainy season is from JaJuly is hot! hot! hot! in Tel Aviv with average temperatures of 23°C (73°F) and the coldest is January at 8°C (46°F) with the most daily sunshine hour
Let the activities begin!