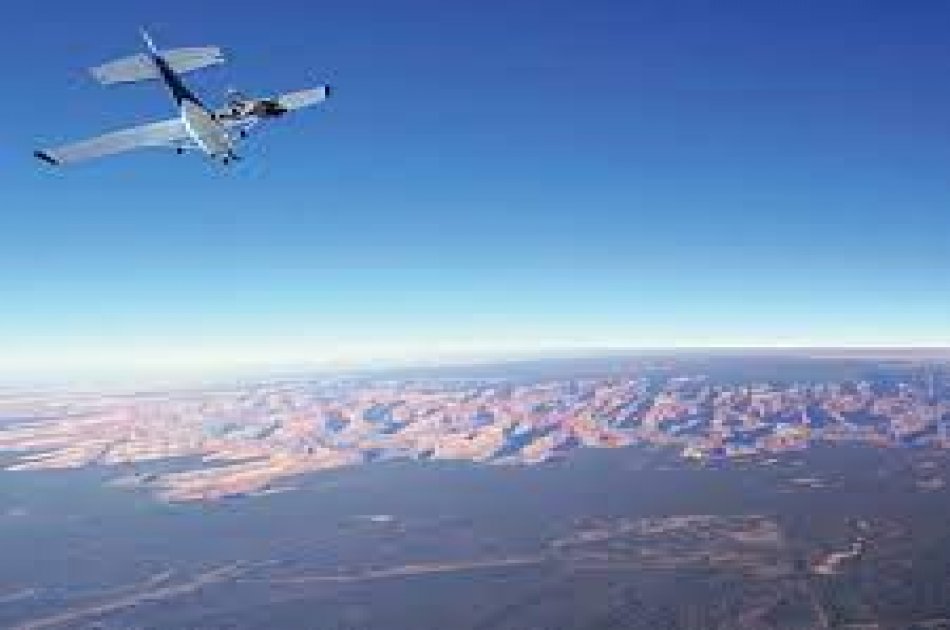 Grand Canyon South Rim Bus Tours with Skydiving
4.5 / 5 total 790 reviews
Duration: 14 Hours
Tour ID: 7388
Overview
Spend a day away from the hustle and bustle of Las Vegas to experience the raw and natural beauty of the Grand Canyon South Rim. Words and even pictures cannot fully describe this stunning gift of nature. First photographed by Timothy O'Sullivan in 1871, we continue trying to capture the beauty of this geological wonder, but nothing compares to seeing the Grand Canyon in person.
Your day will start by departing in Las Vegas located just minutes from the famous Las Vegas Strip. En route to the Grand Canyon, your audio guide will provide you with an expert narration of the area's most historical and interesting facts about the Spanish explorers, numerous native cultures, and the early Western Settlers of northern Arizona.

Before heading into the Grand Canyon National Park, you will be meeting up with Paragon Skydive who will be taking you on your Skydiving journey.
After your flight, Paragon Skydive will bring you back to meet with your bus to continue visiting the Grand Canyon by bus. You'll have free time at Mather Point to explore the trails lining the canyon's edge or to simply take in the amazing sights of the Grand Canyon. Prepare for a spectacular experience that you and your family will not soon forget! Heading deeper into the National Park, we will stop for more sightseeing time at Bright Angel Lodge, one of the original hotel destinations at the Grand Canyon South Rim located directly on the edge of the Grand Canyon itself.

Get ready for a nice relaxing ride back to Las Vegas in comfort aboard our luxury motor coaches.
Highlights
Visit the widest and deepest point at Grand Canyon's South rim (over 8400 ft. deep and 21 miles across)
Ride aboard a luxury motor coach equipped with video monitors, restrooms & air conditioning
Professional tandem instructors USPA Certified
All tandem rigs are equipped with reserve canopies and Automatic Activation Devices (AAD)
State of the art equipment: parachutes, harnesses, and clothing
Good to Know
Duration: 14 Hours
Tour Start Time: 07:30
Tour End Time: 21:30
This tour is available: Daily
Printed or Mobile Voucher Accepted
Your ID will be verified at the Drop Zone, please don't forget to bring - you cannot jump without a valid photo ID with a clear DOB.

Easy Cancellation

Cancel up to 1 day in advance for a full refund
Confirmation will be received at time of booking
Inclusions
Box Lunch Included
Photo ID Required
Hotel Pick-Up And Drop-Off Service For Most Major Hotels On The Strip And Downtown
Rest Stops Included In Kingman AZ
Grand Canyon And Visitor's Center Admission
Know Before You Go
• Paragon Skydive can cater to most people but there are restrictions in a number of areas including; weight and other safety limitations - everyone has to go through a safety assessment
• If anyone on the booking is over 210lbs they should contact us directly - Surcharges apply and are payable at the Drop Zone - if it is now known, and someone is over 210lbs before the time and cannot jump, then that person will not be refunded
• Customers have to be able to fit into the harness safely - and be approved by the tandem instructor who will be taking them
• There is no upper age limit - though customers have to be able to complete the required body positions safely
• It is not recommended to skydive if you have had any major back, limb or neck surgeries or injuries or have certain major medical conditions which could impact your ability to skydive. If concerned we recommend seeking advice from a medical professional - as certain allowances are definitely available.
• It is possible to skydive with certain physical disabilities or medical conditions - if you need have any special requirements please contact us directly beforehand
• Strictly nobody under 18 and everyone has to have a valid government issued ID with them on the day - if they don\'t have an ID they cannot jump and will not be able to be refunded
• Skydiving is a weather dependent activity and we reserve the right to cancel services for any safety or regulatory issue - we will try to reschedule if possible however a full refund will be issued if canceled due to weather issues or other issues which are related to Paragon Skydives operations such as aircraft or airport issues
• Customers cannot consume any alcohol or drugs which may impair their ability to skydive in the 8 hours prior to skydiving - suspicion of being under the influence of these substances will result in not being able to complete your skydive - no refund issued in these cases
• Customers must comply with safety instructions at all times
• There is a 24-hour cancellation or change policy - through with your transport we say 48 hours
• Sensible closed shoes which will stay on during freefall are required - no sandals or high heels permitted
• Please wear comfortable clothing for light exercise which is appropriate for the weather at the time of the year you are coming - we provide windproof outerwear
• No phones or personal recording equipment are permitted to be brought for regulatory and safety reasons
• No persons who are not skydiving are permitted in the skydiving aircraft for regulatory or safety reasons
• You cannot skydive if you have completed scuba diving within the past 24 hours
• All skydivers are required to sign a health deceleration and indemnity/waiver form prior to skydiving
• Please eat/drink (non-alcoholic beverages) like normal on the day of your skydive - skipping meals is not recommended
• Woman who are pregnant cannot participate in this activity.
Customer Reviews
Excellent

5

Very Good

4

Average

3

Poor

2

Terrible

1
© Copyright 2023s Private Tour Inc. All Rights Reserved.