Notable for Natural Wonders Visit Norway on Private Sightseeing Tours.
The vast number of Norway private sightseeing tours will not disappoint when you visit this magical country. It is rich on spectacular glaciers, mountains and stunning deep fjords.
However, when you take private guided tours Norway, you will also experience its richness in history and culture on visits to cities with interesting museums, galleries and stately buildings.
For the more thrill-seeking tourist, there is no shortage of Norway adventure tours. Enjoy thrilling and exciting activities whether you are in the mountain ranges or along coastal waters. An example of the type of adventures available includes wildlife safaris tours Norway, kayaking, mountain biking, mountaineering, glacier hiking or white water rafting.
Food and drink in Norway have changed dramatically over the years and they now celebrate the produce Norway has to offer in a unique, modern and untraditional way. Of course, there are still the old traditional dishes such as Fårikål when translated means 'sheep in cabbage'. There are also some very interesting 'Beers' in varying flavours to discover! Read More...
An excellent sightseeing tour Norway and the best way to see as much of the country as possible is on any of the wonderful scenic rail routes. Regarded to be one of the top routes is from Oslo and travels over the mountain plateau of Hardangervidda. The rail network in Norway is brilliant and there are alternative to the modern train in classic steam trains and gourmet trains.
Norway has the long history of Vikings and you can experience what it is to live like a Viking at Lofotr Viking Museum on a Norway private city tour in Oslo. It is well recorded in history that the Norwegian Vikings were cunning, courageous and natural risk takers.
Christmas lasts more than just a couple of days in Norway, it is the whole season with great preparations and specific rituals. It is a magical time to visit.
Top 10 Things to Do in Norway
1
The opportunities for fun are unlimited in Oslo, Norway's capital city. Whether it is winter Norway adventure tours to the Holmenkollen ski museum and tower and Nordmarka wilderness area or a Norway city tour of the Vigeland sculpture park and the mix of museums, you will be entertained and amused. For evening entertainment there are amazing restaurants and music venues with many festivals of all genres held throughout the year.
2
The second largest city in Norway is Bergen, but it has the feel of a charming small town. Some of the most famous things that Bergen is known for are the seven surrounding mountains, its fish market, the Hanseatic Wharf and the Bergen International Festival which is the biggest cultural event in the Country. On a Norway city tour visit some of the restaurants that helped Bergen become a UNESCO city of gastronomy.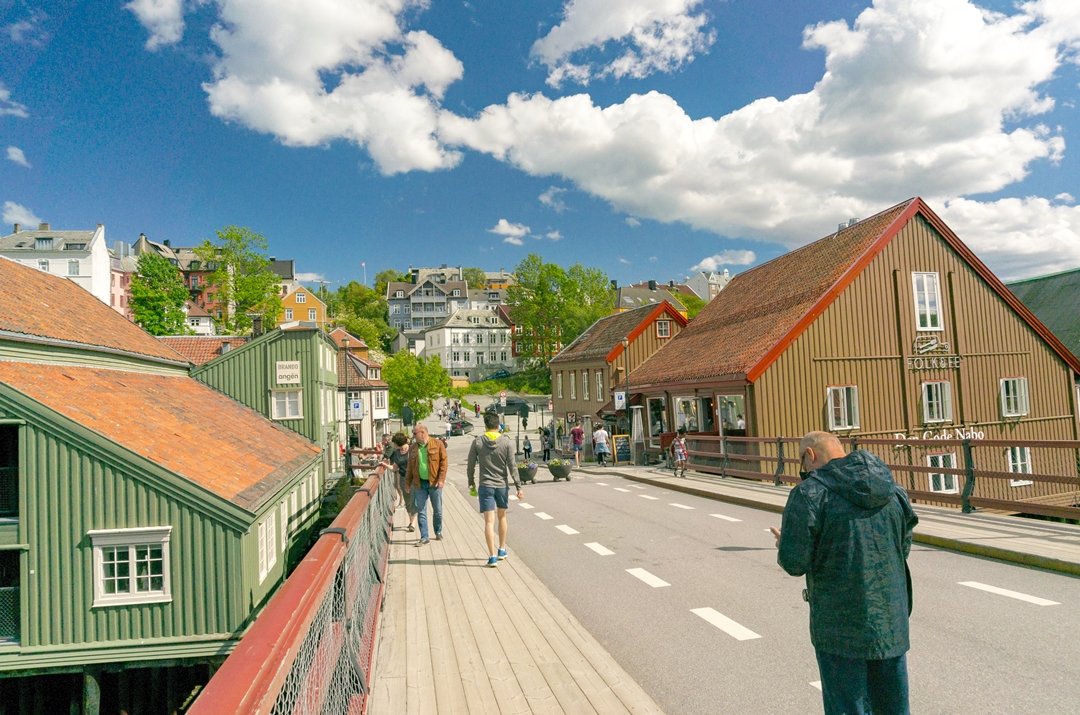 3
Another fascinating city to visit on Norway city tour is Trondheim which is the third largest city in the Country. It is a charming and picturesque city that is populated with approximated 30,000 students. Hence there is an excellent nighttime social life here the includes many varied music festivals are held here every year. It also has a lot of history and culture and a visit to Norway's largest church is highly recommended.
4
Reach the small village of Flåm by boat, train, coach or car and be amazed by the grandeur of its surroundings. All around the village are steep mountains, narrow valleys and powerful waterfalls. It is here you will find some of the best Norway private sightseeing tours with panoramic views from The Stegastein Viewpoint of the Aurlandsfjord. Go hiking from Flåm to the Nærøyfjord which is on the UNESCO World Heritage List.
5
The city of Tromsø is where your arctic Norway adventure tours start due to its proximity to the Arctic Circle. Tromsø is among the most popular places to see the northern lights phenomenon through September all the way to March. Then from the end of May to mid-July, the midnight sun allows people to do round the clock activities. Here you can do whale safaris, kayaking, dog sledging or to be more cultural visit the quality museums.
6
One of Mother Natures wonders is Geirangerfjord. Among the most exceptional places for a sightseeing tour Norway and also for spectacular Norway adventure tours. A trip along the Trollstigen mountain road is a mix of both tours as you wind your way up steep mountains on sometimes narrow roads passing breathtaking waterfalls. Activities to be enjoyed in this stunning region include fishing, rafting, hiking, cliff climbing and cycling.
7
Spread across the Norwegian Sea the Lofoten Islands, off the northern Norway shores, are often referred to as Norway's untamed islands. On private guided tours Norway visit small charming villages, see the northern lights from idyllic viewpoints, experience the living museum of Lofotr Viking Museum and so much more. Also in this area, you will find the world's northernmost sites for surfing and other great activities to do.
8
Located in the northeast of Northern Norway, near the Russian Border is the town of Kirkenes. In the winter, experience staying in the Kirkenes Snowhotel which is built from scratch each year, open from December to April. Other winter actives include Norway private sightseeing tours by snowmobile or king crab safaris. The summer has diving, fishing, hiking and bird watching on Norway's largest nesting sites, Hornøya Island.
9
There are plenty of adventure tours to do when in Norway, but a standout one is Glacier hiking. In winter or summer, with professional guides and the correct equipment, the opportunity to walk a glacier is an experience you will remember forever. The glaciers are unpredictable natural wonders with avalanches, deep crevasses and the possibility of ice block movements, it can be nerve wrecking but exhilarating at the same time.
Wildlife Safari Tours Norway
10
Depending on your location, will decide the type of wildlife safari tours Norway you will do. During the summer, along the Vesterålen coast, go on a whale safari to see killer whales and many others including some dolphins. When in Dovrefjell National Park take guided walking safaris and be amazed at the wildlife. On king crab safaris, dive and come face to face with them. There are also many renowned bird watching safari tours.
Let the activities begin!