Private City Tours in Baku Will Bring You Back in Time
Baku is the capital of Azerbaijan that has a Soviet era vibe in its background. That has ties to the Caspian promenade where visitors can take an evening stroll around the wooded parks. Baku is famously known for its medieval walled city that contains the palace of the Shirvanshahs and the iconic stone Maiden Tower. There is also landmarks including Zaha Hadid Heydar Aliyev Center and the Flame Towers three skyscrapers covered with LED screens. Azerbaijan is a city with a coastline along the Caspian Sea. It is also the Unesco-listed Old City.
Let the activities begin!
Top 10 Things to Do in Baku City
1
Vahid  Gardens is located in the square of Baku it is in the shape of an arched gateway that is in the old city, that showcases many works from the 21st century and there is also a small mosque from the 14thcentury that shows ancient coins.
2
This is a cemetery in Baku that is close to the flame towers it is a row of grave memorials Bakuvian victims of the Red Army's 1990 Karabakh conflict. There is also a memorial to Turkish soldiers and British soldiers. The spectacular view from the eternal flame gives a super view of the bay and the Flame towers.
3
The Creasent moon Building are several towers that are under construction at Cresent Bay that is opposite the port in Baku the architecture is intriguing and is an enormous  upside-down creasent moon. There is a spherical sun building that is known as the Death Star Hotel. They ares  under construction but when they are finished they will be Baku's legacy
4
The Maiden Stone Tower is 29m high; it is Baku's most famous historical building with specular rooftop views of the fantastic Baku Bay and the Old City built in the 12th century it is an incredible structure. It is one superior architectural building due to its magnificent design. Qız Qalası is known as the Maidens Tower in English with walls 5m thick at the base a single buttress. There have been many fictional fairy tales about this beautiful tower.
Palace of the Shirvanshahs
5
The palace of the Shirvanshans is located in Baku, it is recognised as a UNESCO World Heritage site that was built in the 15th century by the Shirvanshah decent.  And Is the most famous architecture buildings that were constructed under the rule of Ibrahim Shirvan. This sandstone palace was once the seat of Azerbaijan's ruling regime back in the Middle Ages. The palace was restored in 2003 and is open to visitors from 10:00 am - 5:00 pm.
6
Fountains Square is located in central Baku it is a public square in the heart of Baku city. The fountains are topped by shiny silver spheres that give amazing reflections of the trees and stone exterior. The square was once called Parapet and was built during the Soviet rule in Azerbaijan. The square is a magnificent place to visit with various fountains to see and very popular with visitors strolling around with many shops, cafes and restaurants to choose from.
7
Bulvar is famously known for there marvellous cafes, glorious fountains and the fairground rides. The seafront park is most popular with families, couples and musicians. There is some city light shows on in the summer that makes this trip the most memorial for anyone wishing to Travel there with its modern buildings including the International Mugam Centre, Baku Business centre and the park Bulgar Mall.
Yarat Contemporary Art Centre
8
Yarat Contemporary Art Centre is in a refurbished former naval building that overlooks the Caspian Sea, that once acted as a maintenance base for navy ships in the 1960s. YARAT is a non-profit art organisation. The structure shows exhibitions by international artists and displays YARAT Collection. The YARAT is a contemporary art and art education for Azerbaijan and the wider region.
Heydar Әliyev Cultural Centre
9
The Zaha Hadid building is a magical statement of 21st-century architecture with waves and peaks that melt together. The exterior is spectacular for photographs of all different angles — the interior showcases many exhibits, concerts, and collections of gifts that the Azerbaijan presidents received.
10
The flame towers is a triad of skyscrapers in Baku. They are the tallest buildings in Azerbaijan with a height of 182 m. The towers resemble the history of fire worshippers that said Azerbaijan is a birthplace for the prophet Zoroaste. The flame towers are covered with LED screens that exhibit movement of a fire. The towers are visible from a great distance in the city. The towers are amazing to see with spectacular views of the fire shows.
Breathtaking Views on a Perfectly Private Baku Tour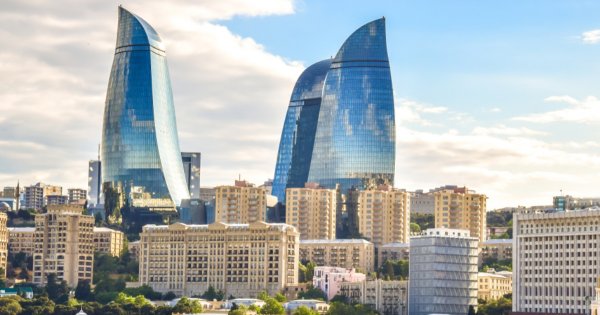 Baku the capital of Azerbaijan is famously known for its Medieval walled Inner City. The people of Azerbaijan Baku welcome all their visitors with open arms. The restaurants in Baku offer a marvellous range of cuisines but further on from the capital you will only find Turkish food or in rural areas you will only have two dining options known as strahət Guşasi or İstrahət Mərkəzi.
Travel Tips for Baku City
Best Time To Visit Baku City
Best time to travel would be in Spring and Autumn when the temperatures are cool and are great for sightseeing and travelling. Also, January and February are good times to travel to as it is high ski season.
Typical Costs in Baku City
Costs can vary depending on the time you travel to Azerbaijan. Prices of food also depend on where you dine. Local restaurants are reasonably priced. If you're on a budget, the street food would be a great option. Cheap is not always best. Hotels can be more expensive but are worth every penny you spend.
Know Before Visiting Baku City
Always check before travelling to Azerbaijan and obtain a visa before travelling. Please wear appropriate clothing and footwear when travelling. Keep a copy of your passport and always leave all important documentation in your accommodation safe. Cash is best to pay within. Always be aware of your surroundings at all times. Also be alert for pickpockets.
Weather in Baku City
January to February is high ski season. Low season is from April to June. They are excellent times to visit with few showers of rain and clear skies. Summer time is unbearably hot, but July is excellent for trekking in the mountains. The Winter is mild around the Caspian sea, but temperatures are cold in Baku.