Visit the Peace and Tranquillity on Private Sightseeing Tour of Sentosa!
Sentosa, which translates to peace and tranquillity in Malay, is a popular island resort in Singapore, visited by over six million tourists per year. Visit the peace and tranquillity on a private sightseeing tour of Sentosa!
Standing tall in the Isle is the Merlion statue. The History states the story of the legendary Sang Nila Utama, a Prince from Palembang, who saw a lion on the island (initially known as Temasek) while hunting.
The island was then named Singapura. "Singa" meaning lion and "Pura" a city. The 37 metre (12 stories) high statue through the ground floor and one can take the lift up to the 12th floor to view the city at 360 degrees.
It was officially opened in 1996; it is the largest Merlion in Singapore.
Sentosa Island offers a variety of attractions, museums and other facilities to provide a range of experiences, recreation and entertainment to visitors. Read More...
Take a Guided Tour of Sentosa and Have a Fabulous Time Seeing Things to Do !
Things to do in Sentosa on a guided tour.
1. Theme park Universal Studios;
2. Tiger Sky Tower, is a free-standing observation tower on Sentosa, at the height of 110metres above ground;
3. The Butterfly Park is a stunning landscape garden with over 16,000 live butterflies, representing more than sixty species.
4. Songs of the Sea show which replaced the 26-year-old Musical
5. The Flying Trapeze, a form of sport and recreation that helps develop one's mind, body and coordination.
Sentosa is THE venue for Singapore's party animals with a yearly held massive beach party, Zoukout!
To reach Sentosa Island you can via Cable Car, or Drive in, Sentosa Express (Light Rail), Or even just stroll on in! However, do note that regardless if you are driving or walking into the island it requires an entrance fee!
Top 10 Things to Do in Sentosa Island
1
At Sentosa island, you will see the of the original Merlion that you can climb on and watch this excellent view of the harbour. Great place to get some photos Merlion is considered as the Guardian of the Singapore city who brings the fortune. A good place to capture some beautiful pictures. Merlion being an Iconic symbol of Singapore is must visit. Nearby attractions are Carlsberg Sky Tower which is a very thrilling ride.
2
The tallest tower in Southern Asia and with 360-degree views of Sentosa, the harbour and Singapore city. Bird's eye view of sentosa. This is a unique and fun attraction with a private tour. The capsule slowly spins around, so you get to see the whole of Sentosa, the photo opportunities are fantastic. It is best to go on a clear day to see the best views or the evening to get spectacular photos.
Floating Bridge at Siloso Beach
3
A fun experience for all the family. The sea and the beaches below are beautiful and the view from the small island, is the further point of Asia that you can walk to, is just stunning. A fun way to cross the bay, a bit challenging but exciting. You can get your photograph taken with a sign that states you have reached the 'Southernmost point in Asia'. It is nice to see the boats coming in from the harbour.
4
The waterpark is huge with lots of different attractions and rides. The adventure river floats through the whole park. Situated beside the beaches in Sentosa...This park was breathtaking with a stunning design. This is a water park with attractions like the slides, coral snorkelling and you could play with stingrays and dolphins at different rates. Excellent guided tours available from your hotel to the park.
5
Kidzania is a fantastic concept enabling the children to try being part of the adult world in their chosen job roles and catering to different age groups. So many choices for the kids from fireman, pilot, driving skills, Broacasting and lots more to try. They then get wages depending on how well they did and can spend the money on whatever they wish! They are then told if they spent it wisely! Great idea and the kids love it!
6
The presentation is superb. The displays are made as colourful as possible with enough written descriptions on the exhibits. Excellent photo opportunities with the sharks and sting rays! You can have a boat ride and a typhoon simulation! The super aquarium has so many different species. The jellyfish are stunning! A guided tour here and enjoy the peace and colourful collection of fish.Pop it on your bucket list when your in Sentosa.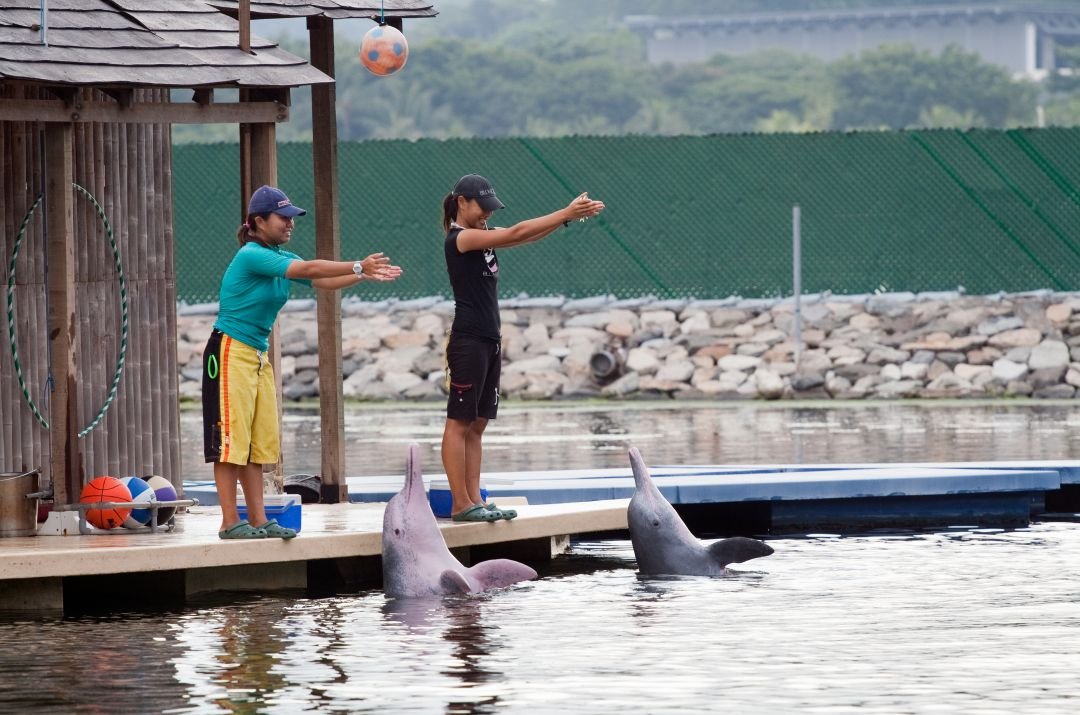 7
If you love dolphins, this is a fabulous chance to get up close and personal with them. You need to leave all your bags and cameras in a free locker. You will be given wetsuits and able to get into the water with the dolphins, hug them, stroke them and enjoy an amazing experience. The trainers explain everything about dolphins. A fabulous guided tour of Dolphin world.
8
If you fancy getting away from the hustle and bustle of the town, head down to this beach. The beach is immaculate, with white sand and crystal clear water, lovely little shacks to rest in and watch the world go by. Cafes and vendors are dotted around selling food and cold drinks. Perfect day at the beach for all the family. Look at the sun setting and get some fab photos.
9
An elaborate optical illusion museum, Trick Eye is short for 'Trick of the Eye' a visual art that turns 2D paintings into 3D through the use of optical illusions. Most trick art is comprising regular statues, wall paintings, and anamorphic floor murals (rickety bridge over a waterfall). Kids will love it and you can take part in interactive fighting games or music videos !! Great private tour when in Sentosa.
10
If you have a spare few days, head over here to enjoy an explosion of fun, fun, fun! Home to casinos, the universal studios, a massive aquarium, large candy shops, fantastic selection of restaurants, a shopping mall, you will not get bored here. The rides are exhilarating to slow depending on what you want, something for everyone. Reasonably priced entry and worth it for what you see.
Travel Tips for Sentosa Island
Best Time To Visit Sentosa Island
The best time to visit Singapore is all year round. The island as a nation experiences a warm, tropical climate year-round with daily highs in the 80s. And with a steady stream of business travellers, the city's hotels are seldom at a loss for occupants and maintain high room rates. To avoid extortionate prices, do not book your visit around popular events, national holidays, for example, the Chinese new year. Rain is likely year-round, though.
Typical Costs in Sentosa Island
Be prepared to empty the piggy bank before travelling to Singapore! It is an expensive destination from flights, accommodation to eating out. If you are on a strict budget, pre-book flights and accommodation out of season and eat out in the hawker's court or fast food restaurants where you will find it cheaper. Fine dining can set you back mega bucks! prebook any guided tours and save a bit extra spending money.
Know Before Visiting Sentosa Island
You're always being watched! Security cameras span the country which explains the non-existent crime rate. Don't chew gum; it's illegal! (really!)Once, Twice, or more if you've been convicted of being a litter bug on Singapore streets for three times or more, then off you go to clean up their streets on Sundays with a sign around your neck that reads " I am a litterer." other than that kick back have fun and enjoy this beautiful country.
Weather in Sentosa Island
Singapore is very tropical and extremely humid all year-round. The School holidays fall in mid-June until the end of July. The hottest and expensive time to book also, so try to avoid travelling in these months if possible. Always pre-book ahead for deals on flights and accommodation. And always book private sightseeing tours as well and save money. Carry an umbrella anyway as you can get the odd rainfall, so it is better to be prepared.
Let the activities begin!