Safari Tours in a Natural Wonder of Rwanda, Nyungwe Forest National Park
Nyungwe Forest National Park is one of the natural wonders found in Rwanda and a place where you can experience many wonderful and adventurous Safari Tours.
This national park is the biggest mountain rain forest on the eastern side of the African continent and is hidden in among tea plantations.
The green forest is important to two of the great rivers of Africa because, on the east side of the forest, the rain that falls feeds the Nile and feeds the Congo on the west side. It is also a major water catchment for Rwanda.
Since being declared as a National Park and an officially protected area in 2005, it has become one the most popular places to go on safari tours and a tourist favorite.
The park is full of many things to see and admire from the incredible wildlife, spectacular landscape, fascinating swamps, beautiful flora including stunning orchids, an abundance of diverse but wonderful bird species and butterflies. Read More...
The Amazing Canopy Walkway and Hiking Safari Is Something Different in Nyungwe National Park
For an adventure you will not forget any time soon, take a hiking safari that includes crossing the amazing canopy walkway in Nyungwe Forest National Park. This incredible walkway is a suspended bridge hovering 60 meters from the ground. As you cross the 106-meter length, you have the most sensational and breathtaking views of the forest that surrounds you.
The hiking safaris are plentiful in this park as there are so many different areas to be explored.
Other safari tours which are adventurous and fascinating are the monkey tracking tours. There are over 13 species of primate found in Nyungwe National Park and as you go in search of one species, the chances are you will see other species too. The Grey-cheeked Mangabeys and Ruwenzori colobus monkeys are the most popular to track.
Top 6 Things to Do in Nyungwe Forest National Park
Canopy Walkway Nyungwe National Park
1
On a hiking safari tour in Nyungwe National Park, you must cross the Canopy Walkway which is both nerve wrecking and exhilarating. This suspends bridge hovers 60 meters high upon a steep ravine. Once you are on the bridge (and you can open your eyes) The views are spectacular as you walk upon treetops that are centuries old. Once you get over the initial fear crossing the bridge, you will have the most amazing experience.
Chimpanzee Tracking Safari Tours
2
Go on chimpanzee tracking safari tours to do in Nyungwe Forest National Park. These safaris are amazing and incredible experiences. When going on these safaris, you leave early morning and are gone for most of the day. These chimpanzees have been habituated and are use to humans being around. One thing for sure when you see these chimpanzees, you realise just how playful they are around each other. It is fantastic watching them.
Monkey Tracking Safari Tours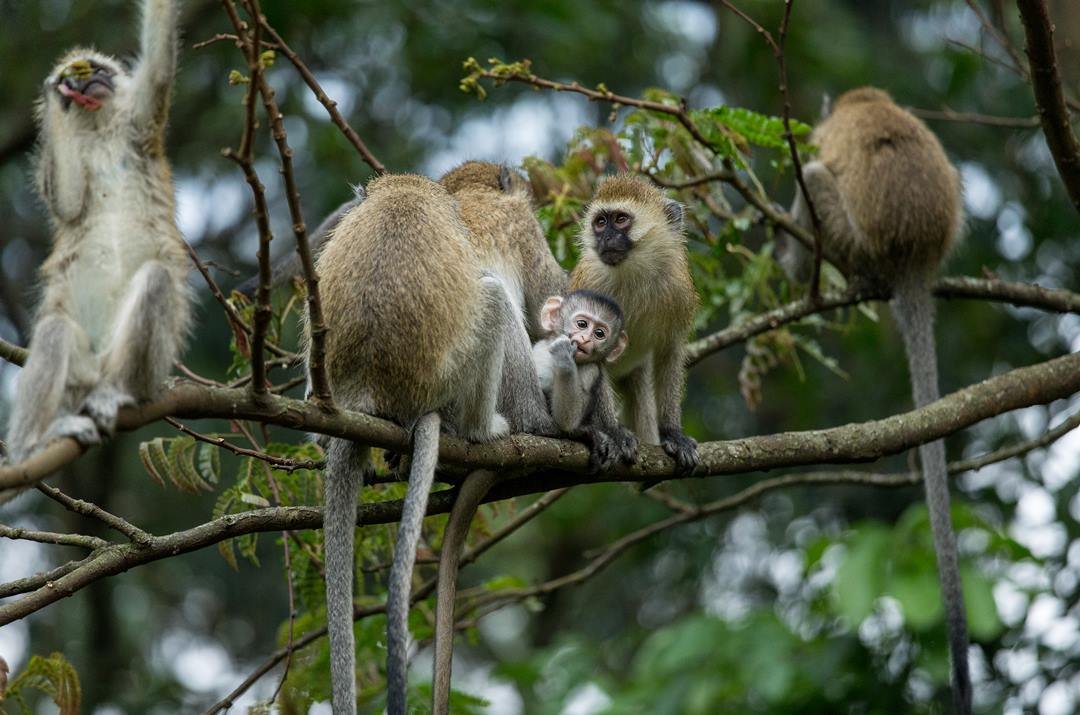 3
Apart from the chimpanzees, there are other primate's to see on amazing tracking Safari Tours in Nyungwe Forest National Park. There are the Grey-Cheeked Mangabeys and the Ruwenzori Colobus Monkeys and you can find up to 300 in one group. The noise and chatter is incredible along with the view. Other primates you may see include blue monkey, owl-faced monkey, l'hoest's mountain monkey and mona monkey.
Birdwatching safari Tours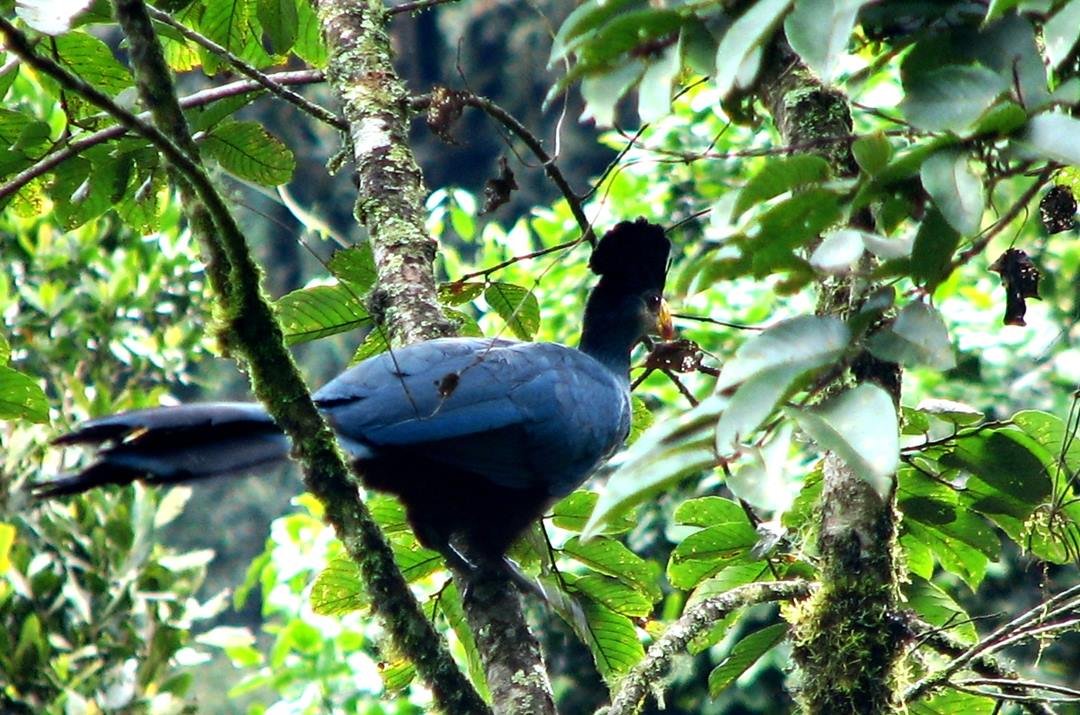 4
In the Nyungwe Forest National Park, this is a bird lovers paradise with more than three hundred species of bird to be found here. Twenty-seven of these species are rare to this forest such as the Rwenzori Turaco, the Large Blue Turaco or the Grauer's Rush Warbler which is found in the mountain swamps. There are excellent bird watching safari tours organised especially when the trees blossom, various types of sunbirds can be seen.
5
In Nyungwe Forest National Park, you are spoiled with all the hiking safari tours that you can do. There are over 130 kilometers of trails through the forest which are made up of 13 different hikes. There are easy trails, difficult trails, long or short trails, whichever you want. You will see lots of interesting foliage, flowers, ancient forests, plants, wildlife, monkeys, birds and butterflies on your travels.
Waterfall Safari Tours Nyungwe Forest National Park
6
There are many waterfalls, ranging in sizes from small to big, found in Nyungwe Forest National Park. Trails that lead you to the most wonderful and relaxing waterfalls in the national park are Isumo Trail, Imbaraga Trail, Kamiranzovu Trail and the Umoyove Trail. When you reach any of these waterfalls, you can relax and sometimes take a swim in the lagoons of the waterfalls which will be needed after some long hikes.
Travel Tips for Nyungwe Forest National Park
Best Time To Visit Nyungwe Forest National Park
The best time to go on safari tours in the Nyungwe National Park is during the drier months of June, July and August or December and January. This is a tropical rain forest so it rains almost all year round but these months are the driest. However, it is possible to do safaris at any stage throughout the year, just be prepared for rain at all times.
Typical Costs in Nyungwe Forest National Park
The costs of safari tours in Nyungwe National Park vary quite a lot and depends on the type of safari, the length of time and time of the year. Safaris start from US$75 and can rise to over US$5000. The more expensive safaris have accommodation and meals included and they tend to be for one than one week. One night in a luxury hotel in the Park costs US$280 for 2 B&B
Know Before Visiting Nyungwe Forest National Park
When going on safari tours to Nyungwe National Park, it is advisable to book them as early as you can especially when hoping to stay one to three weeks. When you are there, be sure to have appropriate clothing for wet weather. The temperatures are still warm, so light rain macs are recommended. Also, have insect repellent for the evening time.
Weather in Nyungwe Forest National Park
The Nyungwe National Park is a tropical rain forest and therefore it rains all year round. However there are months that are drier than others and these are usually June, July, August, December and January. The temperatures remain warm throughout the year and average around 24 degrees Celsius. Due to climate change, these are changing.
Let the activities begin!