Senses Erupt on Thrilling Safari Tours in Volcanoes National Park
When in Rwanda, spend some time in the vast Volcanoes National Park doing thrilling Safari tours of which there is an abundance.
This National Park is known by locals as the 'Parc National de Volcans' and is where adventure, culture and conservation intersect.
Northwestern Rwanda is where you will find this national park lying along the Virunga Mountains. These mountains are shared with Rwanda, the Democratic Republic of Congo and Uganda and have eight ancient volcanoes.
This park offers amazing and dramatic landscape that you can only appreciate fully when you see it for yourself. No photograph can do this landscape justice.
Take a village safari to meet the wonderful and friendly locals, learn a bit of their culture and taste traditional delicacies of Rwanda.
There is no shortage of activities and safari tours where you can explore the amazing mountain forests and be left in awe at the most spectacular wildlife found in Volcanoes National Park. Read More...
Gorilla Tracking Safari Tours for the Ultimate Safari Experience in Volcanoes National Park
For that ultimate safari experience in Volcanoes National Park, there is the Gorilla Tracking Safari Tour. This tour brings you to see the endangered Mountain Gorilla which are found here in their natural habitat.
There is also the tomb of Dian Fossey and a safari trail tour leading to it. Dian was famous for her 18 years of extensive study of the mountain gorilla. She is buried next to her favorite gorilla friend.
Other wildlife to be seen on various safari tours of this national park include golden monkeys, buffalo, forest elephants, bush pigs, black-fronted duikers, spotted hyenas, bushbucks and over 200 bird species.
Amazing Safari Tours and Sights in Volcanoes National Park
Mountain Gorilla Tracking Safari Tours
1
The Mountain Gorilla Tracking Safari tours are a must when visiting Volcanoes National Park. Watch the gentle giants of the jungle in their natural habitat getting on with life under the shade of the bamboo forest. It can take a little effort to get to where these endangered animals live but so worth every ounce. This is a second to none safari experience and one that should not be missed when in Rwanda.
Golden Monkey Safari Tour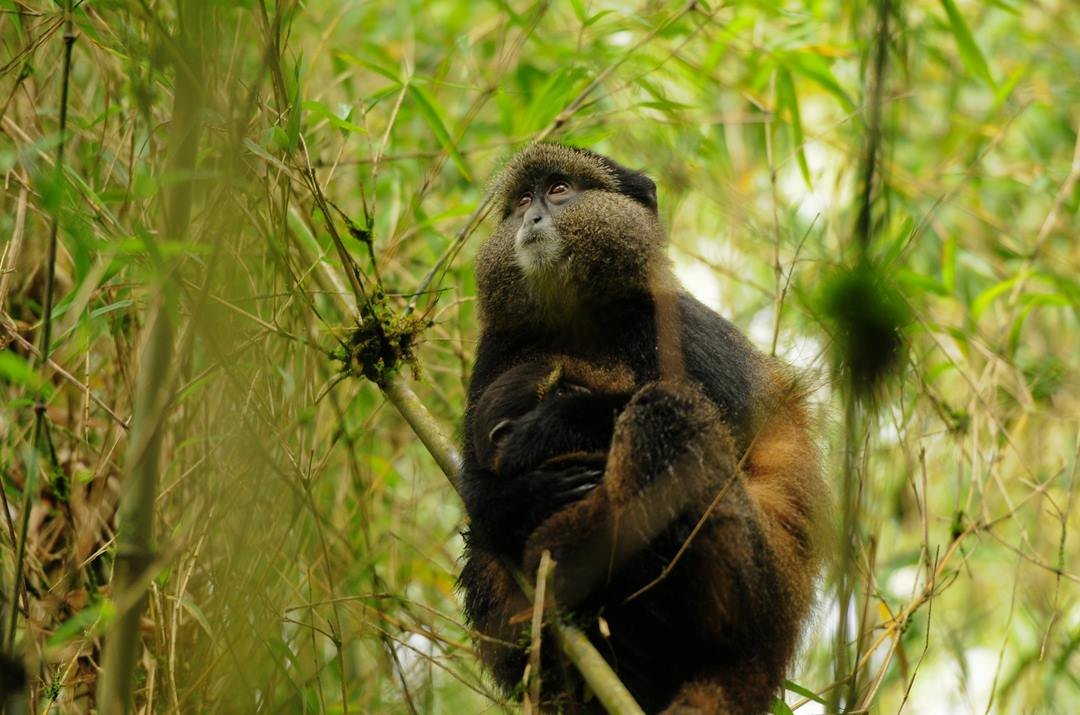 2
Golden Monkeys are another rare breed and can be seen on a Golden Monkey Safari Tour in Volcanoes National Park. They are called Golden Monkey due to the gold colour fur on their face and backs. To reach the spot where you can see them takes less effort than that of the Gorilla Tracking. Once you see them, you want to find a comfortable spot and watch these monkeys all day long. They are very entertaining.
3
A fascinating hiking safari tour is to Dian Fossey Tombs in Volcanoes National Park. Dian was an American primatologist who had a love for gorillas. She spent 18 years studying and getting to know the gorillas. The movie Gorilla Mist is a biopic of her life. Dian was murdered by poachers in the jungle and she is buried next to her friend Digit, a gorilla, between volcanic peaks of Bisoke and Karisimbi.
Mount Bisoke Hiking Safari
4
Take a hiking safari tour to the active volcano Mount Bisoke which is found in the Albertine Rift Virunga Mountains. Part of this volcano is in The Congo, but the summit is in Volcanoes National Park. When you reach the top, you find a spectacular crater lake. The hiking terrain is not demanding, but it can be tiring due to the altitude. You are left breathless by the views and not the altitude when you reach the summit.
Boat Safari of the Twin Lakes of Burera and Ruhondo
5
Go on a boat safari of the Twin Lakes of Burera and Ruhondo and you will see the breathtaking scenery from a completely different aspect. Both of these lakes are regarded as gems of Volcanoes National Park with their deep blue waters. Another great way to sightsee is by canoeing/kayaking on the lakes. There is also excellent birdwatching and there will not be a much better place for photo opportunities.
Mount Karisimbi Safari Tours
6
Mount Karisimbi in Volcanoes National Park, is an inactive volcano and the tallest of the eight major volcanos found in the Virunga field. A hiking safari will take two days to reach the top and back again. It is not a normal hike because of all you get to see on the journey. Along the journey, you will see many varieties of wildlife, lots of different birds and the views are extraordinary from the moment you start to finish.
Iby'Iwacu Village Cultural Tour
7
A truly extraordinary experience is a cultural tour to the Iby'Iwacu Village which is located in the Volcanoes National Park. This village is happy to showcase their way of living, their traditional lifestyles, dance and food. On a guided tour you visit a village home, see artifacts of old in the replica house of the King. The villagers will also perform their traditional dance and share their food with you.
Birdwatching Safari Tours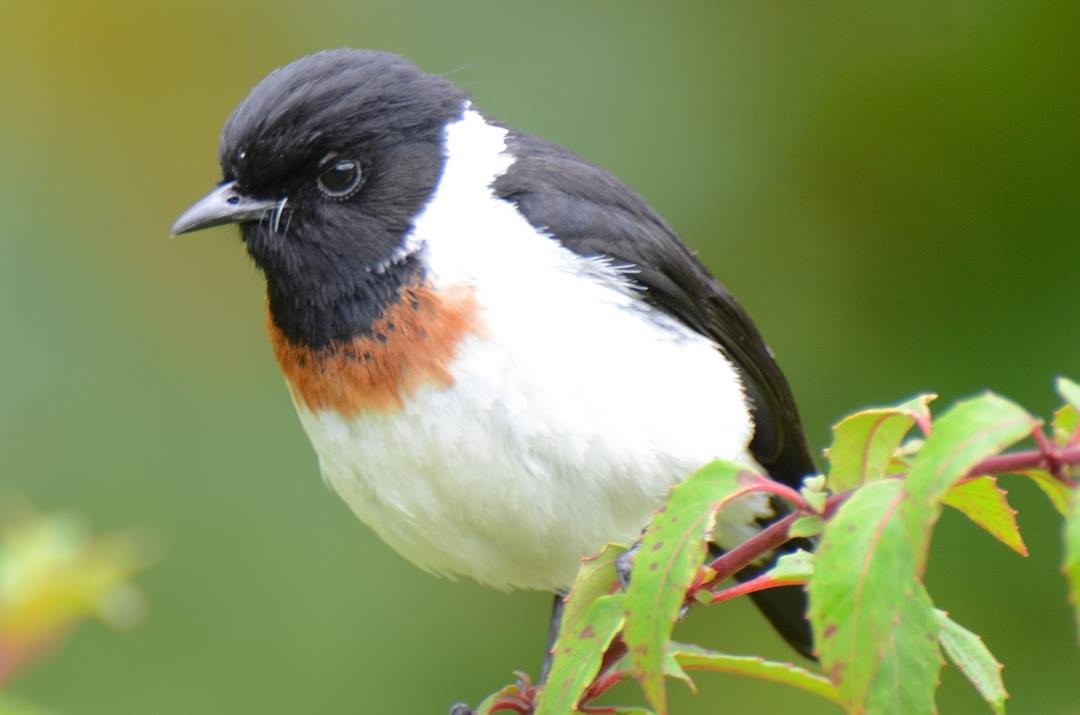 8
The Birdwatching Safari tour in Volcanoes National Park is another great adventure. There are over 165 bird species with 17 only found in this park. The expert guides bring you to the perfect locations where you can spy these rare and wonderful birds. On the journey to these locations and specific viewing points, you are hiking through the most amazing scenery and seeing other species of wildlife too.
Travel Tips for Volcanoes National Park
Best Time To Visit Volcanoes National Park
It is best to visit Volcanoes National Park during the drier seasons which are during December to early March and June to September. The long dry season December to March is the best time for gorilla tracking safari tours due to minimal rain, the wet terrain is not great for the hiking this safari entails. The downside to this time of the year is that prices are higher.The rainy season is best for birdwatching safari tours.
Typical Costs in Volcanoes National Park
The prices for safaris vary with every safari tour you do, depending on the type and what time of the year you are going. The Gorilla tracking safari tour is the most expensive due to them being rare and endangered. Prices start from US$75 and go up to over US$1500 when the safari lasts for days rather than hours. For every safari you do, the organizers have to purchase permits which are included in the prices they give.
Know Before Visiting Volcanoes National Park
The most advisable thing is to book well in advance your safari tours and do lots of research on which ones suit you most. The earlier you book, the cheaper it may be. Find out if you need to have any shots before traveling. When you are there, it is imperative that you heed all the advice of the safari leaders and Rangers as they only have your and the animals safety in mind. Drink lots of water on hot days.
Weather in Volcanoes National Park
There are two rainy seasons in Rwanda and therefore Volcanoes National Park. These are February to April and October to November sometimes December. The two dry seasons are the months in between the rainy seasons. The temperatures vary very little throughout the year. The hottest months are September, October and November at an average of 27 degrees Celsius. The coldest months are May to July at 25 degrees Celsius.
Let the activities begin!