Fall Head Over Heels in Awe for Victoria Falls on a Private Tour
When you visit Victoria Falls on a private tour, you will fall head over heels in awe with the amazing sights to be seen.
Victoria Falls is a town situated in the western part of Zimbabwe whose main attraction is the largest waterfall in the world of the same name.
This small resort is fast becoming known for being the adventure capital of all of Southern Africa. The heart-stopping activities that can be done include White Water Rafting, Zip rides across the gorge, a gorge swing and bungee jumping.
Another great way to see the Victoria Falls and surrounding areas is by helicopter; this tour is called the Flight of Angels.
The areas around Victoria Falls include places such as The Zambezi National Park and Hwange National Park where you can see exceptional wildlife on exciting safari tours. There are even elephant-back safari for something completely different.
There are ever increasing great restaurants and bars for you to continue your enjoyment of Victoria Falls well into the early hours. Read More...
See the Amazing Views of Victoria Falls With a Sightseeing Tour by Helicopter
When you visit Victoria Falls, the attraction, you will be awe-inspired. It is close to being the greatest attraction in Africa with the most spectacular waterfalls found in the world.
It is stunning see the Zambezi River as it plummets over a cliff and into a Boiling Pot. Then it flows through a series of gorges. There is a natural infinity pool called The Devil's Pool that is right on the edge of the sheer drop.
It is the only waterfall located in the world that has a length of more than one kilometre and a height of over a hundred meters. The spray from the waterfall rises to a height of 40 kilometres and the noise of the gushing waters can be heard from as far as 40 kilometres.
Top Things to Do in Victoria Falls
1
On the borders of Zimbabwe and Zambia is the world's largest waterfall, when you combine the height and width, Victoria Falls. To visit here is a must when choosing a sightseeing tour in this area. The waterfall creates the largest sheet of water falling. The rainy season is a great time because the force of the water is so powerful and the noise is incredible, however, there is a higher chance of mist.
Victoria Falls National Park
2
When you take a sightseeing tour of Victoria Falls National Park, you are in for a treat. From the lush rainforest along the Zambezi River are some of the best views of the Devil's Cataract, Horseshoe Falls, Eastern Cataract and Main Falls, sections of the vast Victoria Falls. For those who have no fear, take the 73 steps down from Danger point into the gorge that separates Zimbabwe and Zambia.
Crocodile Ranch and Wildlife Sanctuary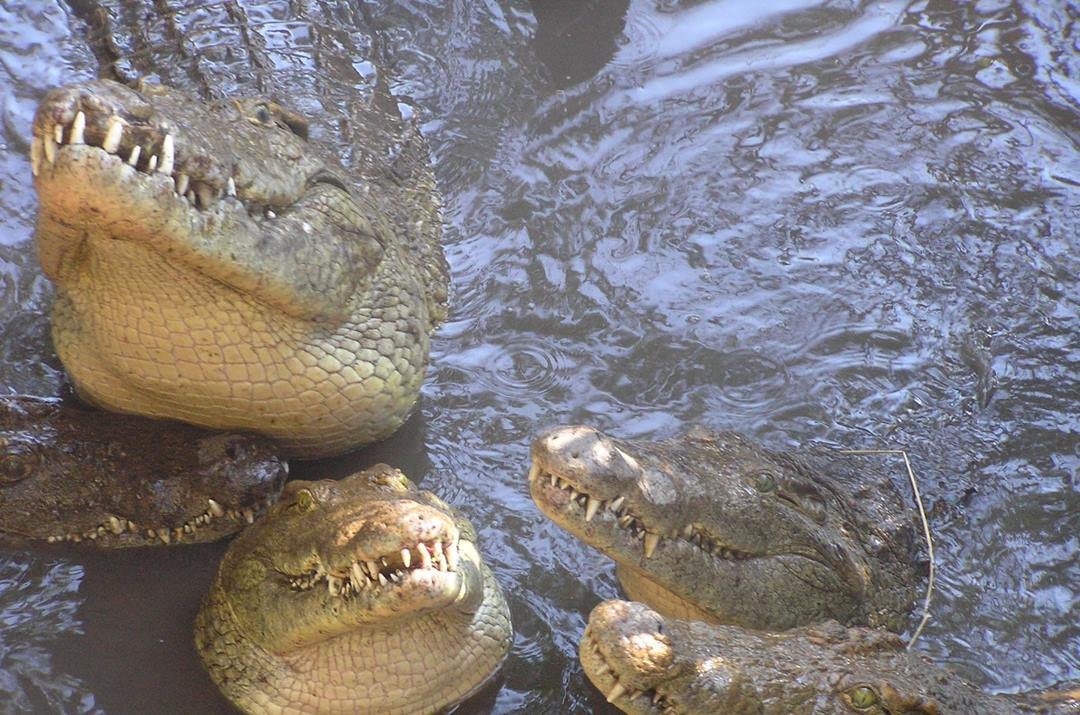 3
There is an excellent Crocodile Ranch and Wildlife Sanctuary where you can take a very safe guided tour to get close to some of the deadliest raptors, crocodiles. Should you visit during the months of December and January, then you may get to hold baby crocodiles that have just hatched from their eggs. Also in this sanctuary are the endangered Lillian Lovebirds which are now protected bird species.
4
Victoria Falls is located in an area where it is not far to cross into Botswana and take a safari tour of Chobe National Park. This National Park is host to forest, swamps, floodplains and rivers and is one of the most scenic. The largest gathering of elephants is found here and there is no better sight than seeing a family of elephants on the rivers edge drinking. Go on a macoro and paddle close to crocodiles and hippos.
5
Go to the Victoria Falls Bridge for adventure tours or just a sightseeing tour. This bridge was built across the Zambezi for trains for over fifty years. It is 650 feet long and 420 feet high and the most amazing place to go bungee jumping, zip lining and gorge swinging. There is a very interesting and nerve-wracking walking tour under the bridge's main deck and the views of the falls are breathtaking.
6
For adrenaline adventure tours, there are plenty in Batoka Gorge. This gorge is located below Victoria Falls and flows 120 kilometres between Zimbabwe and Zambia through rocky cliffs and mopane forest. One adventurous tour is to go white water rafting along rapids that have nicknames 'the Ugly Sister'and 'Oblivion'. Other tours are challenging hikes where you may see baboons along the beaten path.
7
The largest game reserve in Zimbabwe and the most historic, Hwange National Park is another excellent place to go for thrilling safari tours. When you are in Victoria Falls, it is a two-hour drive to this National Park and well worth the trip. Possibly one of the most diverse game parks in the world with one of the largest elephant herds. Other wildlife to be seen are buffalo, lions, leopards and over 400 types of birds.
8
Victoria Falls is a great place to on a Horse Back Safari Tour with it being surrounded by Game area and a National Park. This exciting wilderness experience allows you to track magnificent animals such as buffalo and elephant while riding tour the varied and rugged terrain and hidden paths. A Horse Back Safari Tour is a more personal and friendly tour with professional and very knowledgeable guides.
Travel Tips for Victoria Falls
Best Time To Visit Victoria Falls
Victoria Falls best time will all depend on what you want to see. During February to June, the Waterfall is at its most boisterous after the summer rains. However, if you want more activities and see the Falls up close then the best time is August to December when the waters flow at a reduced rate. If you go in July, you might be lucky to get the best of both. In relation to National Parks then August to November is best.
Typical Costs in Victoria Falls
The cost of activities in Victoria Falls vary from season to season but to get an idea of average prices: A day white water rafting will cost US$100 including lunch, High wire activities start from US$40 to US$160, Game drive safari for the afternoon including snacks and drink will cost US$ 70, a helicopter tour over the falls will cost US$150, a sightseeing tour or river cruise will start from US$34. The restaurants and hotels are very reasonable.
Know Before Visiting Victoria Falls
When you visit Victoria Falls, the waterfall, be careful when walking around the area, it can be slippery due to the spray. When you are visiting the National Parks, stay with the safari tour group, always doing what the Rangers tell you because wild animals are dangerous and can be unpredictable. Vendors tend to overprice everything because they expect tourists to haggle. They may be annoying but its best to be polite.
Weather in Victoria Falls
The area and town of Victoria Falls have a sub-tropical climate. From mid-May to mid-August the weather is mild and dry but cold at night. The temperatures during the day are averaging 27 degrees Celsius and during the night the temperatures go as low as 6 degrees temperatures. September to November are the hottest months with temperatures from 33 degrees Celsius. December to mid-March are the wettest months.
Let the activities begin!