Private Tour of Sleepy Laos and Its Spiritual Patchwork of Temples
A Private tour of sleepy Laos and its spiritual patchwork of temples, Steeped in legends Laos is a somewhat sleepy backwater still maintaining its laid back pace and magical aura. Stunningly beautiful it remains relatively underdeveloped and rich in culture and spirituality.
The Lao inhabitants are such friendly people continually smiling and strict to their faith and traditional roots. Their love for their country and its famous Temples and sites can clearly be seen, and from the Royal Palace to the humble waterfalls, they have nothing but pride and enthusiasm for it.
While in Laos, please take the time to chill out and relax by visiting Luang Prabang the kind nature of the locals and their gentle, easy going way of dealing with things is bound to rub off on you during your stay. Soak up these serene surroundings and their spiritual atmosphere on a Luang Prabang Private Tour. Read More...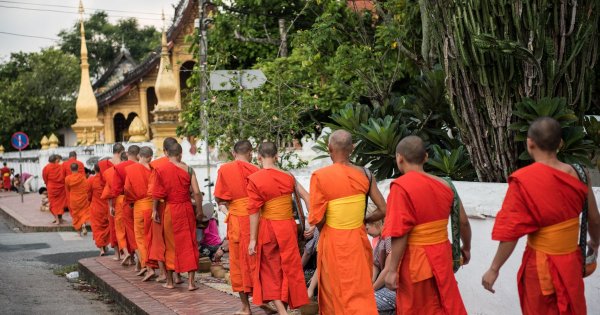 Slowly awakening from its past Laos has so much to offer the explorer so take some private tour to
The Royal Palace to see how they lived so fabulously back in the days.
Try to catch a glimpse of the dolphins on a trip out to 4 thousand islands.
Sit amongst the monks at the Buddhism school and learn about the road they have chosen.
Have a picnic and sit amongst the stunning emerald forest at one of the many waterfalls.
Get a bit tipsy at one of the many whisky villages and maybe learn how to make your own!!
Alternatively take a guided tour of the stunning landscape around Vang Vieng draws you in enticingly. This action packed town is really little more than a bus station and a few streets and was once just a stop off point on the journey to the Thai border. Now, however, it has made its mark and is probably best known as Adventure Town due to its amazing array of adrenalin-inducing activities like kayaking, rock climbing and ziplining and its once hedonistic ways.
Now, however, it has made its mark and is probably best known as Adventure Town due to its amazing array of adrenalin-inducing activities like kayaking, rock climbing and zip lining and its once hedonistic ways.
Top 10 Things to Do in Laos
1
The Temple complex here from the outside looked to me more of a fortress due mainly to its high protective walls. Inside however was a different story with the fine artwork, Influenced heavily by Buddhist beliefs, simply stunning. The temples and main stupa are in the beautiful Lao style of architecture and covered in gold leaf. Respected so much here it is the national symbol and has pride of place on the official seal of Laos.
2
Hiring bikes we took a pleasant ride through the fields out to this temple complex. Although mainly now in ruins this just seems to add to the whole feel of the site and you can still see the influence of the Khmer architecture. Quite a few steep steps to the top of the complex but it is so worth it for the fantastic valley views. Once back down we found the museum where we learned about the temple and also about Hinduism and Buddhism.
3
Although the Royal Palace was not as impressive as we expected it was still worth a private tour visit to see how the Royal Family really lived quite simply and not as extravagantly as we first thought. Now a museum its display of their everyday life included some of their original furniture, old photos of them along with some of the many gifts they would have received. Their well preserved vintage car collection was an added bonus too.
4
The old Colonial building housing the museum was in desperate need of renovation making us wary of entering. However once inside it gave us a real understanding of Laos' Communist past and its Lao and
Vientiane
history. It had a good mix of both political and natural history and had several items that were very thought provoking. We came away feeling we had learned and understood a bit better its troubled
5
In need of some relaxation we took a bus to this group of islands in the hope of seeing the dolphins. Meaning 4 thousand islands it certainly lives up to its name and hiring a bike was the best way to travel around it all. With some of the most picture perfect scenery a camera is a must and make sure you grab a local samosa or 2 for your lunch. No dolphins though and we did hear their numbers had diminished quite a lot recently.
6
Built in the 16th century this magnificent temple has been destroyed and rebuilt at least twice and after its last rebuild it was used as a Buddhism school and is now the hub of Buddhist studies in Laos. During our private tour visit we saw several of the monks studying in quiet corners and some even engaged in conversation with us keen to improve their English and it was interesting to hear about their journey and life as a monk.
7
Wanting to see the way the locals live and see how they live their everyday lives we hired bikes to get out of the city and into the picturesque countryside. It was great taking a leisurely ride along the Mekong river passing and stopping at Temples along the way in our own time. A couple of times we stopped or were stopped by locals and invited to have a drink and a chat with them. A very interesting if somewhat tiring day.
Vientiane Night Food Market
8
We stumbled upon this after going down to the river to see the sunset. Stretching the entire bank this local market was alive with locals and tourists shopping and eating. As we are barbecue lovers we were in seventh heaven. Our introduction to these culinary delights was perfect as they barbecue literally everything and the meat was to die for. A stroll around and a few bargain souvenirs later we headed to our hotel full and satisfied.
9
Lao Lao or rice whiskey is the local drink of choice here and many villages make their own potent brew with many being 55% alcohol. Well how could we not visit just for research purposes of course. It was interesting to see the somewhat basic process of fermentation and bottling still using original tools but then the best bit we got to taste it. Wow it was strong but the instant warming effect it gave was welcome. A nice little trip.
10
A private tour out to a waterfall was on our bucket list so we chose Tad Yuang as you can also swim in the pools near the waterfall. While it is not a particularly high fall it is one of the most picturesque and the sound and fresh scent reached us long before we had even arrived. After a picnic amongst the towering forest some of us relaxed at the pools while others joined a trekking tour through the forest to other surrounding falls.
Let the activities begin!