Sip a Margarita on the Caribbean Pearl With Private Isla Margarita Tours
What better place to sip a margarita than on Isla Margarita, the pearl of the Caribbean, when visiting on a private guided tour.
Margarita Island or Isla Margarita is just one of the many luxurious islands located in the Caribbean Sea that is part of Nueva Esparta state in Venezuela. The island can be reached by a short flight from Caracas, the capital of Venezuela or on a relaxing boat tour.
The Island is a very popular destination for Venezuelans especially around Christmas, Easter and school holidays which is July to August. However, October to March is regarded as the high season for international visitors. Read More...
There Is No Resting on a Guided Tour of Restinga Lagoon National Park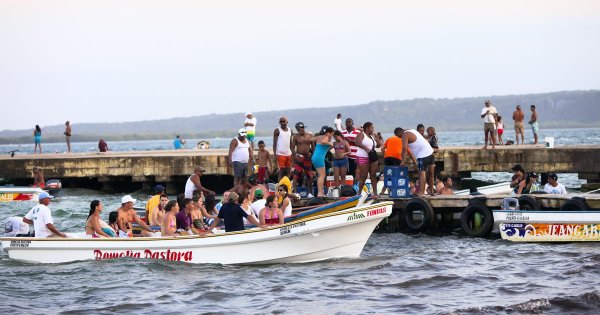 Beaches and water sports activities are the just some of the reasons why everyone wants to visit Margarita Island due to the wonderful sandy beaches with the crystal waters of the Caribbean Sea lapping their shores. The water activities include diving, snorkelling, fishing, windsurfing, kayaking, jet skiing, water skiing and the list can go on.
A premier attraction of Margarita Island is a guided tour to Restinga Lagoon National Park. This park has a shallow salt lagoon and mangrove forests which have to be explored! Take a guide boat tour and see the many species of wildlife and flora as you sail through the mangrove channels.
There are also many fascinating cultural and historical places to visit on sightseeing tours of the small cities and towns on the Island. These include a castle, Basilica, museums, cathedrals and monuments.
The way of life on this island is everything you want, or wish, for that time away from hassle and mayhem from normal day to day routines.
Top 10 Things to Do in Isla Margarita
Restinga Lagoon National Park
1
Explore Isla Margarita's premier attraction, Restinga Lagoon National Park on sightseeing boat tours. There are many mangrove channels to sail through looking out for the endemic species of wildlife and flora. Then relax on the hidden beach La Restinga which is 22 km long. There are a few restaurants specializing in seafood where you can enjoy delicious fresh dishes. This is a recommended place to visit.
2
The city of Asuncion is the capital city of the Nueva Esparta state and a lovely place to visit on a sightseeing tour. There is wonderful colonial architecture, beautiful quaint churches, excellent shopping areas and welcoming cafes and restaurants to sit in and relax for a few hours after touring the city. Its main attractions are Cathedral of Our Lady of La Asuncion and Santa Rosa de la Eminencia castle.
3
The city of Asuncion might well be the capital of the Nueva Esparta state, but the city of Porlamar is the largest and liveliest city. A sightseeing tour to Porlamar is more for socializing than seeing the sights due to it being famous for its excellent shopping and entertainment. The entertainment lies in the amusement parks, water parks, restaurants with delicious food, hip nightlife and casinos.
Cerro El Copey National Park
4
Enjoy many guided tours to different areas of Cerro El Copey National Park to see all ranges of interesting fauna and flora. There are excellent hiking trails due to this being a mountainous national park. The best way to see more of the park is on a jeep safari driving through the forests, stopping for breaks at various waterfalls and lagoons that are found here. There is much natural beauty in this park to be explored.
San Carlos de Borromeo Fortress, Pampatar
5
Located in in the Bay of Pampatar is the San Carlos de Borromeo Fortress and an excellent place to see on guided tour. This fortress was built in 1684 when the city was under a continuous threat from pirates and buccaneers. It is now home to a museum since 1968 with many of the forts rooms made into exhibit areas. This is a place well worth visiting from the fortress to the interesting displays in the museum.
The Village of La Guardia
6
The best thing to see when on a sightseeing tour of the Village of La Guardia is the majestic cove which borders the village and is regarded to be the biggest in the world. La Guardia is primarily a fishing village, but due to its charm, stunning sunsets, natural beauty, sandy beaches and great fresh fish delicacies, it is a popular tourist destination too. There are also great fishing tours for tourists.
Coche Island on a Catamaran Tour
7
The island close to Isla Margarita is called Coche Island and there are great boat tours that will take you sightseeing to it. A favorite tour is the Catamaran Tour which takes almost 2 hours to travel to the island but there are stops for diving and swimming along the way and food served for lunch and other refreshments. This is a very pleasurable days excursion for all.
Beaches of Isla Margarita
8
There are lots of quality beaches located around the Isla Margarita and a guided tour to many of them. If you want a quiet or crowded beach, lots of waves or calm and peaceful, big or small, deep or shallow waters and even windy or not there is a beach for everyone here. Many of them have excellent watersports for all to enjoy.
Isla Margarita Jeep Safari Tours
9
The only way to see Isla Margarita is by a jeep safari tour, it also happens to be the most exhilarating and exciting way to see it all. In a 4x4 jeep you are brought to all the best places and sights and where ever possible the driver goes off road, but this adds to the adventure. The length of the tour, you can decide, there are half day or a full day where you have lunch on the beaches.
Diving tours from Isla Margarita
10
For all lovers of diving and snorkeling, amateur or professional, there is a diving tour for you on Isla Margarita. Due to 48% of the island being protected this helps preserve the coral and marine plants. There is also a great shipwreck to dive to and explore just off one of the tiny islands close to Isla Margarita. See the wonderful dolphins, Octopus, sea turtles and Barracudas.
Travel Tips for Isla Margarita
Best Time To Visit Isla Margarita
The weather is rarely a factor when deciding on the best time to visit Isla Margarita due to it being sunny all year round. The busiest times when Venezuelans visit is around Christmas, Easter and July to August (school Holidays). If you like it busy and mixing with the natives, then visit during these times but be aware it maybe more expensive. Another great time is September when the festival of the Virgen del Valle is on.
Typical Costs in Isla Margarita
The value for money for accommodation and meals is very reasonable, especially when compared to top European destinations or other luxury islands found in the Caribbean Sea. It will cost on average US$30 for an evening meal for two people which includes three courses. Accommodation starts from US$30 a room per night and rises depending on the standard you want. The price of private guided tours will vary from season to season.
Know Before Visiting Isla Margarita
The first tip is to book early flights, accommodation and private guided tour when going during peak season. Do not drink tap water when on the Island only bottled water and make sure cap is sealed before opening. Do not stray away from tour groups and do not walk alone at night in dark and isolated areas. When in crowded areas, be aware there is probably a pickpocket nearby as they thrive in busy areas.It is nice to tip for good services.
Weather in Isla Margarita
The tropical, hot and humid, climate is what you get on Isla Margarita. The temperatures are above 30 degrees Celsius almost always all year round. The dry season is from mid-February to May and the rainy season is from June to early-February, but you may not see any rain it depends on the area you are staying in and even then it rains mainly at during the night. Thanks to its location, hurricanes are rarely a problem for the island.
Let the activities begin!