Cast Off, Cool Down and Chillax in Castries on Private Tour
Take a sightseeing tour of Castries the capital and largest city on St. Lucia.
This energetic and character-filled city is abuzz with calypso beats, fab food markets, bright colours, and lovable local characters.
The duty-free shopping is fantastic here and you will be sure to get a bargain.
On a guided private tour take a stroll around the city and see what the traders have on offer from exotic spices and banana oils to souvenirs and hand made crafts.
Try a cool cocktail and see the boats on the beautiful harbour, then sample the delights of the little restaurants offering an assortment of eats like lobster and fresh fish.
If you are brave and a little adventurous try some of the national dishes like curried goat, callaloo, pepper-pot stew or coal pot stew.
While the native food might not seem appetising to some tourists! Give it a go! Then you can move onto the unbelievable BBQ and fresh fish bake off stalls and stands. Read More...
On a Guided Private Tour Take a Stroll Around and See What the Traders Have on Offer From Exotic Spices, Banana Oils and Souvenirs.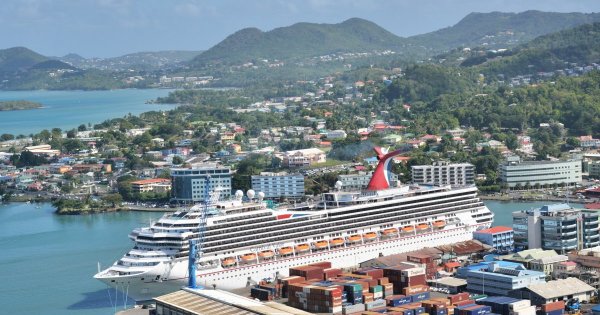 Take a guided tour to the Castries market on Jeremie and Peynier Street and see why this market is the heart and soul of the city.
The market is on every day, and the traders sell everything from fresh products to handmade brooms its fabulous.
The main attraction at the market is the street food from Mangoes, yams and coconuts to local delicacies like goat stew is sold here.
On a sightseeing tour see the sights and smells will have you reeling, and you will find yourself sampling more and more.
Top 10 Things to Do in Castries
1
Take a guided tour of Rodney Bay located along the northwestern coast of St. Lucia. Named after a British naval officer, George Bridges Rodney.It is a horse-shaped bay with a man-made lagoon and endless golden sand. With lively nightlife and a marina with a history of Pirates, this Bay is a thriving hub of activity. There are great restaurants with fantastic food and drink to taste, sip, savour and enjoy.
2
On the southern arm of Castries Harbour, you will find Morne Fortuné on your guided tour. Translated Morne Fortuné means 'hill of good luck' which is not really apt for this hill because it was here there was many a bloody battle between the French and English. Visit here with a guide and learn all the fascinating history while roaming around the summit of La Toc ridge. Four original buildings from 18th and 19th century still remain.
3
Cathedral Basilica of the Immaculate Conception was raised to the status of Minor Basilica in 1999 as part of its centenary celebration. Located in Derek Walcott Square, Castries and home of the Archbishop of St. Lucia, this is a lovely guided tour. It is the largest church in the Caribbean and has a rich interior with a mural by local artist Dustan St. Omer. There are influences from both Caribbean and Africa that include images of a Black Madonna and child and more.
4
Marigot Bay is a narrow inlet south of Castries. It is a great secluded place to go and many private tours can organise for you to stay overnight on a boat anchored in this bay. Sheltered by very tall palms and the surrounding steep hills, you can understand how an entire British fleet hid from a French fleet when being pursued. The sunsets and sunrises are also impressive sights if you get the opportunity.
5
Pigeon Island is a National Landmark housing one of the most famous monuments in St. Lucia's history. This living museum within a stunning natural setting on the 44-acre reserve was surrounded initially by water but was then joined to the mainland by a causeway. This beautiful and unique island is cared for, being developed and upgraded by the locals annually. There are two beautiful beaches and a lookout point for panoramic views.
6
Take a visit to Vigie Beach as part of a sightseeing tour. This beach runs parallel to the Vigie Airport which thankfully is a relatively quiet airport. Due to the airport, there is a lack of hotels and resorts, so this beach can be very peaceful. There is a restaurant right o the water which is really good but it is the sandy beach that gently slopes into the clear blue waters that are the big attraction.
7
On a City Tour, visit Derek Walcott Square which was named after the St Lucian author who won the 1992 Nobel Prize for Literature. The park also pays homage to other residents of Castries and St. Lucia who lost their lives in battle. There are monuments to those locals and a placard to Derek Walcott detailing his literary accomplishments. There is also a huge Samaan tree that is over 400 years old.
8
Always a very entertaining way to spend a few hours while picking up lots of bargains, visit Castries Market. The locals with their stalls will entertain you with their sale pitches and haggling. There is a vast range of items at the market from fresh produce, local craftwork and all variety of clothes. You can even get a plain t-shirt and they will but whatever print you want on it. It certainly is a colourful place to visit!
9
Caribya! At the Castries carnival, this annual event is epic and a highlight on the Island. Generally held on the Lenten calendar period the date of the festival was changed to accommodate the many holidaymakers coming to the Island. One of the Caribbean's most exciting street parties and in keeping with the Islands most entertaining world-class events this carnival is full of life and bright colours, a must see on any private tour.
Castries Waterworks Forest Reserve
10
A tour to Castries Waterworks Forest Reserve and you will feel yourself immersed into the vibrant rainforest life. There are lots of activities such as many different nature trails or be exhilarated on a zip-line, gliding from platform to platform high up in the stoic ancient sentries of the rainforest. After which you can relax in the fabulous tree houses for some light refreshments. For the avid bird watcher, here is fantastic!
Travel Tips for Castries
Best Time To Visit Castries
As with most Caribbean Islands winter season is the best time to visit as temperatures are tolerable and the weather is great. December to March is the time to go to St. Lucia so book your Private Tours, June to October is a NO NO as it is hurricane season and the last place you will want to be. The summer season is great but can be uncomfortable hot for many travellers.
Typical Costs in Castries
St Lucia Island is reasonably priced, however, try to book as many Private Tours as possible before landing on the island, and it is more likely that you will get a better bargain. The midrange rooms start from US$150 upwards. Many cultural tours are FOC or included in your various booked tours. At the top end of the scale, you can pay up to US$500 for deluxe rooms. Eating out can range depending on what you feel like five stars.
Know Before Visiting Castries
For short stay visas of up to six weeks, the majority of world countries do not require a visa to visit St. Lucia. While visiting any country in the world their culture and customs should be respected. On that note St. Lucia is not known for it's friendliness towards the LGBT community. Gay men should be cautious about expressing their love in public as homosexuality is not accepted on the Island sad but true.
Weather in Castries
As with other Caribbean holiday destinations, the winter season is the most popular time to visit. St Lucia and it unwintry weather systems bring flocks of tourists to the Island. December to March is the driest time with the temperatures averaging 27 degrees c. Summer is hot hot hot with temperatures hitting 30 degrees c. Hurricane season is between June and October so expect a lot of rain this time of year
Let the activities begin!