From Barcelona: Natural wine tour in the Penedès region
Discover the territory, the landscape, the emotion of the Penedès in a relaxing tour through its sights and smells.
This plain has a long, significant history of wine making. Some of its wineries are hundreds of years old and have a great tradition in cava sparkling wine, but not only.
Montserrat to the north watches over the work in the vineyards, the labour of the farmers. The main part of the work is done in the vineyard, not in the cellar. Natural wines of great quality.
We can taste the wines and sparkling wines of the FInca Parera or Vinyes Singulars wineries.
Very close to Barcelona, less than an hour.
The method of transportation will be a hybrid vehicle for up to 3 people and minivan for up to 6 people.
Biodynamic
Biodynamic wines are made following the principles created by Rudolf Steiner in 1926, according to which the energy of life has to be used in production, aiming at a close relation between people and the planet. An important characteristic of biodynamic wine is the specific method used for fertilising the vines. Generally, Demeter certifies biodynamic wine.
Natural
It is difficult to determine whether a wine is natural or not since every winery has its own approach. Some prioritise a holistic approach; others focus on a lifestyle or on a work philosophy.
In any case, calling a wine or sparkling wine natural implies a very low level or no added sulphites – sulphurous acid. You will find fruit and only fruit in the wine. The main work is carried out in the vineyard, not in the cellar.
Organic
Organic wines are wines that don't contain certain synthetic chemicals but might contain others, like sulphites. Usually, they are certified by a local agency, the CCPAE in this case (Catalan Council of Organic Agricultural Production).
Included in the price

Transport by the most environmentally friendly mode of transport possible. We will depart from your accommodation in Barcelona or from any other point you wish.
Expert guide, with knowledge of the geography and history of the area, who will help us to understand the land and the people that make the wine.
Catalan, Spanish, English or Italian tour.
Visit of a winery and wine tasting.
A meal at the winery or in a restaurant (drinks not included).
Travel insurance.
Taxes
Not included in the price

Anything not listed in the previous section.
Child seats.
For children up to 3 years old, food and beverages are not included, but a seat will be provided for them in the vehicle.
For children up to 12 years old, wine tasting is not included.
Drinks at the restaurant
You must bring comfortable shoes, hat and sunscreen.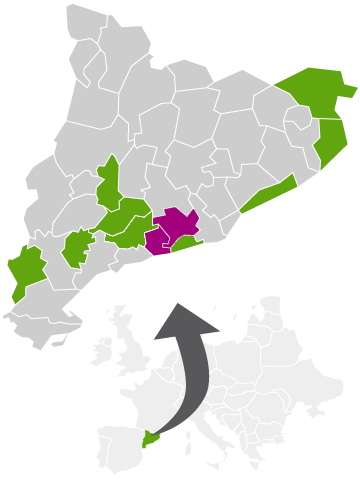 No Discussion Comments found.
Add new review