Visit Asuncion, a Modern City Yet With Tradition on Private Guided Tours
Asuncion private guided tours will lead you through a city that blends modernisation with old traditions very nicely. For a Country's capital city it is more subdued than other capitals, but the more you explore the city, the more intrigue and delight you find.
Asuncion was established in 1537 by Spanish settlers and has always had the nickname 'the Mother of Cities'. It was during 1811 that the city was declared independent from Spain.
This city is the largest in Paraguay and sits on the Rio Paraguay's left bank. It also has the reputation of being Paraguay's steamy capital.
Private city tours Asuncion offers are fascinating, you are brought to see historical colonial buildings and right in front of it there may be a bright shiny new skyscraper and yet it does not look out of place.
As you travel around on Asuncion walking tours, many top attractions are within walking distance of each other, another contrast that looks normal is the traditionally dressed people going along their business in such places as the city's finance area. Read More...
Guided Tours Asuncion of the Historically Important Casa De La Independence Museo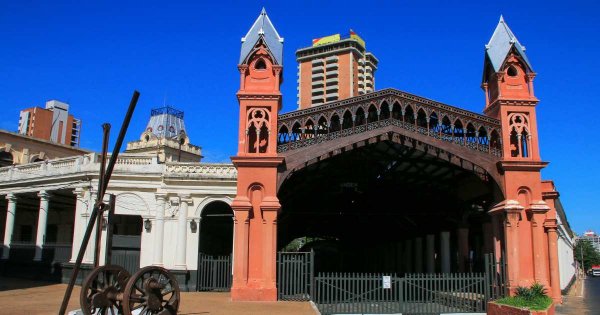 The top guided tours Asuncion city offers is that of the Casa de la Independencia Museum. Here you see the artifacts and relics dating back to the year Paraguay declared Independence from Spain. It was also in this building, which dates back to 1772, that the revolutionaries met in secret to make plans.
For days you are relaxing and not doing any Asuncion sightseeing tours, visit the lovely parks, botanical gardens and zoo. Alternatively go shopping in the new part of the city, walking the treelined pristine boardwalks.
While Asuncion is not renowned for its cuisine, there are excellent restaurants serving traditional and international food. The nightlife is worthy of a visit to this city even if you are interested in nothing else the city has to offer.
Top 10 Things to Do in Asuncion
1
Casa de la Independencia is a highly recommended place to visit with Asuncion private guided tours. This small cottage holds what is probably the most significant relics of Paraguay's history. It was here that the revolutionaries met in secret and made plans which resulted in Paraguay's independence from Spain in 1811. There are many artefacts from that era including confidential documents and paintings.
2
The majestic architecture of the Palacio de los Lopez is a must-see on private city tours Asuncion. This palace is the President of Paraguay's official workplace and an Asuncion cultural heritage treasure. The construction of the palace began 1857 with an English architect responsible for its design. The building is shaped in a U, with two storeys and beautiful gardens. It looks spectacular when all lit up at night.
National Pantheon of the Heroes
3
The final resting place for the countries presidents and war heroes is the National Pantheon of the Heroes in Paraguay. With guided tours Asuncion, learn the history of this monument and famous landmark of the city. The architecture of the structure is impressive and so is the interior with many plaques to show thanks for the sacrifices these heroes made. Try to visit when there is a changing of the guard!
Asuncion Botanical Garden and Zoo
4
The perfect place to visit with a family or take a break from Asuncion private guided tours is the Botanical Garden and Zoo. Both of these started back in the mid 19th century and a joy to explore. The Zoo has some 70 species of animals in captivity and not recreated habitats, but that is due to change soon. The botanical gardens are a joy with 110 hectares of flora native to Paraguay including ancient trees.
5
To learn about all things Paraguayan, take guided tours Asuncion to the Museo del Barro. This museum is regarded as an essential museum full of historic art. There are religious sculptures, ceramics, masks and wood carving and exhibitions which show over 400 hundred years of colonial invasion and indigenous culture. You can learn so much from your guide on the country's fascinating and diverse history.
Catedral de Nuestra Señora del la Asuncion
6
Asuncion private guided tours of the Catedral de Nuestra Señora del la Asuncion is very enjoyable. While the cathedral has been renovated many times, there are still sections that remain which date back to the original build in 1687. See the massive altar the is gilded and stroll the length and breadth of the cathedral looking at the religious paintings and statues which date back to the 18-19th century.
7
The cultural centre you visit on Asuncion walking tours is a little different from typical cultural centres. This one is made up of nine historic houses with the oldest dating back to 1764. These houses are near the Rio Paraguay's banks and each one serves a different purpose. One houses the Museo Memoria de la Ciudad, another, houses La Galeria and another, a Cafe and so on. There is plenty to explore when you visit here.
8
Bahia de Asuncion is an ecological Reserve on a bay on the outskirts of the city of Asuncion. The bay is a mix of mudflats, reed beds, sandy beaches and freshwater lagoons. This is a great place to visit with Asuncion sightseeing tours but if you love birds then organised birdwatching tours are a must. The bay is also an important Bird area with many rare birds using this bay to breed or stopover.
9
For a place to walk, relax or people watch then take a trip to La Costanera. This is a newly redeveloped, broad promenade that winds along the Rio Paraguay and a favourite place for strolling locals and visitors. See the beautiful sunset as you stroll or from a cafe. For the more energetic of tourists, it is possible to hire rollerblades or bikes for a different way to travel the length of the promenade.
10
With Asuncion sightseeing tours, take a trip to the colourful and upbeat neighbourhood of Loma San Jeronimo. From this interesting neighbourhood, you can catch a glimpse of authentic Paraguay. You need to visit with an organised tour as it can be challenging to find, but once you are there, a huge welcome from the people is waiting for you. If you speak Spanish to them, you will be welcomed even more!
Travel Tips for Asuncion
Best Time To Visit Asuncion
The best time to take a vacation to Asuncion in Paraguay are during the months of May, June, July, August and September. The reason being the weather is more suitable for the likes of Asuncion private guided tours, it is less humid and stifling and not as hot as the summer months. Also, there are more special events, festivals, live concerts and traditional outdoor performances during these months.
Typical Costs in Asuncion
Paraguay is regarded as a very cheap destination to visit and even its capital, Asuncion, is not expensive. Entertainment at nighttime is great value. For instance, a full evening meal for two, in a fine restaurant, including wine, costs an average of US$35. Accommodation prices start from US$20 for a basic room. The prices for the private city tours Asuncion offer, vary with duration and seasons.
Know Before Visiting Asuncion
When you are in Asuncion, here are a few tips to help you: Asuncion is very safe, however, you still need to be careful and beware of your surroundings. It is advisable only to have copies of important documents with you when out on Asuncion sightseeing tours and watch out for pickpockets. At nighttime, no matter where you are in the world, always stay with a group and travel with them to and from places.
Weather in Asuncion
The weather in Asuncion consists of partly cloudy, hot and muggy summers and winters clear, short and comfortable temperatures. End of November to late March is the hot season with average temperatures of 31º Celsius. Mid-May to early August is the 'cold' season with average temperatures of 25º Celsius. The rain falls throughout the year, but November tends to be the wettest and August the driest month.
Let the activities begin!