Go Mad and Experience a Momentous Nomad Private Tour of Mongolia
Go mad and have an experience that is momentous on a private nomad tour of Mongolia. You will be surprised and enthralled when you visit this amazing country.
Now is the time to visit Mongolia as it is still a relatively new country for tourism. Situated between Russia and China, it is a state that is vast, remote and naturally beautiful.
For a country that is still developing, about tourism, you almost want it to remain as it is now. Tourists are a novelty, and the welcome you get from the people of Mongolia is second to none.
If you are lost or need help, they are not afraid to stop and help, if you are stuck for a place to stay, a family will open their house to you.
It is said, that, there is a bond with the Mongolians and travellers due to their nomadic culture. In a world where we lock everything and think the worst first, it is refreshing to experience a country that is open and friendly. Long may it last.
The capital city of Mongolia is Ulaanbaatar a lively city full of many cultures. This important yet chaotic Capital of Mongolia is an adventure of a lifetime. Take your time, breathe deeply and go with the flow of this ever-changing city from dawn until dusk! Read More...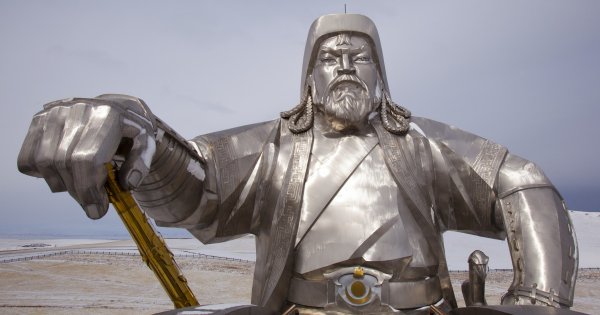 However, it is not all nomads, history on the legacy of Chinggis Khaan and remote natural beauty. Oh no, there are places that are in complete contrast, cities that are changing at dizzying speed to modern times and new technology.
It is possible to wake up in the morning in a top class hotel with all the mod cons and then a few hours later, be having lunch in a herder's ger, which is a traditions yurt, sitting on the ground experiencing the wonderful life of a nomad.
This type of thing is what make Mongolia unique and a fantastic place to take private tours whether nomadic tours or just good old sightseeing tours, you are going to love this very humbling country.
Top 10 Things to Do in Mongolia
Genghis Khan Equestrian Statue
1
Take a sightseeing tour to the amazing Genghis Khan Equestrian Statue that was erected in 2008 to mark the eight-hundredth anniversary of the founding of the Mongolian Empire. This enormous Statue embodies the strong and powerful character of Genghis Khan perfectly. It stands 131 feet high and is the tallest statue in the world of a person on horseback. It also weighs some 250 tonnes due to being made of steel.
Gorkhi - Terelj National Park
2
Take a sightseeing tour of Gorkhi - Terelj National Park and see spectacular scenic areas of Mongolia that is close to Ulaanbaatar, the capital city. See the weird and wonderful rock formations, which include one that is in the shape of a turtle, in this beautiful mountainous area with a river and forest to explore. Fill your day trekking, horse riding, river rafting or a round of golf. In the winter there is cross-country skiing.
Winter Palace of the Bogd Khan
3
A guided tour of the Winter Palace of the Bogd Khan is exceptional. This palace was built between 1893 and 1903 and is where Mongolia's last king Jebtzun Damba Hutagt VIII (Bogd Khan for short) and eight living Buddha lived for 20 years. It is now a museum and there are six temples on the complex which have amazing Buddhist artwork. Not to everyone's taste, there is an array of stuffed animals too.
4
On a private tour visit the Erdene Zuu Monastery which is said to be the earliest surviving Buddhist Monastery in Mongolia and is situated in Ovorkhangai Province. Founded in 1586, it is believed to be the first Mongolian Buddhist Monastery. It has a very interesting and rugged history which you learn all about on the tour. See some fascinating artefacts, statues, masks and wall paintings as you walk around the main temple.
Gobi Gurvan Saikhan National Park
5
Take a fascinating sightseeing tour of the Gobi Gurvan Saikhan National Park which when translated means Three Beauties of Gobi National Park. See Khongor's sand dune, Nemegt and Khermen Tsav known to be precious to palaeontologists and Zulganai's river. If you are lucky, you may witness native fauna such as mountain sheep, black-tailed Marten of cliffs, leopards, wildcats, white gazelles and much more. There is a lot to see and do.
6
On a guided tour of areas in Mongolia, visit Tsenkheriin Agui which is a huge cave that is located around 100km from Khovd City. From below the cave gives the impression of being very small but when you get closer, as you climb the rocky path, it is very large. As you explore the cave with your strong torch, you will see the ancient art on the walls. Although much has been destroyed, there is still plenty to see.
7
On a sightseeing tour visit Ongiin Khiid which is a site that marks the remains of two ruined monasteries, the Bari Lam Khiid which was built in 1810 on the north bank and Khutagt Lam Khiid built in 1760 on the south. The views from here are of ruins, river, get camps and the surrounding impressive hills. In the monastery, there are artefacts that were hidden by monks during times of trouble and are now free to be displayed to the world.
8
Take a private tour by jeep to Shilin Bogd Uul which is found east of Dariganga and is the highest peak in Sukhbaatar. It is an extinct volcano that is sacred to the Mongolians. When you reach the crater (no women were allowed climb until recently), you will see lots of offerings that were left and it is only right that each tourist does the same. It can be a small coin or anything, even food. The views are spectacular from the top.
9
Take a guided tour when you are in Khustain National Park to be sure you get to see all the great areas. This park was set up in 1993 and is vital to the protection of Mongolia's wild horses and the forest-steppe environment. If possible, go on a tour whereby you get to spend a night under the stars especially as the most popular time to see the wild horses is at dawn or dusk. There is an excellent information centre here too.
10
Take a guided tour of Kharakhorum Museum when you are in Kharkhorin. It is a small museum but still has plenty to see and learn about. There are models to help you visualise how the town as it was and its importance. There is also an example of the famed silver tree that was the centrepiece of the ancient city. The museum is well organised and there are great descriptions and information on all displays.
Let the activities begin!