Charming City of Changji Is Sure to Please on a Private Sightseeing Tour
Sitting in the centre of Xinjiang is the highly appraised city of Changji. Changji is abundant in natural resources, has numerous scenic spots and historical spots which all add to its charm when on private sightseeing tours.
It is well known for its folk song festivals such as the Corban Festival and Ramadan Festival that is performed by many of the local singers. With a population of 1,700,000, people this vast city is one of the many stops along the along the "Silk Road".
Tourists travel to visit famous spots such as Heavenly Lake, where visitors can witness real natural beauty or they take a guided tour to the Bogda peak to climb to the top which is the highest peak in the eastern part of the Tianshan Mountain range.
How you decide to spend your days and nights in Changji, you are sure to get value for your money and an experience of a lifetime. The locals are renowned for their kindness, honesty and are most welcoming to tourists, which gives your trip that little bit extra. Read More...
Get a Little Taste of Paradise at Heavenly Lake When You Go on a Private Guided Tour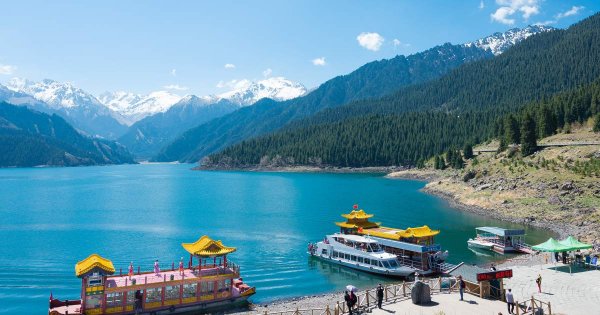 Get a little taste of Paradise at Heavenly Lake when you go on a private guided tour. It holds an ancient story that it was once a fairyland where the heavenly queen lived. It now ranks as a top destination for sightseeing tours in Changji due to its popularity.
There are many excellent places to visit that are remarkable in Chanji which include stunning architecture, fascinating archaeological sites and buildings full of history and culture.
For the more adventurous tourists, there are thrills, and no doubt spills, to be had when going on exciting activity tours to any of the major mountains in the region.
Top 10 Things to Do in Changji
1
The Heavenly Lake is heavenly on a private boat tour. Located in Changji, it is a great place to relax or explore the banks. While there are leisurely boat tours, there are also hiking trails to reach the banks and many other outdoor activities to partake in surrounded by breathtaking scenery which includes the magical snow capped mountains, flourishing plants, blooming flowers and crystal clear water.
2
Bogda Peak is known to be the highest peak in the eastern part of the Tianshan Mountain range. It has an altitude of 5,445 meters and is just one of the fifteen peaks around Xinjiang that visitors come to visit each year. People travel from all over the globe to take on its challenging guided tour routes and capture some of the scenic beauty that surrounds it. At the foot of the mountains is a forest with Snow leopards.
3
Multicolored Bay (or Five Colored Bend) is an impressive landscape that is popular due to its various and changing colours. It is multi colours because the coal beneath its surface is exposed to sunlight and lightning. Sintered rocks around have different minerals and they take on my unusual shapes and forms. Responding to the sunlight, they change colours at different times during the day, a good reason to visit on sightseeing tours.
ChangJi HuiMin XiaoChi Jie
4
This food hall is famous for its various cuisines. You can enjoy many of the cuisines in Hui or Chinese styles. It is also renowned for its great Shinjiang yoghurt, which you must try while you are here. Prices are attractive, and there is free wifi. There are also small shops selling souvenirs, such as tea, soap, scarfs and much more. The ChangJi HuiMin XiaoChi Jie food hall is a must see on a custom food tour when in Chiangji.
5
The ideal relaxing place in Changji to take a break from sightseeing tours and the bustling city. This quiet park offers a great place to have a picnic or capture some photography on its nature. There is a lake to sit and soak your feet and a small playground for young children. In the centre, there is an old aeroplane with some signs telling its history which a tour guide can tell you all about on a guided tour.
6
2,300 years ago Jiaohe Ancient City was built with bricks and rammed earth. It is regarded as one of the world's best preserved ancient earth houses. Located high on the hill and surrounded by raging rivers it has its own natural security. Take a guided tour of Jiaohe Ancient Ruins and learn all the fascinating details. Wear sensible footwear as you can do a lot of walking around and exploring.
7
Not too far from Changji is the Jiangbulak Scenic Spot. This is a lovely place to visit while on a private sightseeing tour of neighbouring towns and cities. It is a large grassland located in the east of the Tianshan Mountain. 'Source of holy water' is the translation for Jiangbuak and there are stunning natural views and scenery to admire here. Visit in June or July is more colourful!
8
Another place, not so far from Changji is the Xinjiang Regional Museum and a privately guided tour here will not disappoint. It is an integrated museum that is decorated beautifully in Uygur style and is home to more than 5,000 history relics and arts. There are three exhibition halls: The Ethnic Exhibition, the History Relics Exhibition and the Mummy Exhibition. Each exhibition offers its own unique and wonderful story.
9
The translation from the Mongolian language, Narati means ' the place where the sun rises' and it is the perfect name for this Narati Scenic Spot. On the sightseeing tours from changji, you can visit here and see the beautiful place that it is for yourself located in the Tianshan Mountains hinterlands which is at an altitude of 1,800 meters. It covers an area of 400 Sq kilometres.
Changji Museum of Dinosaurs
10
Take a guided tour of the Changji Museum of Dinosaurs which is a very large four-storey building. From the outside, the museum looks like a mountain made from white stones and blue glass. There are very real looking artificial moving dinosaurs, life size dinosaur skeletons and a whole lot more. This is a thrilling and exciting tour to go on for all the family. Kids will absolutely love to visit this museum.
Travel Tips for Changji
Best Time To Visit Changji
The best time to visit Changji is from April to October. This is when the weather is the warmest, and most of the festivals are held during this time. April, May and September are the perfect time to visit the tourist attractions on sightseeing tours as it is not too hot nor too cold. Spring and Autumn/Fall months are good for availing of lower prices as they are classed as the off-season due to the weather being cooler.
Typical Costs in Changji
Chanji is like Xinjiang and known for being less expensive than other major cities in China. Private sightseeing tours are excellent value in Spring and Autumn but you should book before your arrival for lower prices. Accommodation prices will vary on the type of place you want to stay but an average hotel starts from US$24 per room per night. A three-course meal for two can cost less than US$10 in a mid-range restaurant.
Know Before Visiting Changji
Changji is only 18 kilometres away from Urumqi International Airport and can easily be reached by train or bus from Wuyi Lu. This area is home to many ethnic minorities who follow is Islam, so to be respectful, it is advised to wear appropriate clothing when travelling around. When out and about on sightseeing and guided tours, you should never stray away from the group and heed your tour guides advice at all times.
Weather in Changji
March to May, temperatures and humidity together makes it feel cold but the average temperatures in high ranges are 28 degrees Celsius. June to August is warmer with temperatures above 31 degrees Celsius. September to November, temperatures begin to gradually lower with average temperatures of 26 degrees Celsius. December to February is cold averaging -4 degrees Celsius. This is a destination which does not have any rain.
Let the activities begin!