Step Into the Fairyland City of Lijiang With a Private Guided Tours
Open your eyes and see the magical Fairytale city of Lijiang on guided private sightseeing tours. How popular is this time-locked place? It is very popular, Lìjiāng's (丽江) is a maze of cobbled streets, rickety wooden buildings and gushing canals that attract over eight million people a year. So busy are the crowded narrow alleys, it can feel like all the tourists arrived at the same time.
If you are you looking to beat the crowds? It is best to start your guided private tour early in the morning when you start to feel the hustle and bustle around you, that's the time to ride a bike and pedal out to the surrounding villages. Lijiang, a popular tourist destination in Yunnan Province, is known as Fairyland because of the crystal clear streams, fresh, crisp air, picturesque snow filled mountains and breathtaking landscapes occupied by friendly residents.
Lìjiāng has jurisdiction over four counties and also has a quaint and unique Old Town District. This is the main region occupied by the Naxi people, one of China's 55 minority ethnic groups and it is gorgeous and perfect for private custom tours. Read More...
Discover Natural Picturesque Views at the Jade Dragon & Snow Mountain on Custom Tours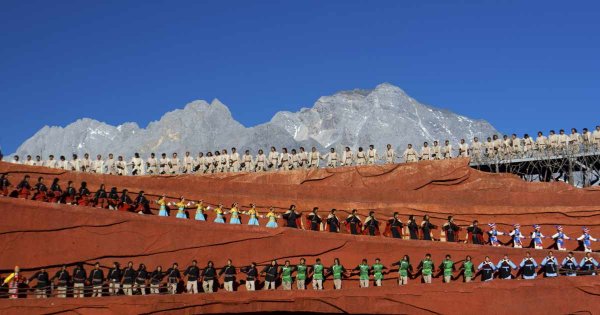 Escorted Daily Tours to the Jade Dragon Snow Mountains, which is also known as a holy mountain to the residents of Naxi are fantastic. The area is made up of 13 peaks covered in endless snow which spreads over 15 kilometres, the Tour of the snowy mountains and the surrounding areas are breathtaking. To reach the peak, you can take the Glacier Park cable which is around 4,000 meters high, while absorbing the fantastic views on the way to the top.
The landscapes change with different seasons, and dense fog may obscure the snow mountain in October, but the scenery is at its all time best in winter with lots of snow on the mountain, stunning view and Lijiang has lovely warm weather in winter which is a bonus.
Top Things to Do in Lijiang
Lijiang Dongba Cultural Museum
1
The Lijiang Dongba Cultural Museum is about 5 Kilometres north of Baisha Town. This is a great place to learn about the Dongba culture and hieroglyphic writing system which is now extinct. There are older local people that offer lessons in the museum on these subjects to students and visitors on museum tours. The town itself is in the Yushi Valley and is the home of a lot of ethnic tribes.
2
The Tiger Leaping Gorge is one of China's deepest gorges. It got its' name from an old story that says, a tiger could easily jump the gorge if being hunted. It's a great place to travel by car to take in the beautiful scenery, the sound of the water at night and of course the food. Visitors can hike along the gorge on Jade Dragon Moutain custom tours, but it takes two days.
3
Known as the mother lake, Lugu Lake is surrounded by mountains and hills, beautiful scenery and clean air. The crystal clean water transforms the area into a real fairytale land. The lake can sometimes get snow for up to 3 months of the year. To have a good visit at Lugu Lake, two days private guided tours are recommended. Enough time to take the local boat trip, walking over the marriage bridge and take in all the sights.
Jade Dragon Snow Mountain
4
Well known for its beauty and edge of danger, Jade Dragon Snow Mountain (13,123ft) is situated In Yulong Naxi Autonomous County and is known to be the southernmost snow mountain in the Northern Hemisphere. With its 13 peaks, the Shanzidou Peak is the highest and famous as a place of rare beauty. Take a full day guided tour to explore this grand mountain and to enjoy the scenery. Tours are available from 105 Yuan/person.
5
Also known as the Dayan Ancient City, Lijiang Ancient City is one of the only two ancient cities in China without a city wall. Known for its beauty of the small rivers and canals and its 300 ancient stone bridges. Against the sensational background of the mountains, the houses from the Ming Dynasty, old alleyways and green trees make this ancient water town quite picturesque and a perfect private town tour.
6
The Dry Sea is large natural meadow and is situated at the bottom of Jade Dragon Mountain. Its vast green landscape spreads from the mountain to the skyline. Here people can enjoy many tour activities such as horse racing, sand skiing, grass skiing, mountain guiding and car racing here. The views Mountain and its three peaks, the Shanzidou peak being the highest, are spectacular from here and it is is a great spot for taking photos.
Baisha Mural In Baisha Village
7
The Baisha Mural in Baisha Village is unique for its historic value, original painting style and private walking tours. This town was first occupied by the by the Naxi people and known to be the hometown of the Mu family. The My family were the rulers of Lijiang during the dynasty, and there are an estimated 558 murals in the village, and nearly all of the Murals date back to the Ming Dynasty.
8
The private sidecar tours offer a great chance to see Lijiang from a different angle. The driver is your tour guide and travels at a pace that is safe, giving you enough time to see the sites and enough time to explain everything. You can stop when and wherever you like to take around the places you want to see the most. Book in advance as it proves to be very popular.
9
Close to the forest is the ancient town of Shuhe. It is a great place to go to get away from the busy city. It is a well-preserved town and holds a lot of history, such as a recording of one of the earliest settlements of Naxi people ancestors. Shuhe has lovely walking tours, restaurants and there a famous pool where it is traditional for people to feed the fish.
10
Famous for its pond in the breathtaking Jade Spring Park, The Black Dragon Pool Park sits at the bottom of Elephant Hill. It is within walking distance of the old town of Lijiang. The pond, along with the smaller temples and Pavillions is a great place to take a sightseeing tour on a sunny day you will get great photos of the Jade Dragon Snow Mountain.
Travel Tips for Lijiang
Best Time To Visit Lijiang
Due to its favourable climate in Lijiang, warm in winter and cool in summer, Lijiang has lots to offer visitors whenever you come. However, to visit more attractions in Lijiang, choosing the best to visit Lijiang proves valuable. Different Lijiang weather in different seasons offers different landscape. Visiting in winter, you would be rewarded with snow-capped mountain landscape which is the best time to view the most beautiful snowy mountain.
Typical Costs in Lijiang
It is challenging to give a breakdown on costs for travelling to China as a whole due to prices differing from region to region. Despite high prices in China's bigger cities, the Yunnan Province is much cheaper. Costs of living are quite cheap with a lunch costing around 54 Yuan and a basic dinner for 2 costing around 129 Yuan. Local beer costs around 26 Yuan. A taxi travelling around 5 miles costs about 28 Yuan.
Know Before Visiting Lijiang
Arrange your entry and exit visa through your tour travel agent before your arrival into China. There are many restrictions on emigration on the purchase of goods and souvenirs you will be given questionnaires to fill in, complete these honestly as delays may occur or you may jeopardise your entry or exit from China. Learn a few phrases in Mandarin like thank you (xie xie), Hello (nihao), Goodbye (zai jian). Be aware of your surroundings at all times.
Weather in Lijiang
The unique mixture of high altitude and a low latitude results in the majority parts of Lijiang a climate that has cooler summers and warmer winters, mixed with heavy rain in the monsoon period but mainly clear weather throughout the year. Spring - Clear and Warm from March to May. Summer - Cool and Humid from June to September. Autumn - Dry and Clear from October to November. Winter - Clear and warm from December to February.
Let the activities begin!