Classy Private Kunming Tours And See The City Of Eternal Spring
Visit Kunming with a private guided tour, and you will see the City Of the Eternal Spring that has long been recognized as one of China's most liveable cities. It is known as the 'Spring City' for its favorable climate and is a charming place to relax for a few days. For visitors who are a little more active than the relaxed attitude displayed by the locals, there are many temples and national parks nearby you can see with a guided tour to keep you busy.
Of course, like many Chinese cities, the face of Kūnmíng is always changing, and a lot of old neighborhoods have been torn down to make way for shopping malls. And the traffic jams that you never saw a few years ago are now a regular occurrence. But thankfully the mainly easy-going nature of Kūnmíng is still the same.
The city center is the main attraction to take a sightseeing tour with its two squares and five intersecting roads. Jinma Biji Square has the most stunning archways and stylish architectures. The most famous streets are Nanping Street, Jingxing Flowers & Birds Market, and Jinma Biji Fang.
Read More...
See A Wonder Of The World With A Private Tour To The Stone Forest
The First Wonder Of The World is China;s Stone Forest book a sightseeing tour and see this breathtaking place. Lunan Yi County, which is located around 120 kilometers from Kunming and covers an area of 400 sqm km (96,000 acres) and has both a large and a small stone forest, as well as many other scenic spots. An old local phrase says that 'If you have visited Kunming without seeing the Stone Forest, you have wasted your time.' , The site is truly one of the most famous attractions of Yunnan.
As you walk through the site, visitors can marvel at the natural stone masterpieces and are mesmerized by the complex formations. The magnificent, bizarre and steep landscape that creates countless labyrinthine vistas including Minor Stone Forest, Major Stone Forest, and Naigu Stone Forest, which all feature stones in different formations. Plants, animals and even human figures can be seen here. Some are rugged, some are elegant, and each is lifelike with its distinguishing characteristics
Top 10 Things to Do in Kunming
1
Take a private tour of Kunming Stone Forest, which has been known since the Ming Dynasty (1368-1644 A.D.) as the First Wonder of the World, and is in Lunan Yi County, which is around 120 kilometers from Kunming and is only a couple of hours drive. It covers an area of 400 sqm km and has both large and small stone forests. This site is truly one of the most famous attractions of Yunnan.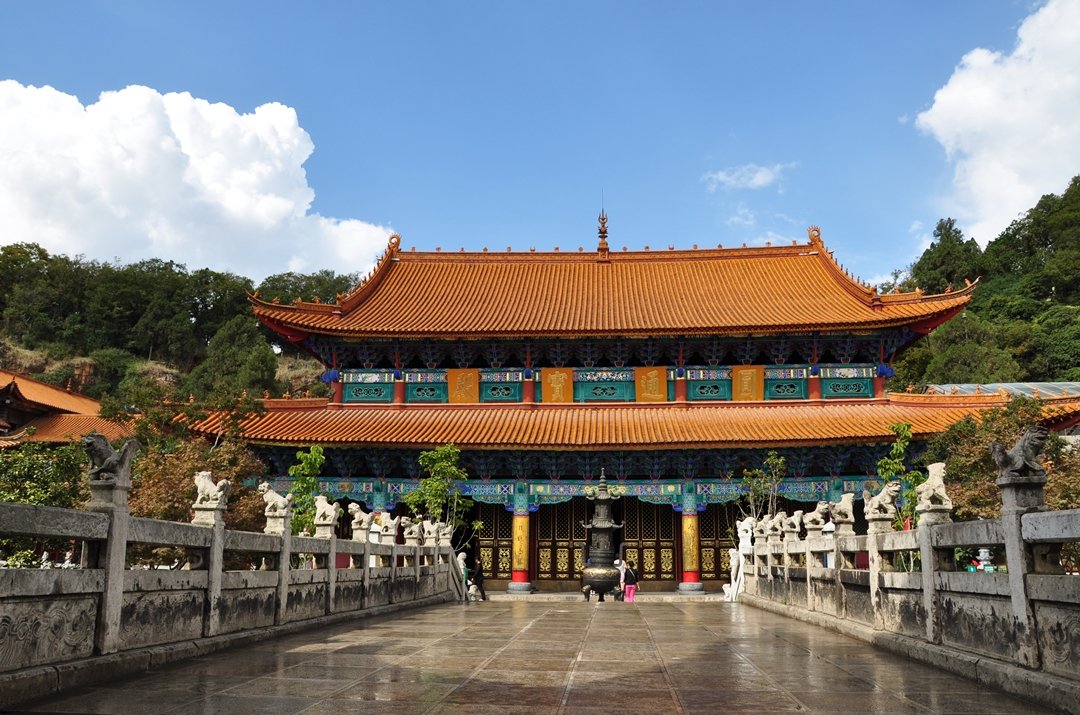 2
It is well worth booking a sightseeing tour to Yuantong Temple which is at the base of Yuantong Hill in the north of Kunming. With a long history of over 1,200 years, it is one of the grandest Buddhist temples in the Yunnan Province. King Yimouxun of the Nanzhao Kingdom constructed it during the eighth century as a continuation of the Putuoluo Temple.
3
The Dianchi Lake Scenic Area is found in the southwest of Kunming City and is without question, the center of the resort. There are many attractions along the lake captivating tourists. Some of these are the Haigeng Bank, Yunnan Nationalities Village, Grand View Park (Daguan Park), White Fish Park (Baiyukou Park), Kwan-yin Hill, Western Hills Forest Park, temples, and pagodas.
World Horticultural Expo Garden
4
Situated in the northeast suburbs around 6 kilometers from the city center of Kunming, the World Horticultural Expo Garden is a place for the 1999 Kunming International Horticulture Exposition. It is a top-class Daguanyuan also know as Grand View Garden, which has typical Chinese and local characteristics. 10% to 15% of this garden is covered with water and gardening artworks of many domestic and foreign places are on show here.
5
Green Lake also is known as (Cuihu) Park can be found almost in the city center and faces Yunnan University and is one of the most beautiful parks in Kunming. It is at the base of Luofeng Mountain and to the west of Wuhua Mountain. Green Lake itself covers 37 acres in the 52 acres Green Lake Park and used to be a part of the Dianchi Lake.
Bamboo Temple (Qiongzhu Temple)
6
On the beautiful and amazing Yu'an Mountain, only seven miles (twelve kilometers) northwest of Kunming, is the famous and influential Buddhist Bamboo Temple (Qiongzhu Temple). The temple and the bamboo forest surrounding it has a magical and mysterious legend about their origins. The Bamboo Temple is a peaceful, restorative, and beautiful attraction offering natural, artistic and cultural insight.
7
Yunnan Provincial Museum is situated in the east of Guangfu Road in the Guandu District. As a large museum, it has a diverse collection of more than 200,000 pieces. For visitors on guided tours, the museum can help them to learn about Yunnan's history and the rich ethnic culture; its amazing collections give them the opportunity to understand Yunnan and the Dian Kingdom's better.
8
Located northwest of Beijing, the Summer Palace is 9 miles from the downtown area. As the largest and best preserved royal park in China, it greatly influences Chinese horticulture and landscape with its popular scenic views and cultural interests, which has also been recognized for a long time as 'The Museum of Royal Gardens.' The building started in 1750 as a luxurious royal garden for the royal families to rest and entertain.
9
In the western suburbs of Kunming, you will find Western Hills; they are also known as the 'Sleeping Buddha Hills.' If you look from a distance, they have the appearance of a giant sleeping Buddha. They also have another name - 'Sleeping Beauty Hills' because when the hills are viewed together, they have a vision of a beautiful young lady laying beside Dianchi Lake with her face upwards and her hair trailing in the water.
10
Situated on the top of Mingfeng Hill is the home of the Taoist Taihe Palace, which is the biggest copper temple in China. Also known as the Bronze Tile Temple (Tongwa Temple) and then by its most familiar name, the Golden Temple. Except for the balustrades, and staircases, which are made of marble, the roof, walls, columns, altars, Buddha statues, wall decorations and even the banner near the gate tower are all made of copper.
Travel Tips for Kunming
Best Time To Visit Kunming
With the well-known title of the City of Eternal Spring, Kunming is a great destination suitable for traveling throughout the whole year. But the best time to come to Kunming is between March and October. You can find a lot of Yunnan ethnic celebrations at these times in addition to many fruits and blossoms. Because of this, visiting within this period will give you the most enjoyment and delight.
Typical Costs in Kunming
How much money will you need when in Kunming? ¥58 is the average daily price for traveling in Kunming. The average price for eating out per person is ¥20. You will also need to budget for tours you may want to do as there are a lot of escorted tours that are a must here in Kunming. These are average prices, and if you want to go to the more mid-class restaurants, you will need a bit more money.
Know Before Visiting Kunming
Because Kunming is situated on a high plateau, it is exposed to intense ultraviolet radiation, so visitors are strongly advised to bring along sun cream with a high SPF. Kunming is blessed with cultural diversity, thanks to its vast and thriving population of different ethnic minorities. Since each ethnic group will have certain customs and traditions, you are urged to show restraint in general when visiting ethnic villages.
Weather in Kunming
Kunming weather is spring-like for most of the year, bitter cold in winter and intense heat in summer. The annual temperature averages at around 15 C (59 F). But there is normally a significant difference in temperature between day and night from November to February. As the popular saying goes, 'the weather is always like that of early spring, where the flowers bloom all year round.' This means the climate is beautiful for tourism all year round.
Let the activities begin!