Having a Cheerful Christmas in Delightful Derry Northern Ireland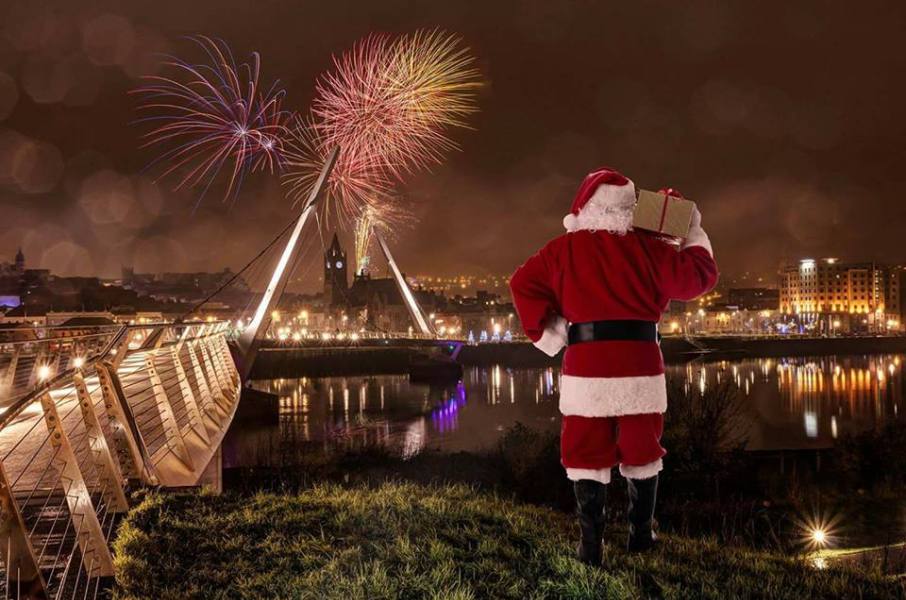 My husband and I have been to Ireland many times, though we always went to the south and never ventured into the north. I have many Irish friends here in north London, and one of them said that Derry is a fantastic place to visit and no matter the occasion, the town really gets into the spirit of things. I took her advice and this year we booked a long weekend and flew directly from Stanstead to Derry City Airport to do some Christmas shopping.
We wanted to learn some of this vibrant city's history and booked a walking tour with privatetours.com that would take us around the famous city walls.
We stayed in a city hotel, and our first impressions were of how amazing the intact city walls were that surround this city. The following morning we met with the guide and off we went.
There had been a light fall of snow early in the morning, however; this quickly melted away and it was amazing how much we learned about Derry's turbulent past in this short walking tour.
This town knows how to put on a show, the streets are lit up like a Christmas tree (no pun intended), people were carolling on the street, and we even got to meet Santa; an added bonus as he is so busy at this time of the year.
I have to say the historic walled city of Derry is a wonderful place to experience the sparkle of Christmas. There was a special festive Walled City Market at the Guildhall Square where you could shop under twinkling fairy lights and little kiosks that sold everything from Christmas trees, ornaments, handmade crafts and specialist foods.

I saw pretty bunches of mistletoe and the man that was selling it proudly told me that it was local and went on to explain that before being used to steal kisses, the ancient Celts believed that mistletoe possessed magnificent healing powers. It was even banned for some time as a symbol of paganism. I was certainly learning a lot on our short break.
The shops did not disappoint us either, they were all decorated out for the festive season, and I spent many hours shopping with my husband who grumbled about how many bags he had to carry. Luckily our city centre hotel was always close, so we just dropped off our bags and went back out to the shops again (pure bliss for me).
The city's Craft Village is a place well worth visiting if you're planning a weekend break in Derry. There were many traditional shops selling everything that relates to Ireland, and I was delighted to come across this charming thatched cottage.
The Irish really do have a sense of humour as this peace statue represents the two divided communities coming together. Someone obviously thought it would be fun to dress them up for Christmas.

The following day we decide to cross the River Foyle on Dery's famous peace bridge. Imagine my delight when it led us to another Christmas market; there was nothing else to do- but to partake in a little more shopping.
I am not that selfish, however; I decided to give my husband a break and we stopped at a traditional Irish pub for a few of the above and a bite to eat.
The pub was like an extended living room where everyone was having a good time, and one man told me that as it was our first time here, we were guests, however, on our second visit we would be locals. I understood what he meant as I certainly felt like a member of the family.
After leaving the pub I saw this little girl posing for a picture of her mum, and they kindly allowed me to take a photograph. For me, it sums up the festive season in Derry as seen through the eyes of a child and it was with a heavy heart when we returned to our hotel as we had an early morning flight back to London the following morning.